One hundred years ago, more meat was processed in Chicago than anywhere on the planet. The slaughterhouses got their livestock from Chicago's Union Stockyards: 475 acres of cattle, hogs and other animals shipped here from all over the country.
The stockyards closed 40 years ago, in 1971. At the time, a young film student, Mark Mamalakis, went to the yards to capture the end of an era. He interviewed workers and filmed them doing their jobs, and then he put the raw footage on a shelf.
To mark the anniversary, Mamalakis shared a sample of his never-before-seen footage with "Chicago Tonight."
[Never miss a "Chicago Tonight" headline! Get our daily newsletter delivered straight to your inbox.]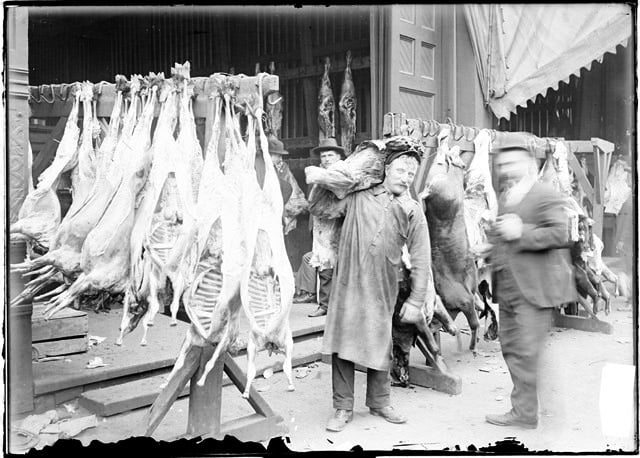 Chicago Daily News Photos Courtesy of the Chicago History Museum
About the filmmaker
Mark Mamalakis grew up in the South Shore neighborhood of Chicago, fascinated by the juxtaposition of an urban cityscape and the Chicago stockyards. While a student at Columbia College, he picked up an Arriflex M 16mm camera to shoot a documentary about the closure of the stockyards featured in Upton Sinclair's "The Jungle."
Mamalakis hopes to soon complete the documentary. "Chicago Tonight" spoke with him about it.
Chicago Tonight: Describe the inspiration behind the documentary.
Mark Mamalakis: I grew up on the South Side, in the South Shore neighborhood, and I was aware of the stockyards. I had heard stories of the cowboys going down Halsted Street, running the cattle from yards to packing houses. It was an adventurous place that I heard of, and it wasn't until years later that I went there. In high school, I remember reading "The Jungle" by Upton Sinclair; it had an impact on me. I bought a 1906 edition of "The Jungle" and there is a penciled in inscription that reads: "Mary had a little lamb, and it began to sicken, they took it down to packing town, and now they call it chicken." It left a strong impact on me. Years later when I was a film student at Columbia College, I heard the stockyards were closing, and I thought it was important to document it and make a film out of it. So I went there the last few days and did it.
CT: You interviewed many people that day.
MM: The thing they all had in common was that they were concerned about their future. Some of them were in their 70s and 80s. But the key thing they said is that they would miss their friends. They were a tight group. They worked in all types of temperatures. There was a lot of camaraderie among them. Some of them had been there 50 years. I remember interviewing two young kids, talking about how their grandfather came down to say good-bye to his old friends and he was crying. They were all very friendly, and it was an emotional experience. But one of their main concerns was that they would be losing their friends.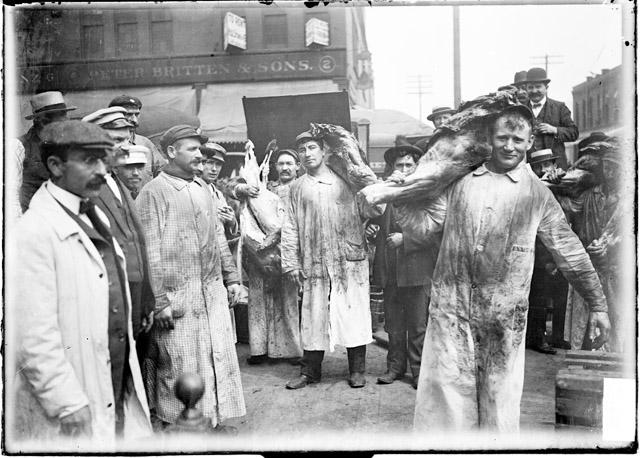 Chicago Daily News Photos Courtesy of the Chicago History Museum
CT: And you did this all for a film class at Columbia College?
MM: Yes, this was for a documentary film class. I was a film student at Columbia College, and it was my last year. It was shot on 16 mm, and I used classmates on the crew. I shot most of it and some others did additional photography and sound recording. 
CT: How come the documentary isn't yet completed?
MM: This is actually the first time parts of it will be shown. I needed additional material. I made a film about artwork in Haiti, and did about 12 years of freelance and odd jobs to make that film. Once it was completed, it received three awards at the Chicago Film Festival and is now at the Museum of Modern Art in New York. A few months ago, the Smithsonian Haitian Art Recovery Project contributed to the digitizing of the Haiti film so they could use it as a reference to restore art that had been destroyed in Haiti's earthquake. I had a record of all these places before they were destroyed. I did a lot of location managing to support my projects.
CT: How does it feel to have this shown for the first time?
MM: It feels great. I feel like they deserve to be seen, these people that have this story to tell. I still haven't completed the whole film as far as editing it, but a short piece is awesome.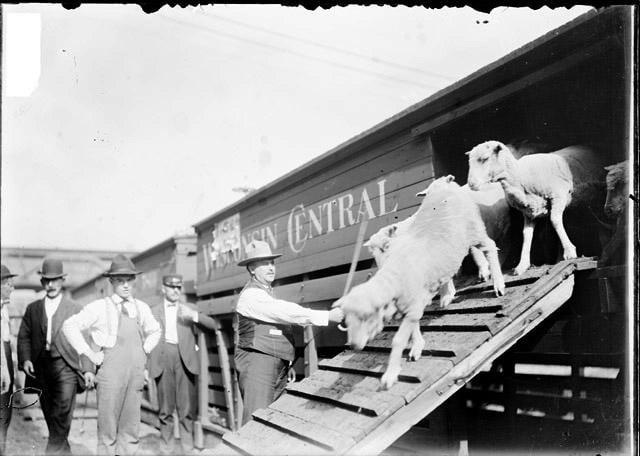 Chicago Daily News Photos Courtesy of the Chicago History Museum
CT: The 40th anniversary is this year. What do you think it means to those who worked in the stockyards?
MM: I think the people in the Back of the Yards area, or people with relatives who worked there would love to see this. It's a part of Chicago history that I think a lot of people have forgotten about it. I don't think anyone has seen interviews of people there on the days it closed. It captured the emotions of the workers for history. I think anybody that sees it will be moved.
This interview has been condensed and edited.
Related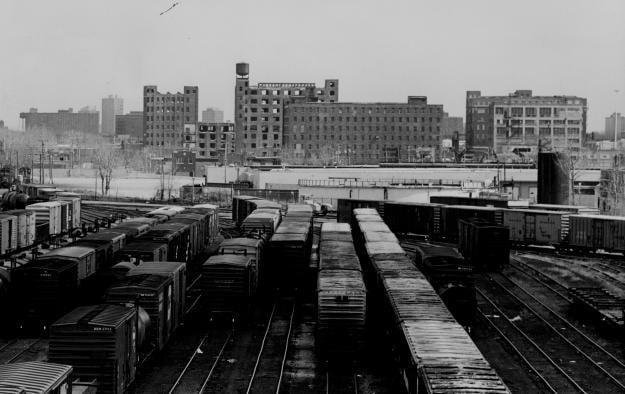 Dominic Pacyga Shares History of Chicago's Stockyards in 'Slaughterhouse'
They closed some 44 years ago, but Chicago's Union Stockyards profoundly shaped the development of the city and the modern world. Dominic Pacyga, a local historian and former stockyard worker, tells the story in his new book "Slaughterhouse."
---