The video cannot be displayed.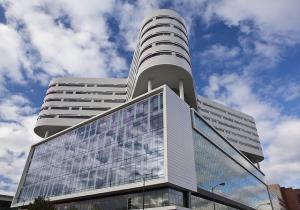 We go inside the brand new building at Rush University Medical Center, which promises state-of-the-art readiness for bioterrorism on Chicago Tonight at 7:00 pm.
From emergency disaster care and patient-doctor interaction to environmental efficiency and diagnostic equipment advances, Rush University's new Medical Center Hospital is state of the art. The 14-story, 830,000 square foot hospital is the culmination of a 10-year facility transformation to improve the patient experience while improving safety, quality and cost-effectiveness.
The most striking part of the $654 million building is the unique butterfly-shaped Tower, designed with patients' needs in mind. Rush is currently seeking Leadership in Energy and Environmental Design gold certification for the Tower, potentially making it Chicago's first full-service 'green' hospital. The Tower will house 304 critical care beds, and connect to Rush's main hospital building at 1650 W. Harrison St. Rush will have 664 beds available across facilities.
On the ground floor, the McCormick Foundation Center for Advanced Emergency Response was designed to accommodate emergencies of all sizes, from one person's malady to large-scale disasters: disease epidemics, biological attacks, even accidents resulting from hazardous waste. The Center contains 60 regular treatment bays with the surge capacity of up to 133 percent in a crisis situation.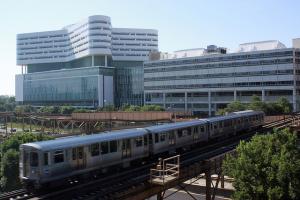 For more everyday needs, the hospital has also implemented a slew of cutting-edge improvements for patients and staff alike. Innovations include new mobile patient-monitoring devices that allow patients to move about more freely, modified call buttons tailored for specific needs, and sophisticated audiovisual communication between doctors during surgery. The hospital will also become one of the few medical centers in the U.S. and the only medical center in Illinois with an "interventional platform" - three consecutive floors devoted to testing, surgery, prevention and recovery units, all conveniently located within a short distance.
The building's dedication took place on Thursday, December 8 at 11:00 am in a ribbon-cutting ceremony at the new site at the intersection of Ashland Avenue and the Eisenhower Expressway.
Those interested in touring the hospital before its official opening can get a sneak peek of the Tower on December 10. One-hour tours will be offered from 9:00 am – 5:00 pm. The tours encompass the emergency center, the interventional platform area and one of the patient care floors. Children can bring along a stuffed animal for examination in the Teddy Bear Clinic, and door prizes will be awarded throughout the day. The hospital will be open to patients for the first time in January 2012.
For more information, please visit the links below.