Good news and bad news for Chicago taxpayers. The good news is that taxpayers may be on the hook for $185,000 to the Illinois Sports Facilities Authority; NOT $1.1 million as originally reported. The bad news is that taxpayers are likely to be hit with some much bigger bills in the years to come.
It's all about paying back money owed for the reconstruction of Soldier Field and U.S. Cellular Field.
The CFO of the authority attributes the discrepancy to an accounting error, so the city will get the $900,000 difference back.
The bulk of the funding for the agency comes from a hotel tax. The deal, much like with the Olympics, stipulates that when there's a shortfall in hotel revenue, like there was this year, city taxpayers are on the hook for the difference.
That brings us to the bad news. We got hold of a chart that shows the terms of the deal for the bonds that paid for the reconstruction. It is heavily backloaded, meaning, most of the debt is paid in the latter years of the deal, and in the early years, not so much is paid.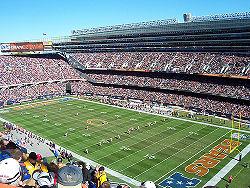 So this fiscal year, the Sports Facilities Authority pays just over $30 million on the debt. Fast forward to 2018 and that number jumps up to over $42 million. Then to 2025, the number goes to $62 million. And finally, in the year 2032, the last year of the bond deal, the authority will have to pay $88.5 million, in that year alone. This means that city taxpayers will be on the hook for significantly more money in the years to come, unless there's a dramatic increase in hotel revenues to offset those costs, or unless they go to the Illinois General Assembly to change the funding structure.
The board has been in upheaval lately. In June, Gov. Pat Quinn appointed four new members, including a new Chairman – former State Senate President Emil Jones. The governor also appointed labor leader Dennis Gannon to the board. Gannon is under heat for his lucrative city pension deal.
Mayor Rahm Emanuel cleaned house and appointed three brand new members, saying they had strong financial experience and would identify what, if any, reforms would need to take place to protect taxpayers. Interestingly, two of the mayor's three appointees were absent in Thursday's meeting. The Mayor's office claims they didn't know about the meeting until Wednesday night.
For more on the controversy, visit the links below.
---