The video cannot be displayed.
Maggie Daley's nine-year battle with metastatic breast cancer highlights the struggle of the hundreds of thousands of others who are diagnosed annually.
Chicago's first lady of 22 years died on Thanksgiving Day, 2011.
Chicago Tonight spoke with Dr. William Gradishar, director of the Maggie Daley Center for Women's Cancer Care at the Robert H. Lurie Comprehensive Cancer Center of Northwestern University, to learn why all prognoses are different. The following are excerpts from the Q&A with Dr. Gradishar:
For those who don't know, what exactly is metastatic breast cancer?
It represents a cancer that's gone beyond the organ of origin and spreads to a distant organ.
When Maggie Daley was first diagnosed 10 years ago, what was the prognosis?
The same as it is now. As a general statement, we say two to three years. Some have a shorter survival, some much longer. There are outliers on both ends.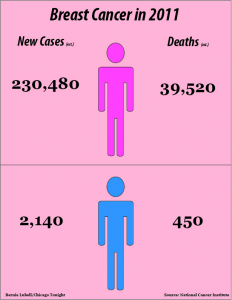 Can you describe what Maggie Daley's struggle could have been like?
Any patient with metastatic breast cancer has to receive ongoing treatment for the illness. The patient may be affected by different symptoms depending on where the disease is most problematic. It is dependent on what the activity of the disease is—where it is dominant and concentrated.
Maggie Daley tripled the average survival rate for metastatic breast cancer. Why is that?
It's highly variable. It could be her treatment or perseverance. No one knows. We have many patients who live a long period of time and many who live a short period of time, and there's a big component of which we're not sure. It varies from a short duration of survival with very aggressive disease, and those who live even longer than Maggie Daley.
Why do we see these differences?
Fundamentally, it depends on the nature and biology of the disease that dictates how long the patient will live. It also depends on how sensitive the nature of the disease is. Breast cancer is not one homogenous number of cells, there are clones and groups of cells that may be dominant, but there could be smaller subsets of the tumor.
What is your research focusing on?
We're working on a variety of new kinds of therapies focused on new targets. Not necessarily chemotherapy drugs, but those affecting pathways that control the path and aggression of cancer. Rather than chemotherapy, per se, we're looking at smaller molecules that affect the growth of cancer.
Can you describe any advances in treatment?
We've had the development of new hormonal therapies. Ten years ago, patients would have a very short clinical course. Now patients will live much longer if they are diagnosed early. We have newer chemotherapies that weren't available before. It increases the number of options the patient has. We have treatments that help maintain bone health because patients with metastatic cancer have a tendency to develop disease that spreads to the bone, which is something that's very common.
Is there any correlation between health care access and prognosis?
If you show up, you're more likely to have a better outcome than if you sit at home and ignore the disease. Patients who neglect their situation – now, that could be due to psychological or socioeconomic factors – often come in with advanced disease. In oncology, and breast cancer in particular, an earlier diagnosis has a better chance of getting cured. Metastatic disease is incurable. Patients who present earlier in the course of their illness hopefully have access and will be able to tolerate therapies, too.
This interview has been condensed and edited.
Dr. William Gradishar joins us on Chicago Tonight at 7:00 pm to discuss metastatic breast cancer and Maggie Daley.
For more information, please visit the links below.