We find out about a new iPhone app that actually sends you a paycheck. Jay Shefsky has the story on Chicago Tonight at 7:00 pm.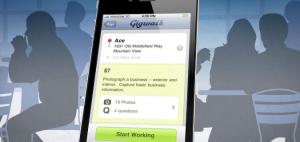 A free app that could help you earn some extra cash? If you have an iPhone, you could be earning anywhere from $4 to $95 -- just by exploring your neighborhood.
Gigwalk creates tasks, or "gigs", that users can complete to earn anywhere from $4 to $95 to a pop. Companies from Bing to MenuPages and TomTom are using Gigwalk's "mobile workforce" for odd jobs that require local confirmation.
From photographing street signage to verifying menus and retail displays, users get paid based on the number of gigs they successfully accomplish, earning "street cred" for access to higher-paying gigs.
Tasks require users to take pictures and create write-ups, or take short video or audio clips at specific locations. Companies utilizing Gigwalk can gauge map accuracy, establish price uniformity, or any variety of street or business information validation that can be determined on foot.
Users can access gigs within a half-mile radius of their location, so competition for gigs is limited. And Gigwalk can confirm that "Gigwalkers" are actually at the location they say they are, using their phone's GPS technology. What might usually take an army of employees a few months' time in another city, Gigwalk may accomplish in one month using people already on the ground.
Launched in May, Gigwalk is currently available in Chicago, New York, Boston, Philadelphia, Lost Angeles, San Francisco, Seattle and South Florida. Gigwalk hopes to expand to other cities, and will soon be available for Android.
To learn more, watch the video and visit the links below.