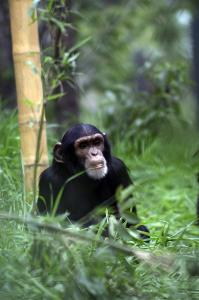 The mind of the chimpanzee is far more complex than we once thought. Eddie Arruza tells us what researchers at the Lincoln Park Zoo are learning about our closest non-human relative, and why those findings just might save the endangered species in tonight's Scientific Chicago on Chicago Tonight at 7:00 pm.
Studying chimpanzees not only gives critical insight into chimps' behavior and intelligence, but gives tantalizing clues as to our own origins, and emphasizes the need to protect these creatures and the habitats in which they live. That is the fundamental idea behind the book The Mind of the Chimpanzee: Ecological and Experimental Perspectives. The third in the renowned series Understanding Chimpanzees, the book features work by 30 of the world's foremost chimpanzee researchers as they investigate and explain the latest discoveries, from tool use to chimpanzee culture and cooperation.
The book was edited by Lincoln Park Zoo scientists: Elizabeth Lonsdorf, Ph.D., Steve Ross, Ph.D., and colleague Tetsuro Matsuzawa, Ph.D. of the Primate Research Center in Japan. In 2004, Tetsuro spearheaded the need for an international conference following in the same vein as Jane Goodall's "Understanding Chimpanzees" conferences, which were met with incredible success in 1986 and 1991, and were followed by two of the most significant books aiding those studying chimpanzees across the globe, Understanding Chimpanzees and Chimpanzee Cultures.
In 2007, the Lincoln Park Zoo hosted the much-anticipated third "The Mind of the Chimpanzee" conference. The resulting book is a compendium of knowledge gleaned from primatologists the world over and hopes to be equally valuable to experts and casual novices alike with its message; by studying the cognition of our closest-living relative, we can gain insight into how both of us think and learn.
The Lincoln Park Zoo has long been at the forefront of efforts to understand chimpanzees and protect their habitats as the home of Project ChimpCARE. The project is committed to improving the well-being of chimpanzees and educating the public about issues affecting chimpanzees, both in captivity and in the wild. For younger readers interested in chimpanzees, ChimpCARE will be releasing an educational storybook app for the iPad on December 1.
Learn more about Chimps Should Be Chimps, the free iPad interactive storybook presented by Lincoln Park Zoo's Project ChimpCARE in the video below:
For more information and to see photos, visit the links and view the photo gallery below.