The video cannot be displayed.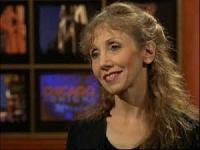 A master class from a Maestro. Leonard Bernstein's finest works are brought to life in a one-man show, one of three one-person plays reviewed by Chicago Sun-Times theater critic Hedy Weiss on Chicago Tonight at 7:00 pm.
These are the plays Weiss will review:
Maestro: The Art of Leonard Bernstein at the Royal George Theatre
Actor-pianist Hershey Felder performs the dramatization of the life of Leonard Bernstein, celebrated composer and renowned music director of the New York Philharmonic. Felder returns to the Royal George Theatre, where he previously starred in George Gershwin Alone and the world premiere of Monsieur Chopin. Felder's first-person narrative and Bernstein's music carry the production. Tickets are $55. The show will run through December 30.
Ann at the Bank of America Theatre
Emmy Award winner Holland Taylor, of Two and a Half Men fame, tells the story of former Texas Governor Ann Richard in Ann. Taylor wrote and stars in the production, a revealing and multifaceted portrait of Richards' life, and an inspirational story. Tickets range from $20 to $85. The show will run through December 4.
An Iliad at the Court Theatre
A 10-year war in a one-man show, An Iliad adapts Homer's epic poem about the Trojan War for the modern stage. Lisa Peterson and Denis O'Hare's rendering of the play reins in the scope of the poem's splendor and tragedy back to the voice of a single poet. Timothy Edward Kane stars. Tickets range from $10 to $40. The play runs through December 11.
The Caretaker at the Writers' Theatre in Glencoe
Harold Pinter's modern absurdist play features the triage of a dysfunctional trio. Troubled Aston saves Davies from a bar fight and offers him a place to stay in his junk-filled London home, and chance to get back on his feet. We soon learn that Aston and his brother Mick see the world just a little bit differently. Tickets are $60. The Caretaker will run through March 25, 2012.