The video cannot be displayed.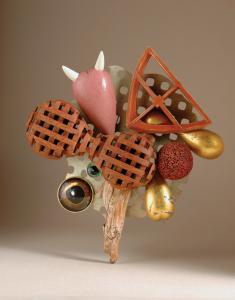 Dual art fairs team up to bring functional art objects and outsider art to Chicago. We talk with the directors of both shows to find out how they work in harmony on Chicago Tonight at 7:00 pm.
For one weekend this November, Navy Pier's Festival Hall is transformed into a dual gallery with two art shows under its roof. From Nov. 4 – Nov. 6, the Art Fair Company will host the International Sculpture Objects & Functional Art Fair along side the Intuit Show of Folk & Outsider Art. In its 18th year in Chicago, SOFA is the longest-running and largest art fair in the city.
"My original vision for the SOFA fairs was to keep pressing to heighten the visibility of art on the cutting edge of the field," said Mark Lyman, founding director of SOFA and president of The Art Fair Company, in a press release. "SOFA has always complemented the artwork on offer with educational programming that reveals the deeper stories behind it."
In addition to showcasing sculptures and other functional art objects, SOFA also features a lecture series and a sequence of specialized exhibits. Some highlights include Art Jewelry Forum's exhibit Geography, which features nearly 80 pieces of jewelry from the world over, and the wildly popular Corning Museum of Glass: Hot Glass Roadshow lecture, which presents live hot glass blowing demonstrations by master glassblowers and featured SOFA artists.
For the second year in a row, Intuit: The Center for Intuitive and Outsider Art will be simultaneously exhibiting and presenting for sale a wide variety of art. The works comprise the self-taught, outsider, art brut, ethnographic, non-traditional folk and visionary forms of art. The exhibition hopes to bring the work of "untrained," but certainly not unskilled, artists to a wider audience.
A quintessential example of an "outsider" artist, Chicago-born Charles Steffen began to study art at the Illinois Institute of Technology in the late 1940s. He was hospitalized for 15 years at Elgin State Hospital after he suffered a mental breakdown at school. While hospitalized and undergoing electroshock therapy for schizophrenia, he continued to produce artwork, working primarily with colored pencil and paper. 
Steffen eventually returned home to live with his mother and sister, where he spent most of his time drawing. Throughout the rest of his life, he produced as many as three works per day, all influenced by his limited environment on the North Side of Chicago or drawn from memory.
Steffen repeatedly used the same subjects – his mother, his sister, a neighbor, flowers, nudes he recalled years earlier from art school. And he covered the margins with journal-like notes on daily life, his techniques and observations, alternately mundane and profound.
In 1994, he wrote on one drawing - "we buryed mother yesterday, god rest her soul, say a prayer for her today at the chaple at church, god bless, chas"
And on another drawing: "to exist in socity, as christ did in his last words, I have a feeling for these drawings, I work hard on these pictures, like giving up the ghost and being born again as christ went to heven, so the paper girl goes to darkness, and sees the light a another wold, a rebirth in a socity, of space and people, call it heaven if you will, not a better world, but a world, Mr Chas p Steffen, 92."
After the death of his mother, Steffen moved into a men's retirement home in Uptown. As he downsized living spaces, thousands of his drawings faced the landfill. But a nephew who had shown interest in his work, Christopher Preissing, offered to store his artwork. After Steffen's death in 1995, Preissing was able to find galleries and exhibitions who specialized in "outsider" art to showcase Steffen's inspired drawings.

Preissing, 51, was born in Chicago but grew up in Indiana. A composer and musician, he now lives in Edgewater, not far from where his uncle and grandparents used to live. As a child and young man, Preissing would visit his Chicago relatives a few times a year for holidays. His uncle, he recalls, was always at the dining room table –when the holiday meal was over, he would still be there, drawing.
Other family members considered Steffen's drawing merely a hobby, but as Preissing moved on to college and became involved in the art world himself, he became fascinated with the intricacy of his uncle's work. Preissing loved how Steffen's drawings were shaded with the side of a pencil, making heavy use of line repetition and patterns.
"What drew me to it was the detail and the material," Preissing said. "Most of it's on brown wrapping paper. From a distance you don't see that much and under the right light some of the drawings don't come off very well. But when they do, they're just gorgeous - the greens and blues just bounce off …The colors are very intense."
Preissing also found himself captivated by the story Steffen weaved around his art. Steffen would note how long a piece took him to complete, if the wrapping paper was difficult to work with that day, musings on daily life and of days past, often signed with a simple "Chas."
"As I started to read, I thought 'Ohmygod, he's telling me everything,'" Preissing said. "What he ate for lunch, what was his life like back at Elgin, what did he do when he was at school He has these three or four threads that are constantly interweaving in the drawings, and that draws the viewer in as well."
For more information about the show and Steffen, visit the links and view the artwork gallery below.