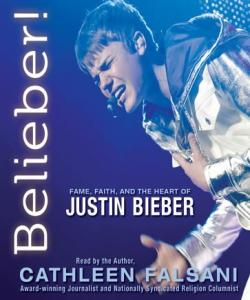 Believe it or not, teen idol Justin Bieber is not only an international sensation, but he's a devout Christian. Longtime Chicago religion writer Cathleen Falsani joins us on Chicago Tonight at 7:00 pm to talk about her new book, Belieber! Fame, Faith and The Heart of Justin Bieber.
Justin Bieber's meteoric rise from a regular kid in small-town Canada to "the most famous teenager on the planet" has captivated the imagination of a generation of young devotees known as "beliebers."
With record-setting album sales, more than 12 million followers on Twitter and the highest grossing concert film of all time, the 17-year-old pop star has legions of fans around the globe who hang on his every word.
Is there something more to Bieber's unprecedented success than his innate cuteness and preternatural musical talents? Could a powerful spiritual yearning be lurking behind all the purple and puppy-love lyrics?
With the keen eye of a veteran religion journalist and culture watcher, Cathleen Falsani takes an in-depth look at how the bold yet humble faith of this teenage ubercelebrity is not only a key to his staggering popularity, but an influence that is shaping the lives and hearts of young people (and more than a few of their parents) worldwide.
Watch a book trailer below.
To hear Falsani read an excerpt from her book, please visit the Audio Attachment below.