The video cannot be displayed.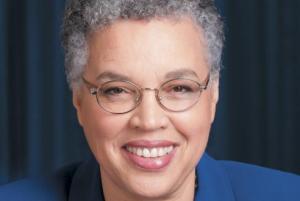 Cook County Board President Toni Preckwinkle presented her Executive Recommendation for the 2012 Budget, on Tuesday, to the Cook County Board of Commissioners. She outlined a budget proposal which reduces the budget by nearly 4 percent, makes long-term investments to address the structural deficit and continues to roll back the Stroger sales tax, a promise that Preckwinkle made before taking office in December 2010.
The $2.9 billion budget is the product of months of collaboration. The FY2012 Executive Budget Recommendation is a comprehensive approach to increasing the fiscal responsibility of Cook County; incorporating key structural changes at all levels of government, targeted revenue enhancements that close loopholes and are aimed at improving collection, as well as other governmental reforms and innovations that save taxpayers money such as managed competition, energy savings and strategic sourcing.
"I am confident that this is a fair budget that rests on a framework of long-term financial management and strategic structural changes across county government," said Preckwinkle. "This framework will allow us to make long-term investments in the County —keeping our commitment to rolling back the 2008 sales tax increase and investing in a 3-year plan to rebuild our suburban infrastructure. Less than 1 percent of the budget solutions are one-time fixes, instead we made strategic structural changes. This is the most fiscally sound and forward-thinking budget the County has seen in a generation."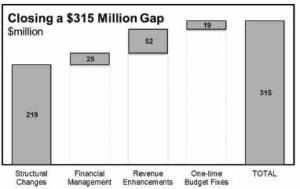 Preckwinkle's budget features structural changes that yield $219 million in savings, financial management strategies that yield $25 million in savings, and revenue enhancements that yield $52 million in savings. The structural changes include key policy initiatives aimed at reducing costs and streamlining operations, as well as more than 1,000 layoffs throughout County offices, the majority of which take effect December 1st, which would save approximately $40 million.
The revenue enhancements include fee increases, aligning taxes with other municipalities and parking fees. The County will also save $3 million on worker's compensation costs based on recent expenditure trends, $1.8 million by eliminating the non-union step increases, and $2 million due to identifying the day after Thanksgiving as a County-wide shutdown day.
After years of mismanagement and a fundamental lack of planning in County government, President Preckwinkle released a preliminary budget in July of this year that projected the general fund shortfall between expected revenues and expenses to be $315 million. To close the gap, Preckwinkle and County officials worked together constantly to find innovative solutions to the current financial challenges without relying on one-time fixes and increasing property taxes on residents already burdened by difficult economic circumstances.
"I made it a priority to institute best practices for financial planning and performance measurements to ensure that we are providing good services at a low cost to taxpayers," Preckwinkle said. "This is a very difficult economic climate and this required shared sacrifice across the Board. I want to applaud the County's elected officials in helping make this process so effective. This Budget is a reflection of how we are changing the financial landscape as well as the culture of Cook County government."
Maintaining her commitment to transparency and accountability, President Preckwinkle has posted all Budget information to the Cook County Budget website, allowing users to engage with the President's Office directly and comb through an unprecedented level of data. There will also be public hearings held on the 2012 Budget throughout the coming weeks.
For more information on the Cook County Budget, please visit the links and PDF below.