Is a terrorist attack less likely today than it was 10 years ago? A new 9/11 report card is sounding an alarm. We talk with former Illinois governor and 9/11 Commission member Jim Thompson on Chicago Tonight at 7:00 pm.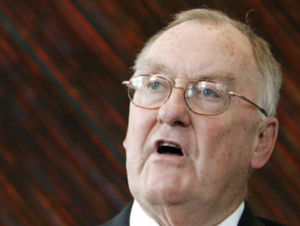 The Bipartisan Policy Center released a report card nearly one week before the 10th anniversary of the 9/11 attacks, which highlights nine of the 41 recommendations made by the 9/11 Commission in July 2004 that remain unfinished. The report was authored by BPC's National Security Preparedness Group, under the leadership of former 9/11 Commission Chair Tom Kean and Vice Chair Lee Hamilton.
At a press conference in Washington on Aug. 31, Gov. Kean said, "While substantial progress has been made in fulfilling many of the Commission's recommendations, these nine unfinished recommendations demonstrate that we are not as secure as we could or should be, and we urge immediate action to complete their implementation."
Unfinished recommendations include the need for increased coordination at a disaster scene, including a unified command structure. Congress should pass legislation to allocate the additional radio spectrum to improve radio interoperability for first responders, and the Department of Homeland Security, along with state and local governments, must work together to address gaps in unity of effort and accelerate emergency communications.
"These unfulfilled recommendations require urgent attention because the threat from al Qaeda, related terrorist groups and violent extremists persists," said Congressman Hamilton. "The terrorist threat will be with us far into the future, and we must constantly assess our vulnerabilities."
The report also found that congressional oversight of the government's homeland security and intelligence functions remains as dysfunctional as it was when the Commission released its report in 2004. While strengthening congressional oversight may be among the most difficult of the Commission's recommendations to implement, Congress should immediately consolidate jurisdiction over DHS within the House and Senate Homeland Security Committees and establish separate subcommittees for funding the intelligence agencies. The formation of a Privacy and Civil Liberties Oversight Board should also be a priority. While legislation was enacted to create this Board, it has been dormant for more than three years.
The report cites the establishment of the Director of National Intelligence (DNI) and the National Counterterrorism Center as areas of significant progress. Still, further clarity about the DNI's role is needed. While much progress has been made to secure our borders since 9/11, including the biometric entry system known as US-VISIT, there is still no comprehensive exit system in place. Full deployment of a biometric exit system should be a high priority, as should the immediate setting of standards for the issuance of birth certificates and sources of identification, such as driver's licenses.
"Dedicated men and women in government and the private sector should be credited for their efforts and accomplishments in improving our national security over the last decade, including the transformation of the intelligence community and improved screening of airline passengers," said Gov. Kean. "Still, nearly a decade after 9/11, the nation is not yet prepared for a truly catastrophic disaster."
"On the 10th anniversary of the attacks, it is appropriate to reflect and take stock of where we are in homeland security reform," said Hamilton. "While we have done much since the attacks ten years ago and are safer than we were that day, there is much more to do. Political leaders from both parties and at all levels of government should renew their focus on implementing the remaining 9/11 Commission recommendations."
To view the 9/11 report card, full report and more information, visit the links below.