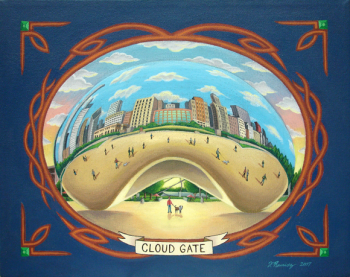 "Art is a window into man's soul," according to former First Lady, Ladybird Johnson.
Those words aptly describe the work of Chicago artist Fernando Ramirez, who was diagnosed with bipolar disorder more than a decade ago. He says it shows in his work. During a manic stage, he is intensely focused; the drawings are elaborate and clean.
But then he shows me work he did during a depressed stage. It's not up to his standards, he says. The colors are off, the lines are not quite as well-defined.
His work station is full of empty liquor bottles, but he's not an alcoholic. The bottles are his canvas, each depicting a different portrait or scene. One painting shows a scene along the Mexican border, with two flags depicting immigrants who died while crossing. Another work shows different images of 9/11 on each side of the bottle.
"I was feeling really good when I did this side," Ramirez said. "But I was down when I did this side, so it's like two different artists."
Through a chance encounter, Ramirez was discovered by art coordinator Rob Lentz.
"He's a really great painter," Lentz said. "Very technically precise and he does amazing portraits."
Lentz created Project Onward, an art studio and gallery for adults with developmental and mental disabilities, funded by the Chicago Cultural Center. He immediately accepted Ramirez into the program, which has the dual goal of displaying local artwork and raising awareness.
"It's a way of reducing stigma, and also just making people more aware of the types of disabilities people live with every day."
Project Onward has studio space for 35 adult artists with a range of special needs. Lentz says that art is a window into their psyche; a way to understand something that perhaps they don't want to talk about.
"A lot of our artists are drawn to art making because they might have difficulty communicating in the ways that we sort of take for granted, but visual art is a kind of way to be able to tell their story and get their perspective across," said Lentz.
"I love working here, feeding off the energy of other guys," said Ramirez. "Traditionally, artist is a lonely profession, you're in a room by yourself, but here, you're in a different atmosphere."
The artwork is for sale at the Chicago Cultural Center and prices range from $15 to $1,500.
Ramirez has been hired by the National Museum of Mexican Art to paint 25 of his signature bottles for their 25th anniversary.
"Its like a dream job, to get paid for doing what you love to do, what you would do for fun," he said.
During the week, a few of Project Onward's artists set up outdoors -- in Millennium Park. Due west of the Pritzker Pavilion, there is a makeshift gallery where the artists create portraits of passersby, each in their own unique style.
Today, I have commissioned Ramirez to work on a surprise portrait for a certain Chicago Tonight host. Later in the day, I revealed the work to said host, and he had a few choice words for it. The lines were smoothed out in the drawing, and there were fewer grey hairs. Naturally, he gave it an A+ and said it was an absolutely marvelous representation.
Ramirez and other talented artists from Project Onward will be in Millennium Park until September 15th.
For more information, and to see more of the artists' work, view the image gallery and links below.