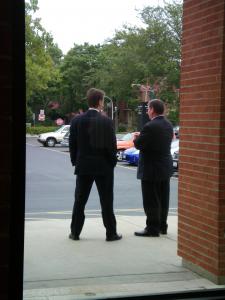 Mayor Rahm Emanuel joins Phil Ponce on Chicago Tonight at 7:00 pm to talk about what he's done in office so far, and what's ahead.
Three members of Mayor Rahm Emanuel's security and communications team arrived almost an hour before the Mayor. We walked through Mayor Emanuel's path with them—through the lobby, down the stairs, past the makeup room, the guest room, and into the studio.
About 25 minutes before the interview with Phil Ponce, Mayor Emanuel arrived. With a quick handshake, he immediately introduced himself to us—short and to the point: "Rahm Emanuel."
Surrounded by security, he followed the same path we had marked out earlier with the quick, focused stride of someone who had walked it before. He wasn't quite able to follow the plan, however. Unable to resist, he paused at makeup to chat with Elizabeth Brackett about their exercise routines—had she competed in last week's triathlon?—before stepping into our guest room, where he spent a few minutes in private with his staff while most of his security detail waited outside and joked with the interns.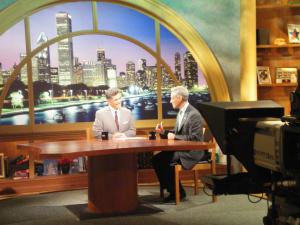 Once he finished talking with his staff, Mayor Emanuel returned to the makeup room, this time for a little foundation instead of just a chat. Still, Brackett and Emanuel kept discussing athletics, even as he posed for the makeup artist.
After all, this is the man who, upon placing ninth in his age group in Sunday's Life Time Chicago Triathlon, quipped, "You may say I may be unfit to be mayor. But you can never say I'm an unfit mayor."