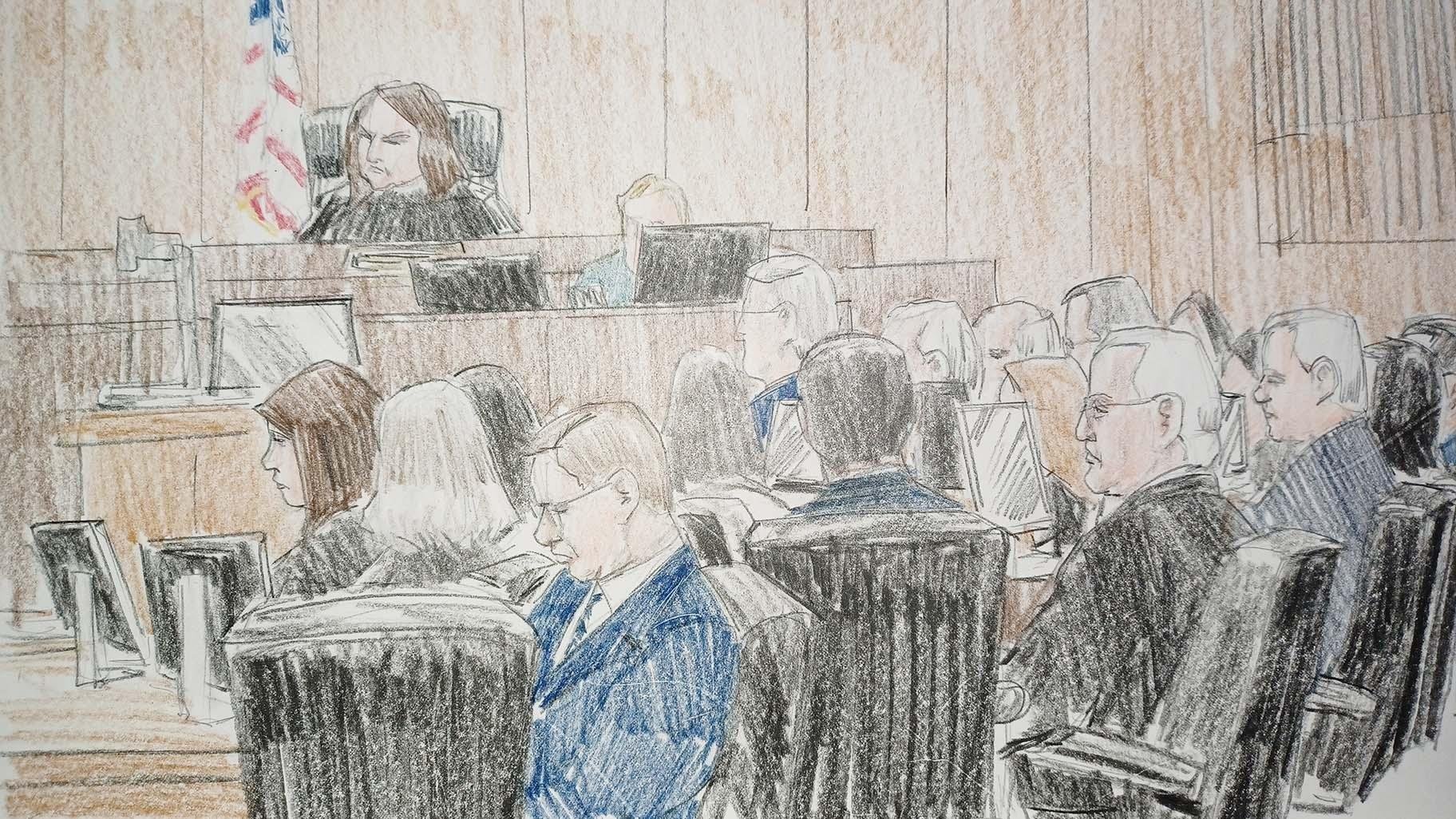 Lawyers and defendants in the Ed Burke trial appear before Judge Virgina Kendall on Nov. 16, 2023. (WTTW News)
A former high-ranking Field Museum official testified Monday that former Chicago Ald. Ed Burke was incensed that his goddaughter wasn't considered for an internship he threatened to hold up an effort by the natural history museum to hike admission rates.
The jury of nine women and three men, most from the suburbs, heard the first direct testimony from someone who prosecutors allege Burke sought to extort by weaponizing his powerful position as chair of the City Council's Finance Committee and the longest serving member of the City Council.
Deborah Bekken, who retired in June as the director of government affairs and sponsored programs for the Field Museum, said officials were determined to pass a "quiet" and "clean" admissions rate hike in August 2017 — and knew they needed Burke's support, even though he had no direct authority over the home of Sue the T-Rex. 
Bekken told the jury she and her bosses were well aware that Burke reacted with fury in 2009 to an effort by the Art Institute to raise admission prices and introduced a measure to cut off city subsidies. Even as they prepared to ask the Chicago Park District Board to approve the entrance fee hike, they strategized about how to ensure Burke was on board, Bekken said.
But when Bekken called Burke's office on Sept. 8, 2017, to schedule a meeting for her bosses to make their case, Burke had his assistant put the call through to him — and he was angry, according to a recording of the call played in court.
Burke barely gave Bekken a chance to greet him before expressing his displeasure with her, and everyone at the Field Museum, because of their treatment of Molly Gabiniski, the daughter of former 32nd Ward Ald. Terry Gabinski, one of Burke's closest friends and his goddaughter.
Bekken never got an opportunity to ask Burke to support the price hike, but he knew why she was calling, based on what his assistant had told him, according to the recording made under a court-approved wiretap.
"So now you're going to make a request of me," Burke said, according to the recording. "Because if the chairman of the Committee on Finance calls the president of the Park Board, we know your proposal is going to go nowhere."
Bekken said she clearly understood that Burke was linking the museum's proposed admission rate hike and their failure to consider Burke's goddaughter's internship application.
"I perceived it as a threat," Bekken said.
For much of Bekken's testimony, Burke sat impassively, with his hands folded. Dressed in a pinstriped suit with a bright green pocket square, Burke occasionally rubbed his chin.
Bekken assured Burke she would get to the bottom of what happened.
"Well, somebody better," Burke replied.
"We are working on fixing it," Bekken said. "We will definitely fix it."
Burke said only "thank you," before ending the call.
Alarmed that the proposed admission rate hike was in considerable trouble, Bekken alerted museum President Richard W. Lariviere via an email 30 minutes later with a subject line that read: "we have a problem." Lariviere spoke with Burke later that same day, prosecutors said.
Lariviere followed Bekken on the stand, where he told the jury about how the members of the Field Museum's board warned him about Burke. Before taking the top job at the Field Museum in 2012, Lariviere served as the president of the University of Oregon. He retired in 2020.
Lariviere said board members advised him to "stay on Burke's good side" to ensure that negative publicity did not threaten the "public's trust and esteem" of the Field Museum and its leaders. That was why he bought Burke's books on Chicago history, and asked him to sign them for him, he told the jury.
Before Field Museum officials asked the Chicago Park District Board to OK an admission fee hike in 2013 and 2015, Lariviere said he met with Burke to get his approval. Bekken's call was designed to follow that pattern, before the issue of Molly Gabinski's unsuccessful internship application threw a wrench in the gears.
Lariviere spoke with Burke shortly after the alderman spoke with Bekken, and apologized four times in a span of no more than several minutes.
"We dropped the ball," Lariviere said. "I'm really feeling shitty."
Burke said he had been treated in an insulting manner, and twice mentioned how embarrassed he was that no one responded to Molly Gabinski's internship application. That was why he was angry when Bekken called, Burke told Lariviere.
And now "you're asking for me to go out of my way to do something for the museum," Burke told Lariviere.
Lariviere said he understood that to be a reference to his approval of the museum's admission fee hike.
"When you call, Ed, you know we jump," Lariviere said.
Another attorney for Burke, Chris Gair, prompted Lariviere to tell then jury he was trying to smooth things over with Burke during the recorded phone call the jury heard, but was not seriously worried that the fee hike was in jeopardy because of Burke's pique.
Lariviere also acknowledged that Burke did not press him to give Molly Gabinski a job or an internship.
But Burke did have his staff inquire about an open position at the Field Museum that officials had agreed to interview Molly Gabinski for, including sending over her resume several times, Lariviere said.
In a series of emails presented to the jury, Bekken and Lariviere strategize ways to placate Burke and keep the admission price hike on track.
In one exchange, Bekken suggests offering Burke an internship that he could award a scholarship, as a "mea culpa prize."
Other ideas floated included free admission for seniors who lived in Burke's 14th Ward, Bekken said, before all concluded none were "appropriate or realistic."
Eventually, Field Museum officials extended an offer, through Burke's office, to Molly Gabinski in connection with an open position in the museum's public relations and marketing department. Molly Gabinski declined to apply for that job in an email shown to the jury, after they heard a conversation between her mother, Celeste, and Burke. Celeste Gabinski told Burke his goddaughter was doing well in another job.
Eventually, the Chicago Park Board approved the admission rate increase requested by museum officials. But that did not stop Lariviere from worrying that Burke could still throw a wrench in the work, Bekken testified.
Joe Duffy, Burke's attorney, did not start his questioning of Bekken by focusing on her exchange with Burke, instead asking her about the former alderperson's love of Chicago and its museums. Duffy also pressed Bekken on the Field Museum's decision to ask the Chicago Park District board for four price hikes in seven years.
In response to questions from Duffy, Bekken acknowledged that Burke never asked her to take a specific action about Molly Gabinski's internship application.
A week after the Chicago Park District Board gave the museum the green light to hike admission fees, Bekken and her bosses met with Burke, who did not mention his goddaughter's job or internship application or air his grievances during that session.
Instead, Burke spoke only about Chicago history during that session, Bekken said.
During opening statements, Gair acknowledged that Burke "was pretty ticked off" by the museum's treatment of his goddaughter and read the "riot act" to the museum official he held responsible.
"It is not a crime to be in a bad mood," Gair said. "He never asked for anything. He was venting."
Gair is set to finish his cross examination of Lariviere on Tuesday.
In all, Burke faces 14 criminal charges, including racketeering, bribery and extortion. 
Prosecutors will detail Burke's involvement in what they say are four criminal schemes as part of their bid to depict the former alderperson as "thoroughly corrupt," three involving his side hustle as a property tax attorney.
Burke is being tried alongside his former aide Peter Andrews and Portage Park businessman Charles Cui.
Contact Heather Cherone: @HeatherCherone | (773) 569-1863 | [email protected]
---