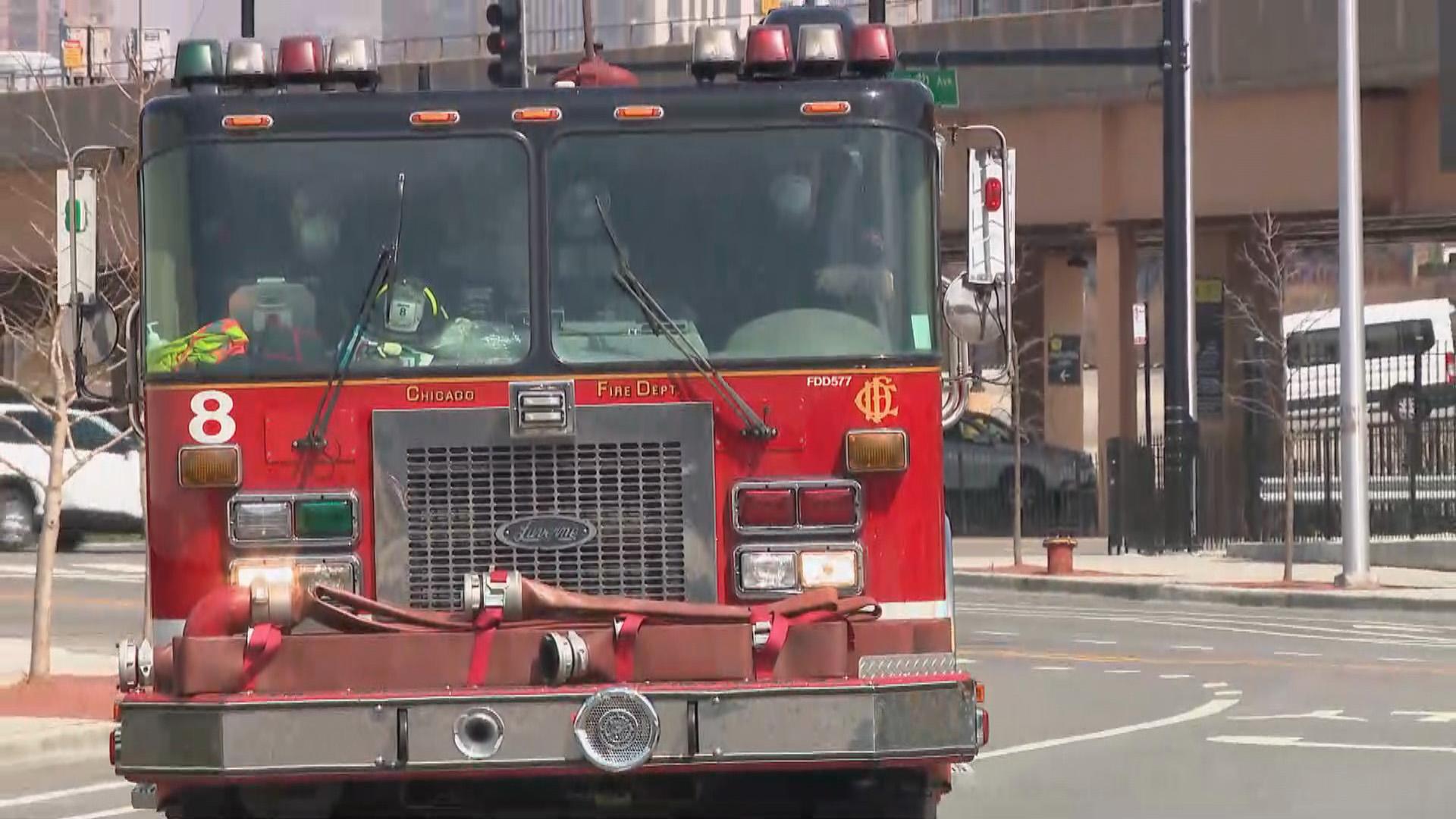 (WTTW News)
A 39-year-old Chicago Fire Department veteran has died after he fell through the roof of a Lincoln Park building while battling a blaze Monday morning.
Chicago Fire Department officials confirmed Andrew "Drew" Price died after suffering injuries during a fire in the 2400 block of North Lincoln Avenue.
"He was a lovely man, he was as sweet as could be," CFD Battalion Chief Michael McCormick said outside Illinois Masonic Hospital. "A good family man, everybody loved him. It really stings. He's like a big kid, real enthusiastic. Just a wonderful young man."
Firefighters responded to the building at around 5:30 a.m. Monday after a woman reported seeing smoke at the four-story building. As they put out the main fire inside, other firefighters went to the roof of the building to aid in what McCormick called "vertical ventilation."
While on top of the building, Price fell through a light shaft at around 6 a.m. He was initially responsive after the fall, but emergency responders had trouble removing him and had to break through a wall in order to get to him.
Price — an EMT who had been with the CFD since 2009 — was then rushed to the hospital where he was pronounced dead.
FIREFIGHTER/EMT ANDREW "DREW" PRICE. LODD NOVEMBER 13 2023 pic.twitter.com/sAmO2GZnu4

— Chicago Fire Media (@CFDMedia) November 13, 2023
"This job is a very, very, very dangerous job," Fire Commissioner Annette Nance-Holt said. "We go to work and we never know if we'll come home."
Nance-Holt described Price as a "workout nut" who enjoyed physical fitness and keeping himself in shape. She said he was beloved throughout the department.
"Andrew gave his life in service to the City of Chicago, taking his position at the front lines of a threat to our safety and community," Mayor Brandon Johnson said in a statement. "He made the ultimate sacrifice to protect those in harm's way — a debt we can never repay."
This marks the fourth time a firefighter has died in the line of duty this year.
Lt. Kevin Ward Ward died in August, weeks after he was critically injured while battling a house fire near O'Hare Airport.. Lt. Jan Tchoryk, 55, died following a fire at 1212 North Lake Shore Drive in early April, one day after 49-year-old Jermaine Pelt died while battling a fire at a home near 120th and Wallace streets.
"Let me say this, we all love what we do and we all know that when we go to work, it may be our last (day)," Nance-Holt said. "We work through our grief, we really do. Do we understand this? Of course we don't understand this at all. … This is what a fire department is. When times get rough, we hang together and we stick with one another."
---