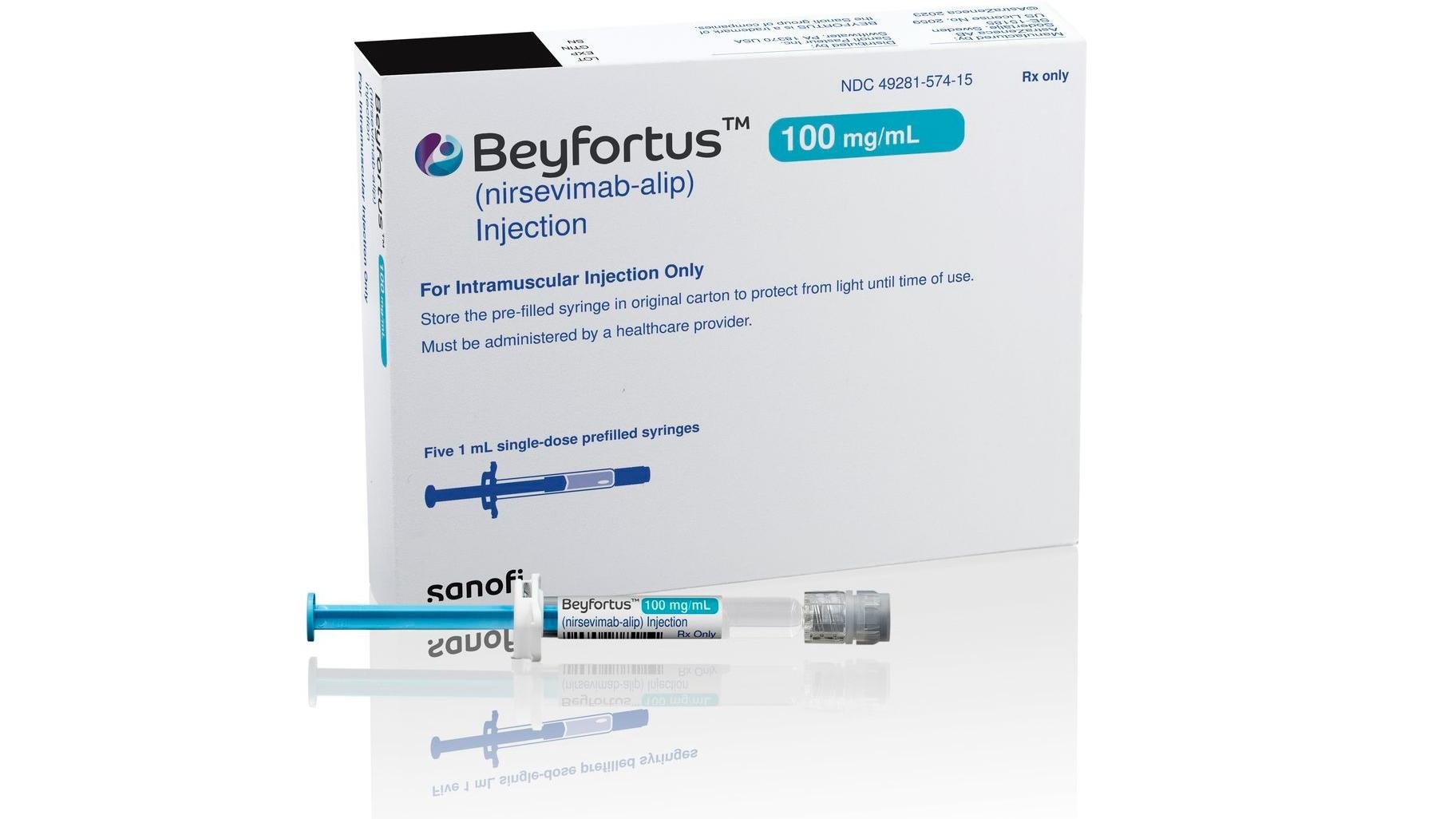 An illustration if the medication Beyfortus. (Credit: AstraZeneca)
After children were cooped up during the COVID-19 pandemic, hospitals last winter were overwhelmed by young patients with another respiratory disease: respiratory syncytial virus, or RSV.
In July, the Food and Drug Administration for the first time approved a shot, nirsevimab, that could prevent infants from contracting a severe case of RSV.
The problem is, the treatment is proving difficult for Chicago-area families to access. Some pediatric clinics simply don't have it to give.
Centers for Disease Control Director Dr. Mandy Cohen said manufacturers, who are making the immunization for the first time, underestimated demand.
"What we're seeing is, greater demand for that vaccine than any vaccine in child history," Cohen told WTTW News on Monday, when she was visiting a COVID-19 and flu vaccine clinic for seniors at the Martha Washington Apartments in North Center.
"I personally have been talking with the companies that produce this, just to make sure we can accelerate as much of the production as possible because we want folks to get vaccinated, we want them to get protected," Cohen said. "So, I understand the demand that is out there, and I know it's frustrating for families."
Illinois Department of Public Health Director Sameer Vohra said it's difficult to pinpoint the depth of the shortage, but he recognized demand outstrips supply.
"It's difficult to measure right now," Vohra said.
The CDC recommends adults older than 60 get vaccinated for RSV, as well as those who are 32 to 36 weeks pregnant.
But Vohra said the scarcity is most impacting the immunizations for those eight months and under. Vohra said he spoke about it Monday during a meeting with Cohen, and that IDPH is having conversations with doctors' offices and other health care providers that don't have enough of the treatment for families requesting it.
"We're aiming for, you know, to work with parents and get a resolution as soon as possible," Vohra said. "Some of that stuff is trying to get the manufacturers and the wholesalers to move and be able to ship, but you know, try to do it always as quickly, as efficiently as possible to get that treatment to our residents."
He hopes for a resolution "within weeks," as the state is seeing a "small increase" in RSV cases.
"We know that even one year ago by September, October, November we were seeing pediatric hospitals and ICU beds full," Vohra said. "Right now, we're fortunate to have pretty good capacity across the state still, and we just had a conversation last week with members of the chief medical officers across the state, and they're pretty happy and right now they're feeling like hospital capacity is holding."
The CDC director said she is hopeful availability will improve within week.
"There's more and more vaccine every day, every week getting out there," Cohen said.
Cohen recommends families call their pediatrician, "and keep trying."
The supply problem is mostly impacting those with private insurance. Cohen said the CDC's Vaccines for Children program, serving those who are on Medicaid or are uninsured, has "good availability" as the government contracted for the infant RSV treatment ahead of time.
"We're working really hard with the American Academy of Pediatrics and with these companies make sure that they can accelerate the vaccine," Cohen said.
She said last year was a "particularly bad season" for RSV because when they were in semi-isolation for COVID, children weren't exposed to it; as regular living resumed, "double the number of kids" got exposed in the same season.
While "bigger kids are probably going to be okay" because by now they've had exposure, Cohen said, babies under 8 months old have yet to experience an RSV season.
That's why the shots are targeted at babies 6 to 8 months old and under. There's also a priority order within that criterion. Medical professionals are prioritizing the infants most at-risk, including premature babies, infants with low weight and those with underlying conditions.
RSV can present as a cold, but can be life threatening for vulnerable babies and elderly individuals.
"For the first time in history we have a vaccine for older adults and for our babies," Cohen said. "We have the tools, we have to use them."
Follow Amanda Vinicky on Twitter: @AmandaVinicky
---