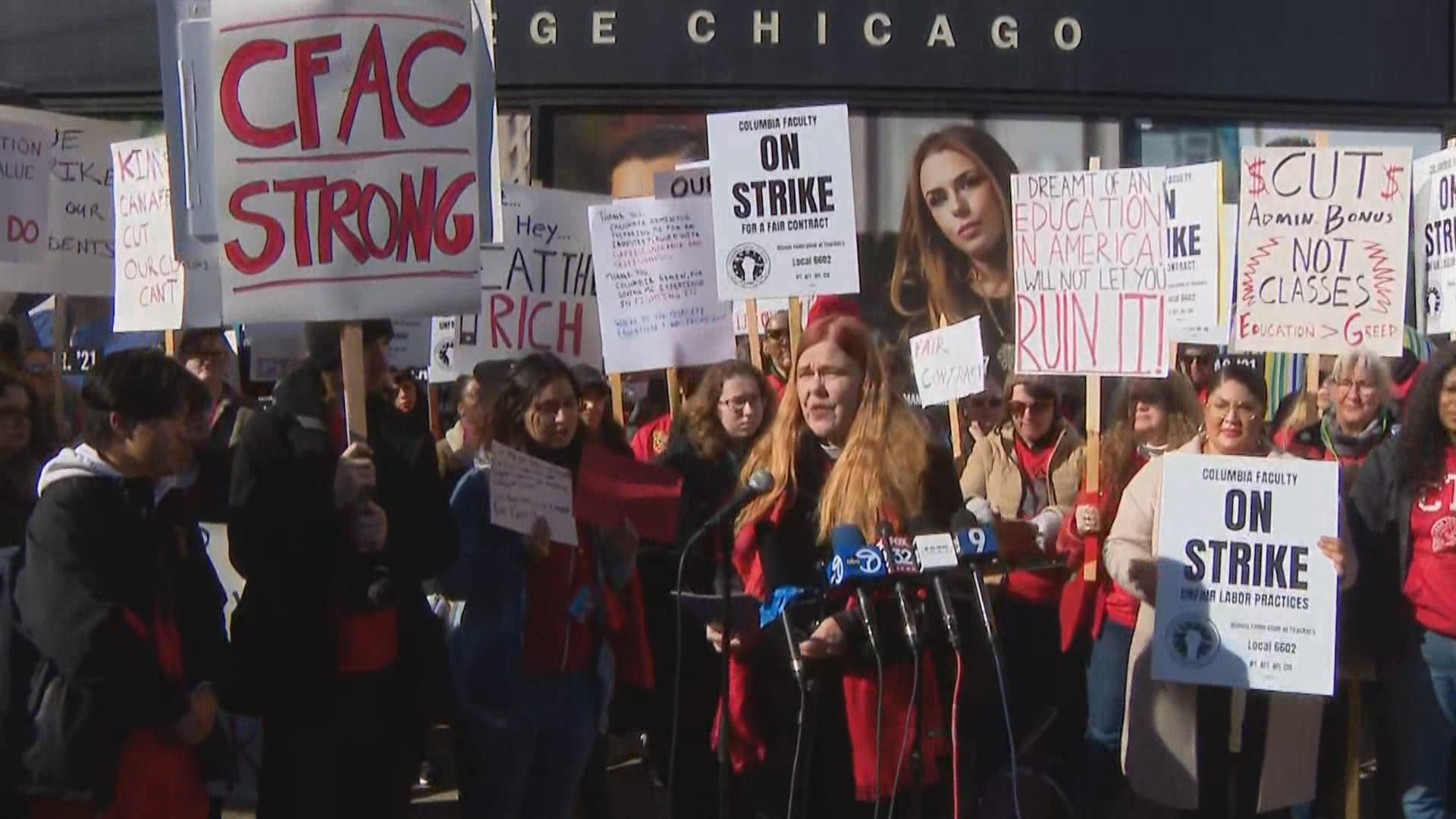 Part-time faculty members at Columbia College hold a press conference in downtown on Oct. 30, 2023. (WTTW News)
Nearly 600 part-time faculty members at Columbia College walked off the job Monday over what they say are frustrations with increasing class sizes and the possible elimination of hundreds of classes this academic year.
The part-time faculty members, represented by Columbia College Faculty Union, picketed and held a press conference in front of the downtown college this morning.
"I walk into a classroom and there's twice as many people in there than should be for me to spend time with them, to give them the education they came for," said Andrea Dymond, who teaches in the theater department and is a member of the union's bargaining committee.
Part-time faculty, who make up two-thirds of the total faculty at the college, voted to strike Wednesday, union reps said. Out of the 81% of members who voted, 88% voted in favor of the strike.
The faculty union and administration have been contract bargaining since May.
A central issue in the labor dispute centers on the college making changes that will result in a larger share of classes being taught by full-time faculty, a move the part-time faculty objects to, according to Associate Vice President of Strategic Communications & External Relations at Columbia College Lambrini Lukidis.
The faculty union filed an unfair labor practice complaint against the administration to the National Labor Relations Board in August because union representatives said school leaders did not inform the faculty of its plan to cut classes during ongoing bargaining sessions. The board has not yet ruled on the complaint.
Up to 350 classes could be cut during this academic year, said union president and photography faculty member Diana Vallera, adding that some classes have already been cut this fall semester.
Lukidis said because of under enrollment and a structural budget deficit, the college cut 53 course sections this semester impacting part-time faculty, in which all, except for two, were under-enrolled sections.
"We're facing some declining enrollment, so we have to make adjustments based on registration numbers and that's what we did in the fall," Lukidis said. "We were running under enrolled sections, so we did consolidate those in order to realize some savings."
Columbia College, a private college that focuses on creative and media arts, serves over 6,500 students, according to last year's fall numbers. Part-time faculty at the college last went on strike in 2017 for two days over faculty concerns of low wages and dwindling job security.
The next contact bargaining session is scheduled for Tuesday.
---
Contact Eunice Alpasan: @eunicealpasan | 773-509-5362 | [email protected]