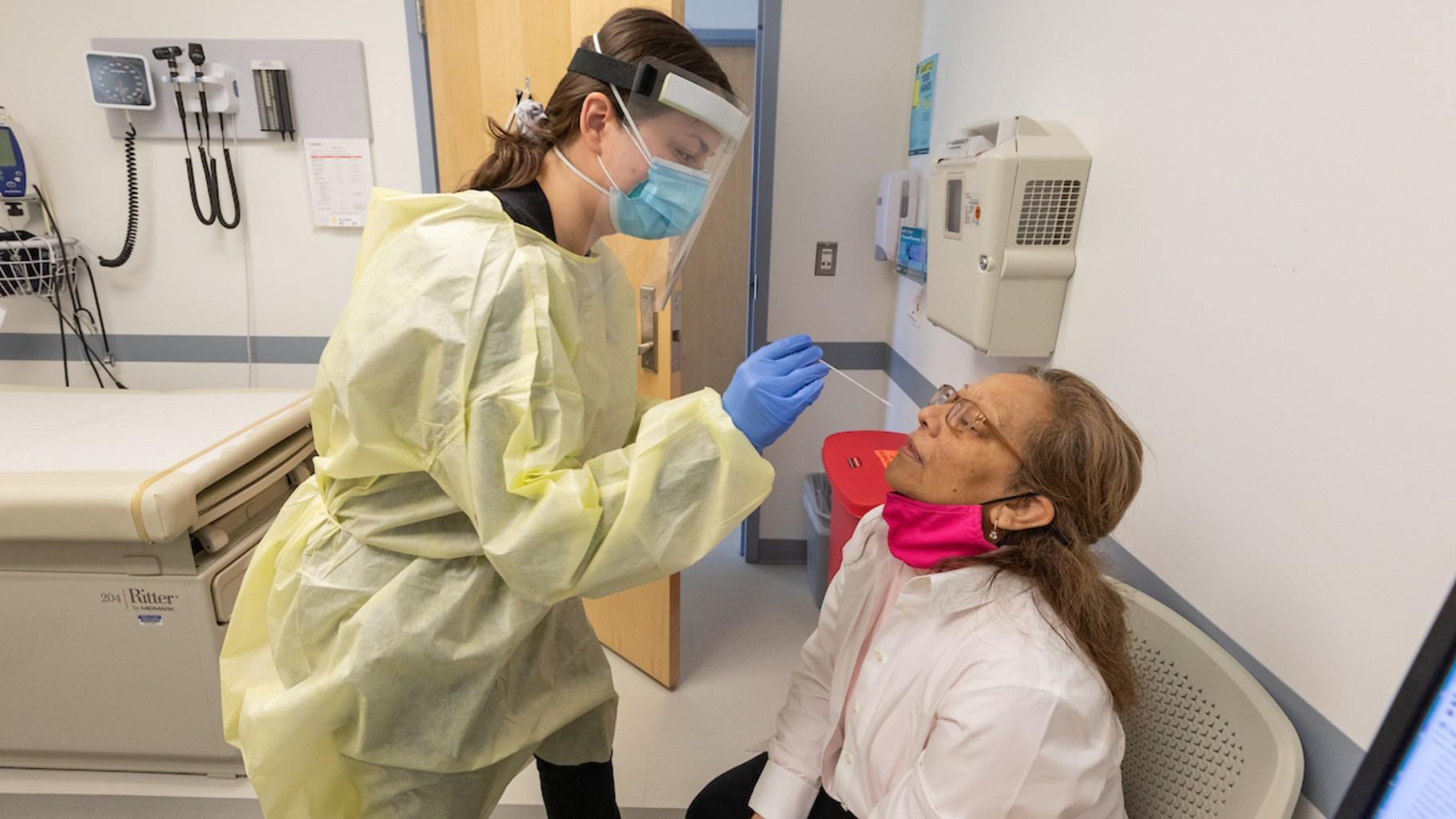 Alma Aguilar, a long Covid patient, participates in the RECOVER research study at Mile Square Health Center on March 10, 2022. (Joshua Clark / University of Illinois Chicago)
This is part two of a two-part series on long COVID. The first installment shared the stories of three long COVID patients.
---
The response was overwhelming when NorthShore – Edward-Elmhurst Health officials reached out to long COVID patients within its hospitals in early August, letting people know they were looking for participants for upcoming clinical trials for possible treatment options.
Researchers heard from nearly 60 patients the first night alone, who called and left messages expressing interest. Some patients were even willing to travel from southern Illinois.
"We haven't seen this in any of the clinical trials we've had," said Dr. Nirav Shah, director of infectious disease and investigational innovation research at NorthShore. "This is a group of patients that are really desperate, but hopeful for having options available."
Shah leads the long COVID research program at NorthShore – Edward-Elmhurst Health, which is part of a larger long COVID research initiative that has received $1.15 billion in funding from the federal agency National Institutes of Health. The nationwide initiative is known as RECOVER, or "Researching COVID to Enhance Recovery."
It's just one of several ongoing efforts being led in the Chicago area to better prevent, diagnose and treat long COVID. The research comes as many long COVID patients have exhausted available treatment options and are now left to manage and live with a variety of chronic symptoms, sometimes for years after initially getting COVID-19.
---
Read More: The Physical and Mental Toll of Living With Long COVID: 'I Feel Like We've Been Abandoned and Forgotten'
---
In 2022, long COVID impacted 6.9% of U.S. adults, or about 18 million people, with 3.4% of U.S. adults, or about 9 million people, saying at the time it was something they were currently dealing with, according to a recent Centers for Disease Control and Prevention report.
About a quarter of adults with long COVID report significant limitations in their ability to carry out day-to-day activities.
"We know that when patients are suffering, we can never move fast enough," Acting NIH Director Dr. Lawrence Tabak said in a July news release announcing the clinical trials.
Clinical Trials for Long COVID Treatment
University of Illinois Chicago has led ILLInet, an Illinois-based research consortium made up of health systems and community-based organizations, for the past two years to study long COVID as part of the national RECOVER initiative.
The first stage of the initiative — involving more than 24,000 participants — consisted of observational studies looking at people's experiences with COVID-19 to learn why some people develop long-term symptoms while others recover completely.
The initiative recently launched clinical trials for potential long COVID treatments, which are rolling out at health systems like UIC and NorthShore – Edward-Elmhurst Health in the upcoming months.
One of the challenges with studying long COVID is that it's not a single entity, and rather, can involve many different symptoms in each patient, Shah said.
"Imagine trying to do a drug trial on something where the definition of the thing that you're trying to study is so amorphous," Shah said. "I think that's what's taken the RECOVER trials some time here."
The clinical trials will study possible treatments such as an antiviral drug used to treat mild-to-moderate COVID-19 called PAXLOVID; a web-based brain training program for treating brain fog and memory problems; and drugs that treat symptoms associated with sleep disturbances and problems in the autonomic nervous system, which controls bodily functions like heart rate, breathing and digestive system activity.
Building trust within communities during the clinical trials is also an important step, said Dr. Jerry Krishnan, who leads UIC's long COVID research.
"When we do find treatments for it, and I'm very optimistic we will because of the enormous effort underway, it'll only go so far unless people have trust in the process and are willing to take the treatment that these studies are going to find as being effective or frankly, stop using treatments that we now know are ineffective," Krishnan said. "Once these trials are done, we're going to learn both."
Predictors of Long COVID, Quality of Life Impact
Rush University is part of a nationwide collaboration of eight major academic medical centers studying long COVID called INSPIRE, or "Innovative Support For Patients With SARS-CoV-2 Infections." The CDC-funded study has been ongoing for nearly three years and involves 6,000 participants.
Through the INSPIRE study, researchers came to the findings of the different kinds of syndromes that can exist within long COVID; the impact of COVID-19 variants on long COVID symptoms; and the role that vaccinations have in reducing the likelihood of getting long COVID.
Researchers have stopped recruiting new participants as the study now shifts to better understanding the long-term impact of long COVID. This includes looking into the role race might play in symptoms and looking into the quality of life of long COVID patients, said Dr. Michael Gottlieb, who leads Rush University's long COVID research efforts.
The goal of better understanding long COVID's long-term impact is to be able to better plan and create resources and support strategies for people who are living with long COVID, Gottlieb said.
Understanding the Diagnosis Process for Long COVID
Jana Hirschtick, a research scientist at Advocate Aurora Research Institute, is in the early stages of setting up studies to better understand the path to a long COVID diagnosis, in addition to exploring the possible underdiagnosis of long COVID among Black communities in Chicago.
The level of awareness of long COVID and its symptoms, racial discrimination in health care — such as whether someone's symptoms are believed by a clinician — and barriers to health care are possible explanations Hirschtick has for why underdiagnosis might happen.
Not having a definitive test for long COVID means that a diagnosis is based on symptoms and ruling out other possible diagnoses, Hirschtick said.
"What I think that means in practice is that people need to come to multiple appointments and have multiple rounds of testing to rule out all the other possible diagnoses," Hirschtick said. "You have to think about who's able to do that in terms of who has health insurance, who has time off work or child care to attend those multiple visits."
Hirschtick said there's preliminary research that shows that White women from higher-income communities are being diagnosed with long COVID more than others, which may partially reflect who has the ability to continue to access care.
Contact Eunice Alpasan: @eunicealpasan | 773-509-5362 | [email protected]
---