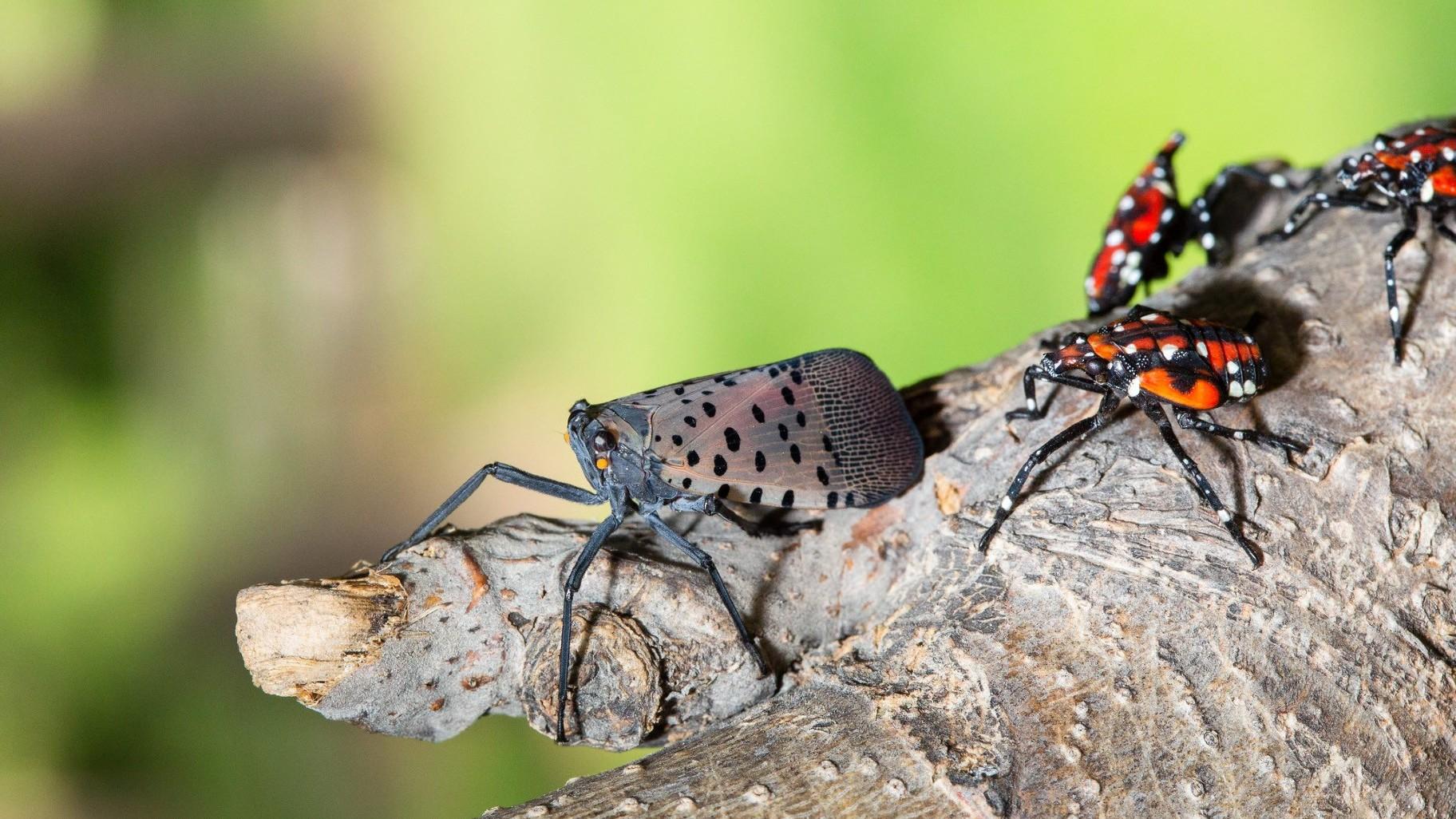 Spotted lanternfly adult (left) and nymphs. (U.S. Department of Agriculture)
Have you seen the video and photos coming out of Pittsburgh?
You know, the ones of trees and sidewalks teeming with spotted lanternflies in such massive amounts, the only frame of reference for describing their numbers is "biblical plague."
---
Well, the invasive insect has finally reached Chicago, as confirmed this week by the Illinois Department of Agriculture. If the initial fear was that the pest would devastate trees and crops, social media has flipped the conversation to the bug's gross-out value.
Are we doomed?
Not according to Stephanie Adams, an expert in plant pathology at Morton Arboretum.
"Don't panic," Adams advised.
Though she conceded it's "very startling" to come across a tree so covered with the pests that the bark looks like it's crawling, a handful of sightings today won't equate to swarms next summer.
"We're many years from having the extreme 'yuck' factor," she said.
And if Chicago plays its cards right, it could avoid becoming Pittsburgh altogether. 
Here's how.
Knowledge Is Power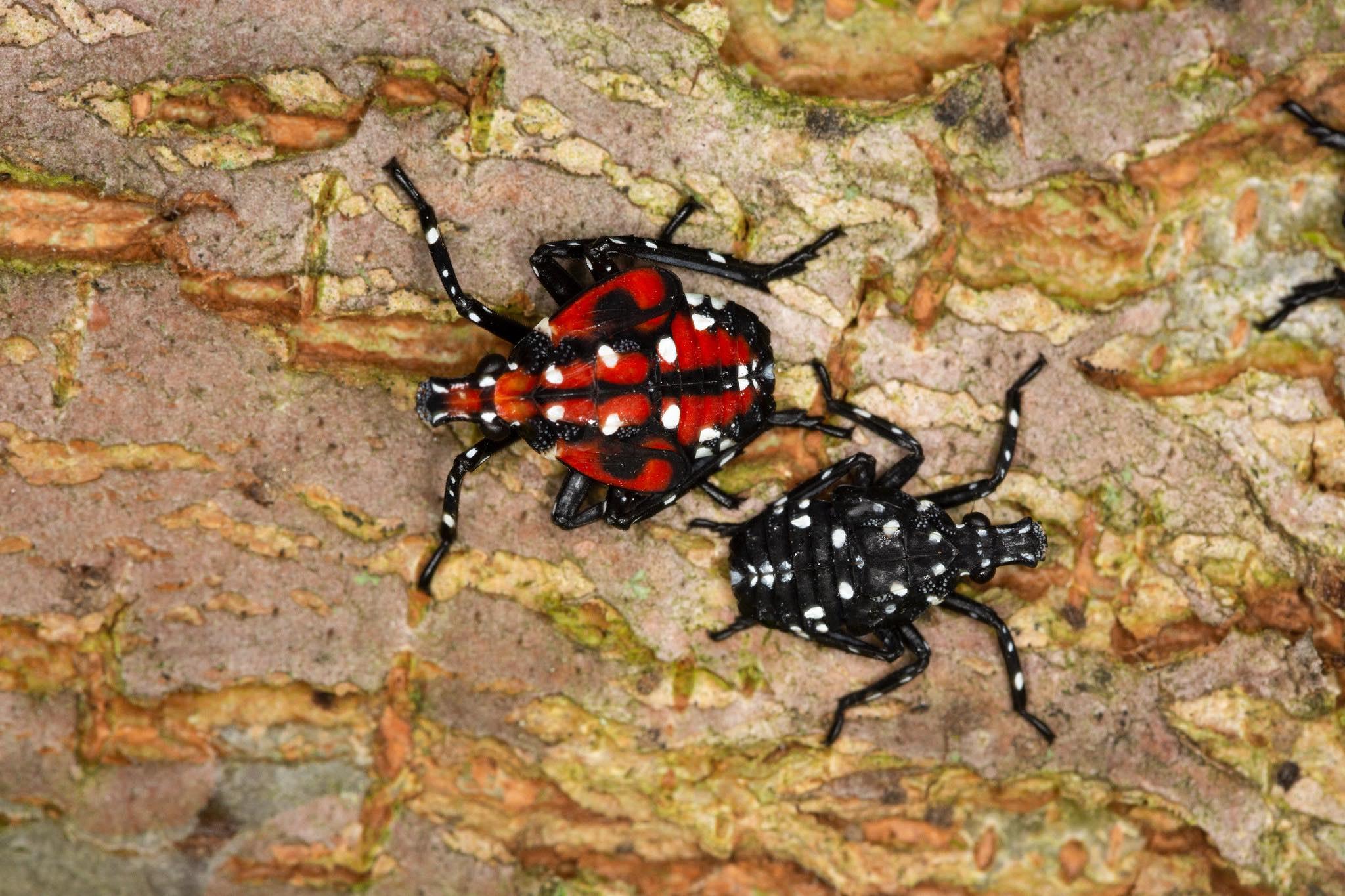 Spotted lanternfly nymphs are red in their final stage and black in their earlier stages. (U.S. Department of Agriculture)
In the same way that Colorado is turning to states like Illinois for advice on how to combat emerald ash borer, Illinois has been paying close attention to the response of states on the spotted lanternfly invasion's leading edge.
Researchers have learned a lot since spotted lanternfly was first identified in Pennsylvania in 2014, after going undetected for who knows how long before that, multiplying at will.
Today, we know what we're looking for, Adams said.
"We've been waiting for this," she said of the insect's arrival. "Being able to identify it, you know how to manage it."
Exploit Weaknesses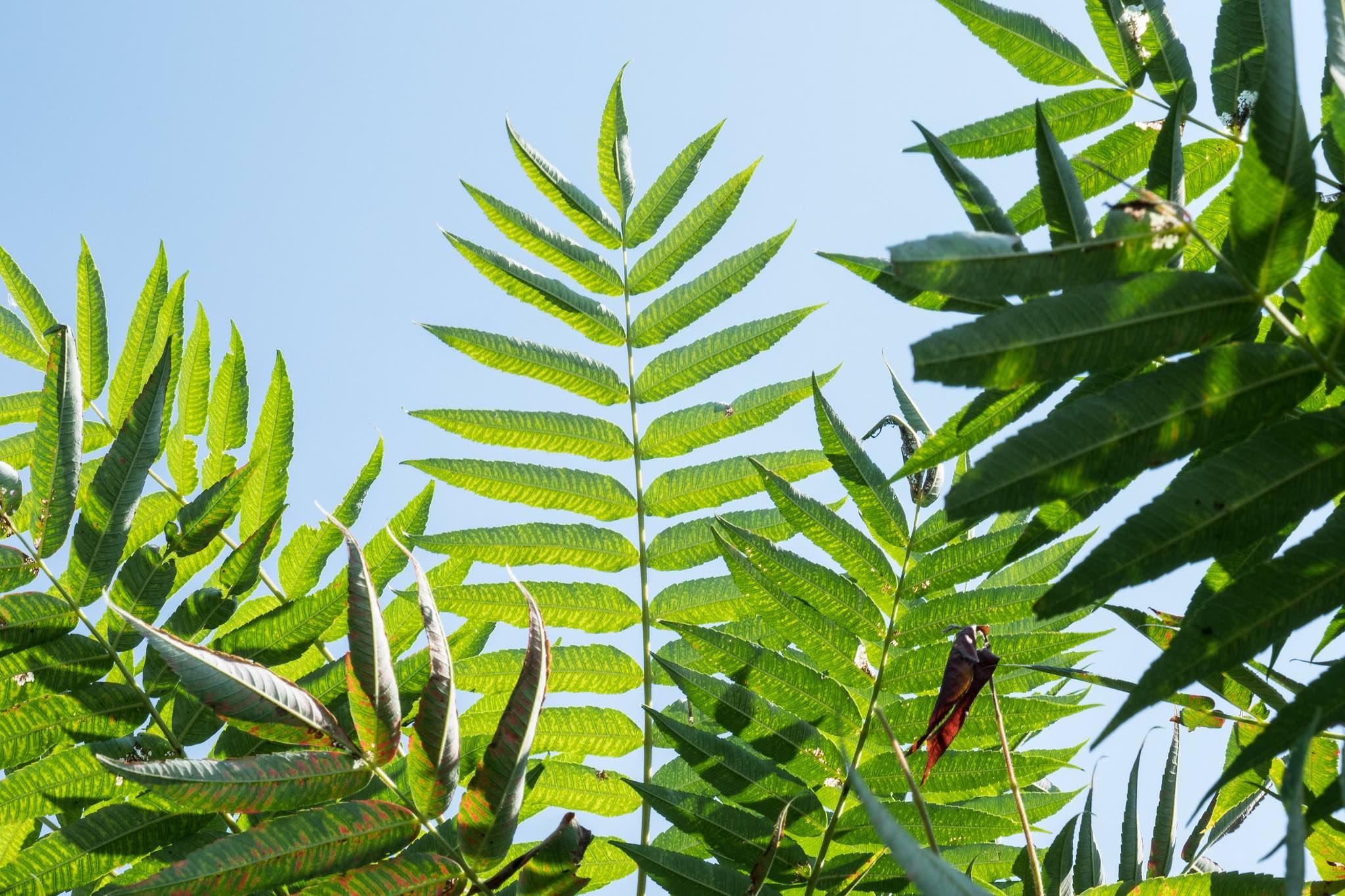 Highly invasive tree of heaven is one of spotted lanternfly's preferred hosts. Getting rid of the plant is one way to defeat the insect's spread. (U.S. Department of Agriculture)
Turns out, spotted lanternflies aren't strong fliers, so any infestation will be localized, making it easier to stamp out, Adams said.
We also know the pest's preferred host plants — grapevines (including native grape species) and the highly invasive tree of heaven.
These plants tend to grow on roadsides and along train corridors, and lo, spotted lanternfly's major mode of transport is trains, hitching rides and laying eggs.
"They can fall off the train and they have food," said Adams.
Knocking back tree of heaven — an aggressive invasive that's a serious threat to biodiversity — is a tall order. This is a plant that looks at an otherwise seemingly uninhabitable location and says, "Yes! I've got my spot," Adams said.
But with persistence it can be eradicated. Anecdotally, Adams said, colleagues who've visited areas infested with spotted lanternfly have noticed that where grapevines and tree of heaven have been cleared, the pests are gone.
One question mark is whether the spotted lanternfly will encounter any native insects or local fungi in Illinois that will prey upon them, Adams said.
Go on Offense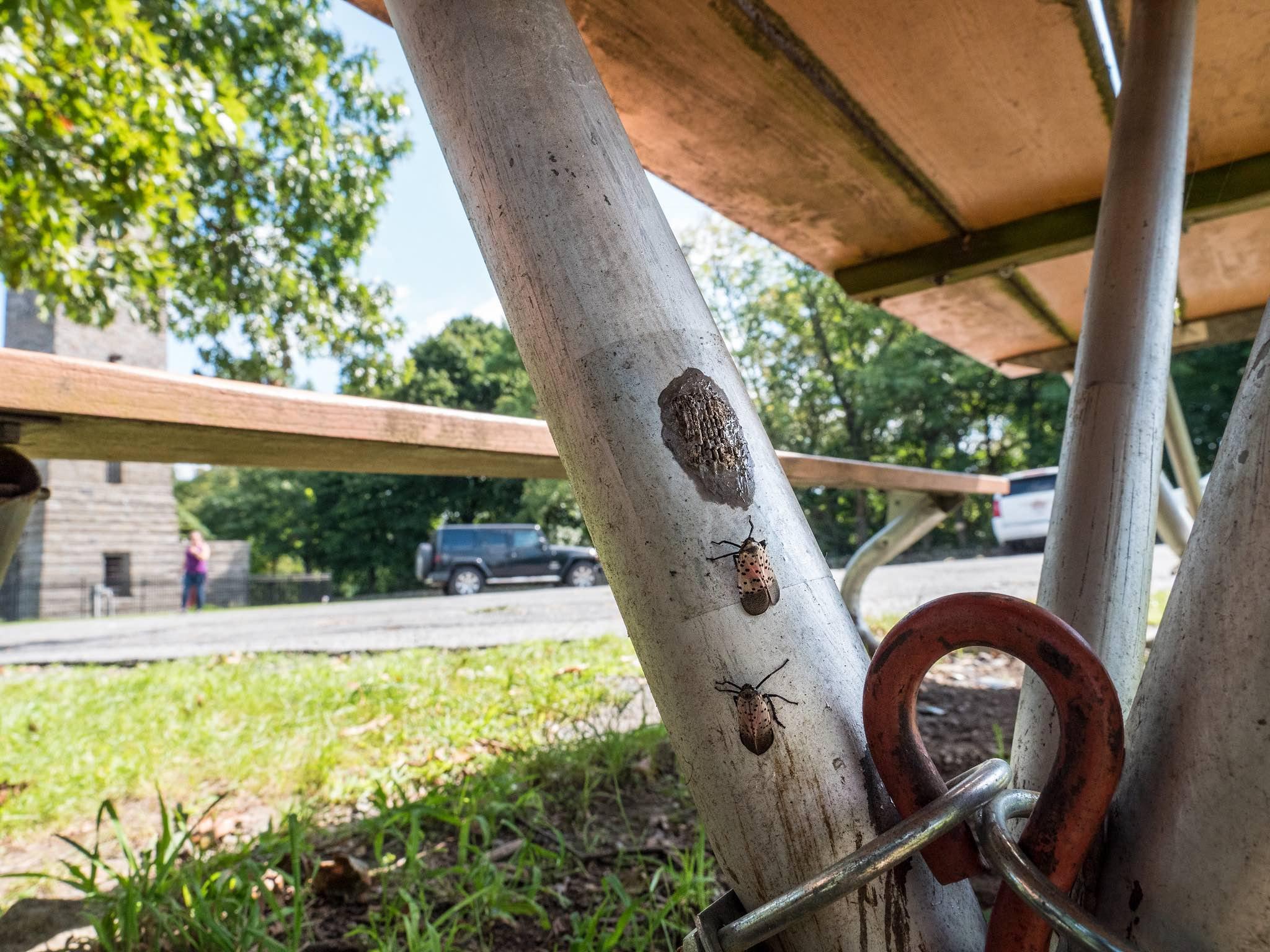 Spotted lanternflies lay their eggs on almost any smooth surface. The egg masses have a telltale waxy coating. (U.S. Department of Agriculture)
Every single Chicagoan can help keep spotted lanternfly from becoming a widespread pest.
Anyone with fruit trees or grapevines in their yard or garden should be on the lookout for spotted lanternfly. Anyone who's spent time outdoors in an infested state should check their gear, their auto and even their clothes for spotted lanternfly stowaways.
If you see one, take a photo, note the location, kill it and report it (with photo) to [email protected].
That advice applies not only to adult spotted lanternflies but also nymphs and, perhaps most importantly, egg masses.
Look for adults in July, Adams said, and then egg masses in August to early fall. The eggs will over-winter and hatch the following spring — get them before that happens and you've nipped the next generation in the bud, she said.
Unlike, say, the finicky monarch butterfly, which will only lay eggs on a milkweed plant, spotted lanternfly lay their eggs on almost any smooth surface. "They're not picky," said Adams. "They'll lay their eggs on a mailbox."
The masses are yellowish-brown in color, and covered with a gray, waxy coating prior to hatching. Scrape them with a credit card or some other utensil, put the eggs in a sealed plastic bag and toss them in the trash, Adams advised.
Squashing nymphs is another way to interrupt the spotted lanternfly's reproduction. The early-stage nymphs are black with white spots, and late-stage nymphs are red with white spots.
"Any kind of big infestation, we're many years away from that," Adams said. "If we report it as soon as we see it, we can manage it. This is where citizen science is handy. We all have our roles to play."
---
Contact Patty Wetli: @pattywetli | (773) 509-5623 |  [email protected]