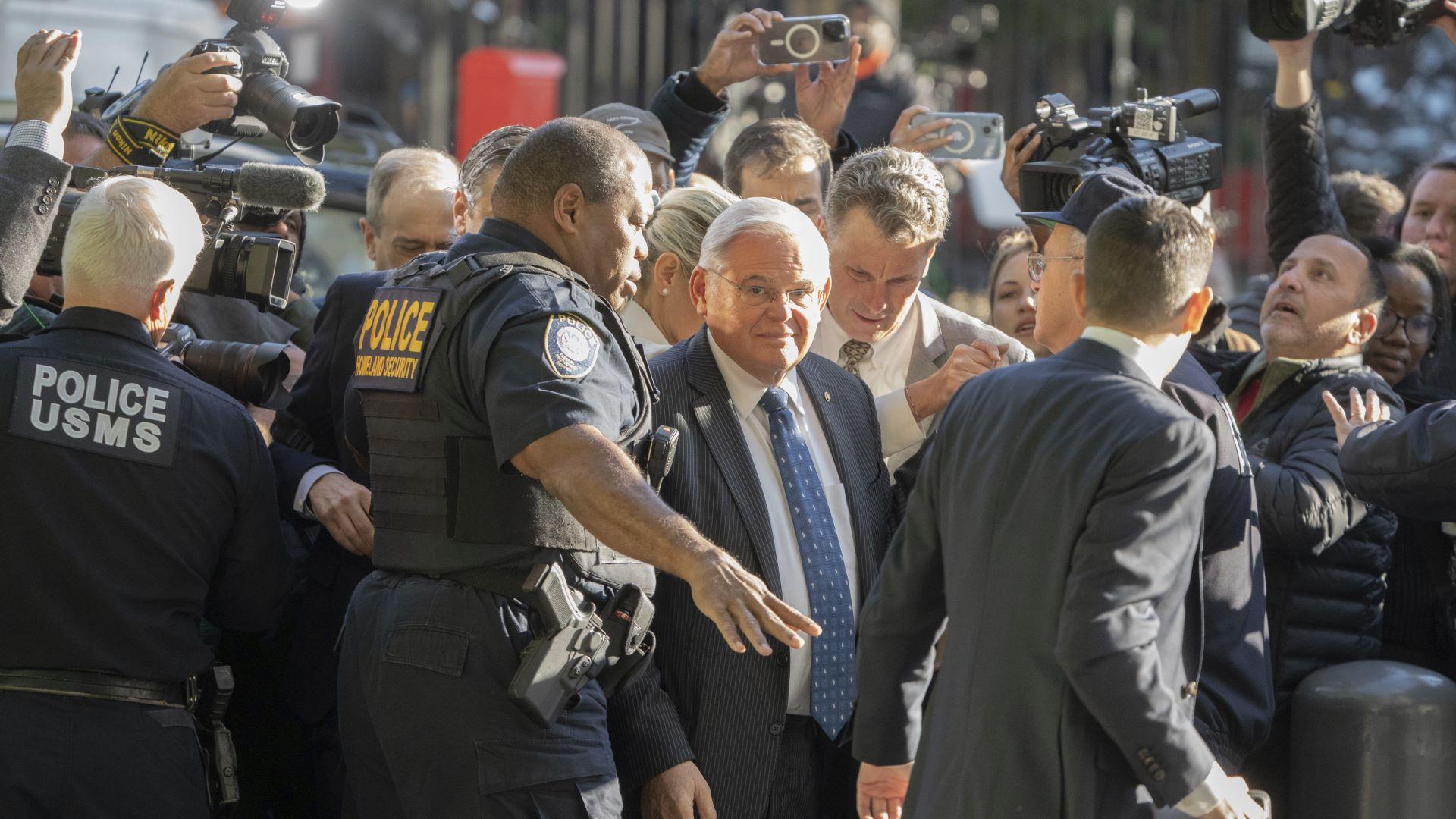 Democratic U.S. Sen. Bob Menendez of New Jersey arrives to the federal courthouse in New York, Wednesday, Sept. 27, 2023. Menendez is due in court to answer to federal charges alleging he used his powerful post to secretly advance Egyptian interests and carry out favors for local businessmen in exchange for bribes of cash and gold bars. (AP Photo/Jeenah Moon)
Illinois Sens. Dick Durbin and Tammy Duckworth have added their voices to the growing number of calls seeking the ouster of New Jersey Sen. Bob Menendez, who's facing federal charges in a wide-ranging corruption case.
More than half of Senate Democrats have now said that Menendez should resign, including fellow New Jersey Sen. Cory Booker, who said the indictment includes "shocking allegations of corruption and specific, disturbing details of wrongdoing."
Durbin on Wednesday morning wrote on X, the social media site formerly known as Twitter that Menendez "should step down," noting that Booker and other New Jersey leaders "have made it clear that (he) can no longer serve."
On Tuesday, Duckworth told the Chicago Sun-Times: "I think he should resign as senator."
"I don't know how anyone could mount an effective defense with such serious charges, while also fully representing their constituents at the same time," Duckworth told the Sun-Times.
Durbin and Duckworth's calls come days after Sen. John Fetterman of Pennsylvania became the first U.S. senator to call for the resignation on Sept. 23. 
Menendez and his wife are accused of taking bribes of gold bars, a luxury car and cash in exchange for using his outsized sway in foreign affairs to help the government of Egypt — and others — as well as other corrupt acts, according to an indictment unsealed last Friday.
They each pleaded not guilty Wednesday.
This is the second corruption case in a decade against Menendez, whose last trial involving different allegations ended with jurors failing to reach a verdict in 2017.
Menendez has maintained his innocence and has thus far rejected calls for his resignation.
The Associated Press contributed to this report.
---