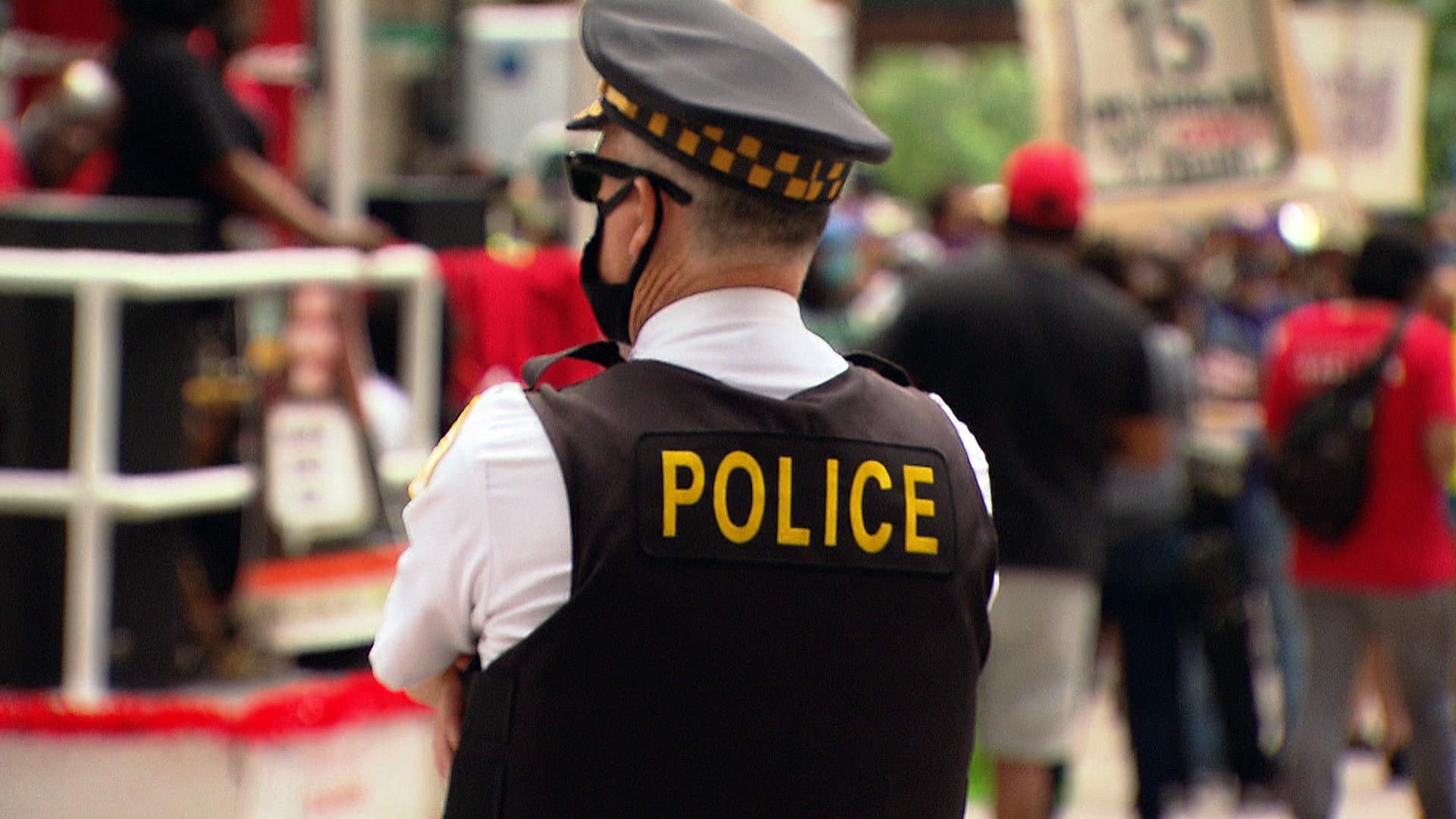 Demonstrators march in Chicago on Wednesday, June 24, 2020, to show their support for removing police officers from schools. (WTTW News)
The Chicago Police Board has voted to continue handling nearly two dozen police disciplinary cases, weeks after a ruling which could allow some of the most serious cases to be heard by an independent arbitrator in private rather than by the board itself.
The board on Tuesday voted 7-0 to reject a motion brought by the Fraternal Order of Police Lodge 7, which sought to move 22 disciplinary cases from the board to an independent arbitrator, following a summer ruling that opened the door for such a shift.
Independent arbitrator Edward Benn issued an opinion in August that would allow Chicago police officers to choose to have the most serious police disciplinary cases heard by an arbitrator rather than the police board.
The board took immediate issue with that ruling, stating that if it were to take effect, it would "be a serious setback for police accountability in Chicago."
"This decision will drive these cases behind closed doors at a time when it has never been more important to increase the public's confidence in the process for handling allegations of police misconduct and to build greater trust between the police and the communities they serve," Police Board President Ghian Foreman said in a statement at the time.
The FOP heralded the ruling as "great news," with President John Catanzara calling it "a huge change going forward for this membership."
Days later, the FOP sought to move 22 disciplinary cases to the arbitrator.
Then-interim Police Superintendent Fred Waller opposed that request, arguing earlier this month that the FOP had no standing to seek such a move because it was not a party to these disciplinary proceedings before the board.
He also noted that Benn's ruling had not been ratified by the City Council and is "subject to judicial challenge through a potential petition to vacate."
In a 10-page ruling, the board agreed that the FOP is not a party to the disciplinary proceedings, stating the union had "not filed an appearance or a motion to intervene in any of the proceedings. Consequently, the Board is unaware of any authority to suggest that the Board may properly consider the FOP's non-party Motion under the circumstances here."
The board added that — even if the FOP was able to intervene — the board doesn't have authority to move the cases. It also refused to stay the 22 cases until they could be submitted for arbitration.
In response, Catanzara reportedly called the board's decision "ridiculous" and told the Chicago Sun-Times the union would encourage the officers to sue "the city, the police board and everybody."
When asked about whether disciplinary cases should be heard before the board or behind closed doors, Larry Snelling — who was officially confirmed as Chicago's new police superintendent Wednesday — said he "believe(s) in transparency across the board."
"I also believe in accountability," he said during a press conference following his confirmation. "But again, transparency and accountability rooted in fairness. So I don't believe that we have anything to hide."
"This isn't something that's written in stone right now," he continued. "This is up now before arbitrators. Right now, I believe in transparency and accountability. It's that simple. I'll let the rest of that play out."
Contact Matt Masterson: @ByMattMasterson | [email protected] | (773) 509-5431
---