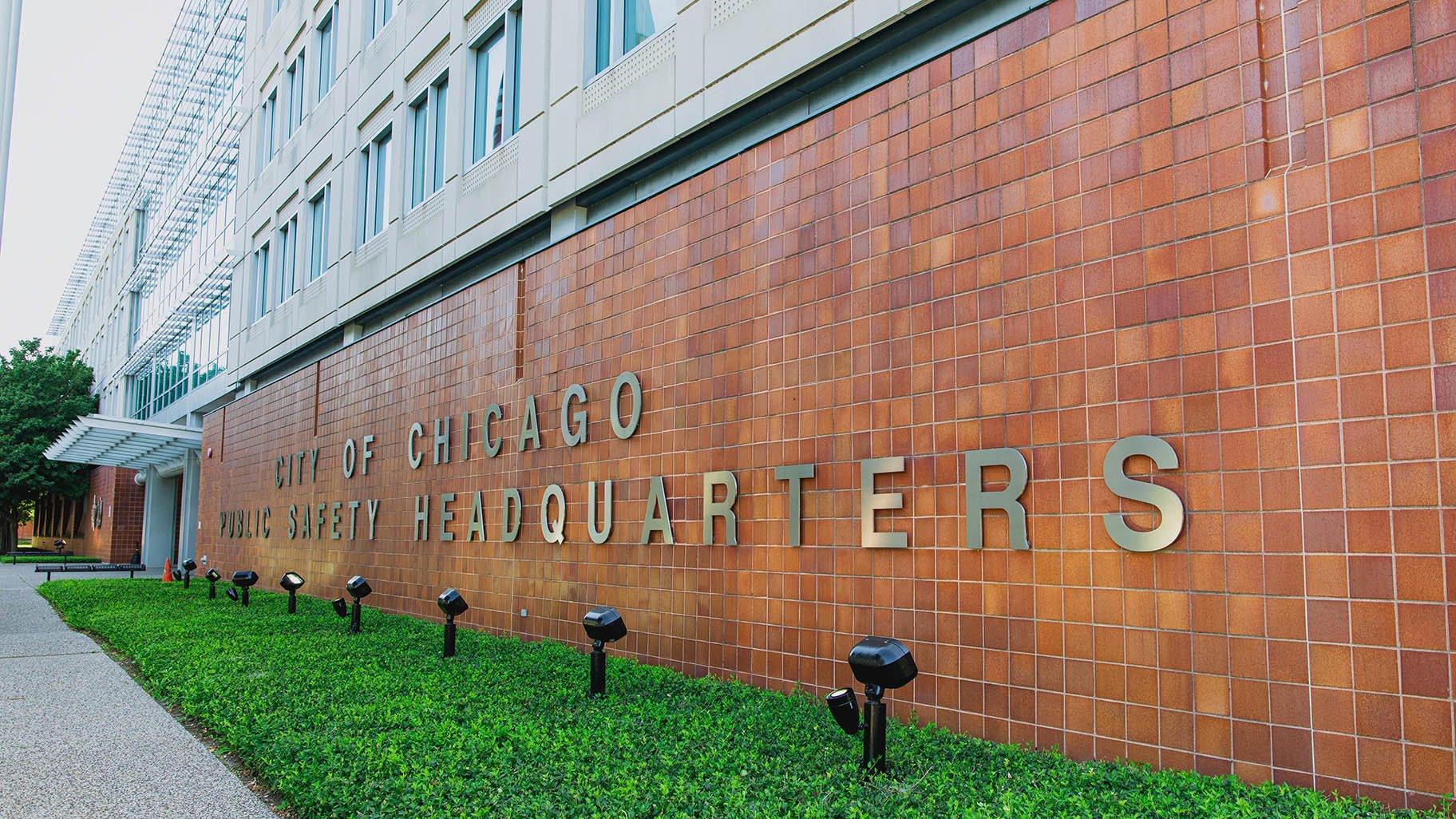 Chicago Police Department Headquarters, 3510 S. Michigan Ave. (Michael Izquierdo / WTTW News)
The Chicago City Council will reconsider its July decision to reject a recommendation from city lawyers to pay $2 million to the family of a man who was shot and killed by a Chicago police officer after a foot chase in August 2014, records show.
The 22-26 vote on July 19 represented a rare, if not unprecedented, decision by the City Council to reject a proposed settlement after it was endorsed by the City Council's Finance Committee and the mayor.
Two officers fired 16 shots at Darius Cole-Garrit, 21, at 9:30 p.m. on Aug. 19, 2014, after a brief foot chase near 133rd Street and Forrestville Avenue. Cole-Garrit was struck nine times, records show.
It is unclear what prompted the decision to reconsider the settlement.
A spokesperson for Corporation Counsel Mary Richardson Lowry said she could not comment on ongoing litigation. Ald. Pat Dowell (3rd Ward), the chair of the Finance Committee which is set to reconsider the settlement at a meeting scheduled for 10 a.m. Monday, also declined to comment on ongoing litigation.
Attorney Matthew Amarin, who represents Cole-Garrit's mother and her son's two children, told WTTW News he was surprised by the news that the City Council planned to reconsider the settlement.
"But I suspect the city attorneys would rather have a settlement than: 1) risk a court order enforcing the settlement; or 2) having a trial," Amarin said.
Filed in 2016, the lawsuit that asked a jury to award Cole-Garrit's family $30 million withstood several attempts by city lawyers to dismiss it, according to court records. It then languished during the shutdown of the federal civil court system at the height of the COVID-19 pandemic.
The proposed settlement included more than $800,000 in fees for the lawyers who represented Cole-Garrit's family, court records show.
An Altgeld Gardens native, Cole-Garrit lived in Minnesota and was working in a factory at the time of his death, according to the lawsuit. He was shot and killed while visiting Chicago to attend a neighborhood picnic, the lawsuit said.
The lawsuit filed by Cole-Garrit's family claims the officers who shot him threatened him hours before they nearly ran him over and then shot him in the back as he fled.
Cole-Garrit called his girlfriend after the initial confrontation with the officers on a basketball court at Golden Gate Park and told her he was scared of the officers, who he said told him, "we got your ass, we are going to get you," according to the lawsuit.
The shooting was a targeted assassination, Amarin said.
It is not clear why the officers would have targeted Cole-Garrit, who had a criminal record, Amarin said.
The confrontations between the officers and Cole-Garrit came while the officers were investigating a tip that gang members in the area were transporting guns by bicycle, according to the city's lawyers.
Even though the City Council's Finance Committee voted 10-9 to endorse the settlement on July 17, the tide turned decisively against ratifying it two days later when Ald. Bill Conway (34th Ward) invoked his time as a former assistant state's attorney who prosecuted officers for misconduct and urged its rejection.
Conway told the full City Council that Cole-Garrit's autopsy showed that eight of the nine gunshots he suffered were to the front of his body, contradicting the lawsuit's claim that officers shot him in the back. Conway said that evidence showed the officers faced a "grave and imminent" threat from Cole-Garrit because a semiautomatic weapon had been recovered near his body.
Amarin said Conway presented a "one-sided" account of Cole-Garrit's death, noting that the gun was recovered more than 20 feet away from his body, and neither his fingerprints nor his DNA were found on the weapon.
Conway did not respond to a text message from WTTW News asking if he would reconsider his opposition to the settlement.
In addition, Amarin said Cole-Garrit's autopsy will show the gunshots he suffered to the front of his body entered at a "downward angle," indicating that Cole-Garrit was falling while he was hit.
The officers said when they approached Cole-Garrit in an unmarked SUV he turned toward them, pulled out a gun and pointed it at them from a "tactical stance," before ditching his bicycle and fleeing.
Officers Matthew O'Brien and James Bansley chased Cole-Garrit on foot, records show. O'Brien told investigators he opened fire after Cole-Garrit turned and pointed his gun at Bansley.
However, Bansley told investigators that he did not see Cole-Garrit point a gun at him, and a third officer told investigators he believed Cole-Garrit pointed his gun at O'Brien.
O'Brien fired 11 shots, while Bansley fired five times, records show.
The shooting took place before officers were required to wear body-worn cameras, and before the Chicago Police Department had a policy that governed when officers were allowed to chase those suspected of committing a crime.
The shooting was reviewed by the Independent Police Review Authority, which was replaced by the Civilian Office of Police Accountability in 2017, and deemed justified.
City lawyers urged City Council members to settle the case because lawyers for Cole-Garrit's family will call witnesses expected to testify that the officers encountered Cole-Garrit before he was shot and killed, and because there was no video of what happened.
O'Brien has faced 57 complaints in his 21-year career, according to a database compiled by the Invisible Institute. None were sustained, according to the database. He has also used force against Chicagoans 45 times in his career, is now a sergeant and earns $129,666 annually, according to the city's salary database.
O'Brien has faced more complaints and used force more times than 99.4% of all Chicago Police officers, according to the database compiled by the Invisible Institute.
Bansley has faced at least nine complaints in his 14-year career, according to the Invisible Institute database.
Contact Heather Cherone: @HeatherCherone | (773) 569-1863 | [email protected]
---