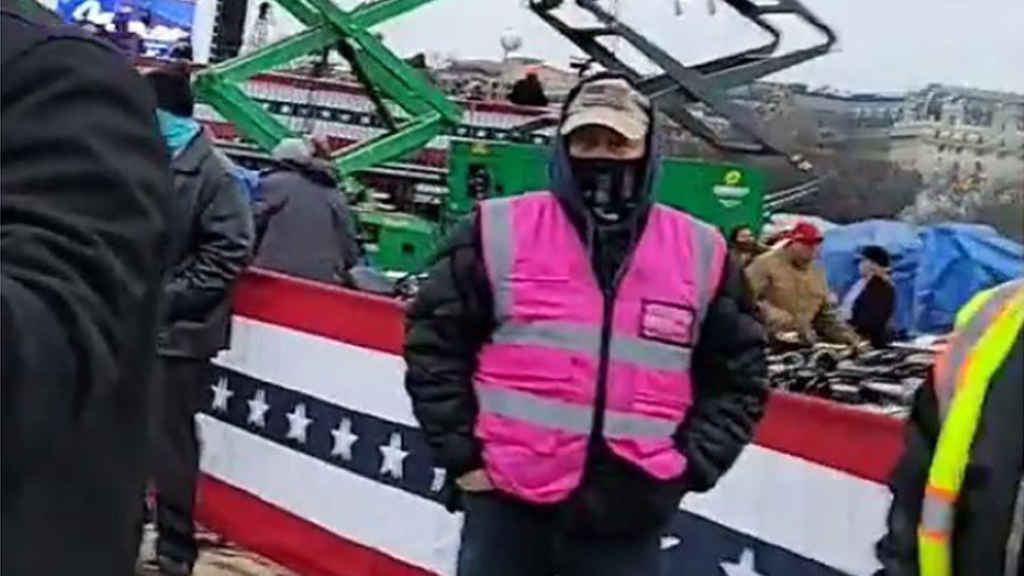 A photo federal prosecutors allege shows Joseph Pavlik in Washington D.C. on Jan. 6, 2021. (U.S. Attorney's Office)
A former Chicago firefighter charged with breaching the U.S. Capitol during the Jan. 6 insurrection has pleaded guilty to multiple charges.
Court records indicate Joseph Pavlik pleaded guilty Friday in a Washington D.C. courtroom to obstructing law enforcement and knowingly entering and remaining in a restricted building following his arrest early this year.
According to the feds, Pavlik was associated with a group known as the "B Squad," which is a subgroup of a militia-style, Florida-based organization known as the "Guardians of Freedom." He and at least five others with ties to the "B Squad" were arrested in connection with the Capitol riot.
Prosecutors allege Pavlik and others attempted to force their way through a line of officers outside the Capitol before making their way into one of the building's entryways known as the "Tunnel" at the lower west terrace.
Pavlik and numerous others were captured in photos and on video making their way through this area, according to prosecutors.
Once in the Tunnel, Pavlik was allegedly "applying pressure" against a police line before an officer attempted to push him back out. A siege at this entrance — where some members of Congress were sheltering in place — lasted for more than two hours, prosecutors said, but rioters ultimately failed to enter the building there.
Pavlik was interviewed in Chicago by the FBI in August 2022 and said that he had rented a car and driven to Washington D.C. with two others a day before the insurrection, the complaint states. He allegedly told investigators he'd brought a gas mask and pepper spray, and he borrowed a tactical vest and helmet.
After attending a rally led by former President Donald Trump, he walked with a larger group to the Capitol. Pavlik said he had walked to the Tunnel, but claimed he was pushed by the crowd into the police line and was pepper sprayed, but kept his hands up the "entire time so the police knew he was not a threat," according to the complaint.
He said he later left the area and drove back to Chicago the following day. During a subsequent interview in October 2022, Pavlik said that while he was in the Tunnel he only intended to talk to the officers and let them know he meant no harm, and then asked an officer to arrest him so he could get out of the area safely, the complaint states.
Prosecutors also alleged Pavlik's social media contained "multiple links to militia groups and indicia consistent with holding an Anti-Government/Anti-Authority Violent Extremist (AG/AAVE) ideology" and his phone number was listed on an Oath Keepers roster from 2009 to 2015.
Pavlik reportedly worked with the fire department for more than 30 years before he retired in 2013. He is scheduled to be sentenced Dec. 1.
Contact Matt Masterson: @ByMattMasterson | [email protected] | (773) 509-5431
---