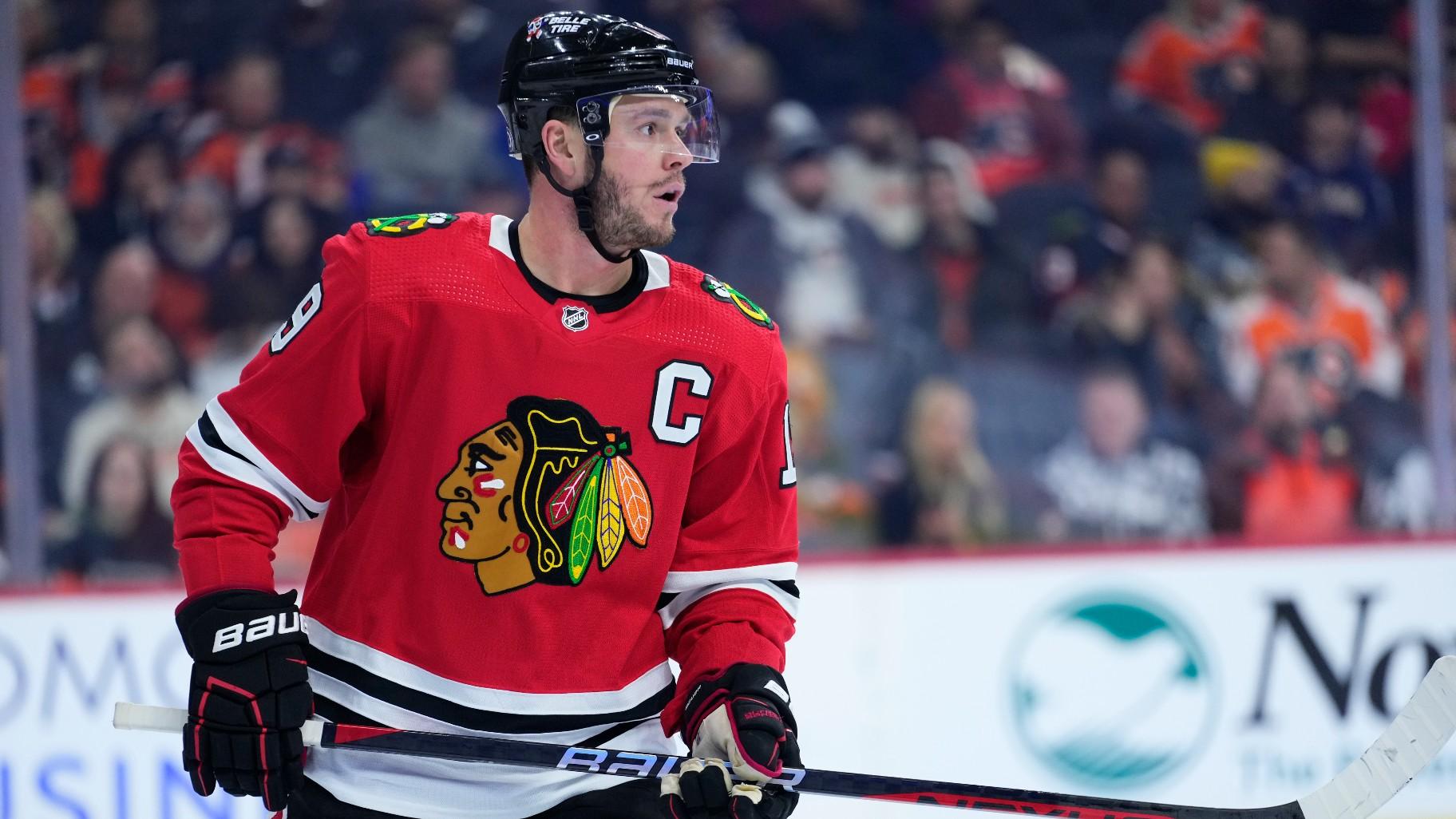 Chicago Blackhawks' Jonathan Toews plays during the team's NHL hockey game against the Philadelphia Flyers on Jan. 19, 2023, in Philadelphia. (AP Photo / Matt Slocum, File)
CHICAGO (AP) — Former Blackhawks captain Jonathan Toews, a free agent after 16 years in Chicago, says he is stepping away from hockey to get healthy after playing in just 53 games last season.
"I'd like to announce that I am not fully retiring, but I am taking time away from the game again this season," Toews, who also missed all of the 2020-21 season with symptoms of long COVID and chronic immune response syndrome, posted on social media. "I cannot deny my love for the game of hockey and still feel the passion for competing at my highest level. However, these last few seasons have been very difficult considering my health challenges."
A three-time Stanley Cup champion, Toews had 15 goals and 16 assists last season, the final year of an eight-year, $84 million contract. Blackhawks General Manager Kyle Davidson said at the end of the season that the team would not re-sign him.
"The thought of playing for another team right now is so far in the back of my mind right now, especially after that moment," Toews said after receiving an emotional sendoff from the Chicago fans in the April 13 finale. "I always thought I'd retire a Blackhawk and part of me still believes in that, so we'll see."
The No. 3 overall pick in the 2006 draft, Toews was 20 years old when he was named Blackhawks captain. He scored 372 goals and 511 assists — all with Chicago — winning the 2010 Conn Smythe Trophy as playoff MVP, the Selke Trophy in '13, the Messier Leadership Award in '15 and in 2018 was named one of the 100 greatest players in NHL history.
"My focus is to give myself the time and space to fully heal and enjoy life to the fullest once again," he posted on Instagram. "Along the way I have met several people who have struggled with health issues pertaining to long COVID, chronic immune response syndrome, and other similar cases that are quite complex. I now recognize the importance of one day sharing the details of my health journey with you all."
---