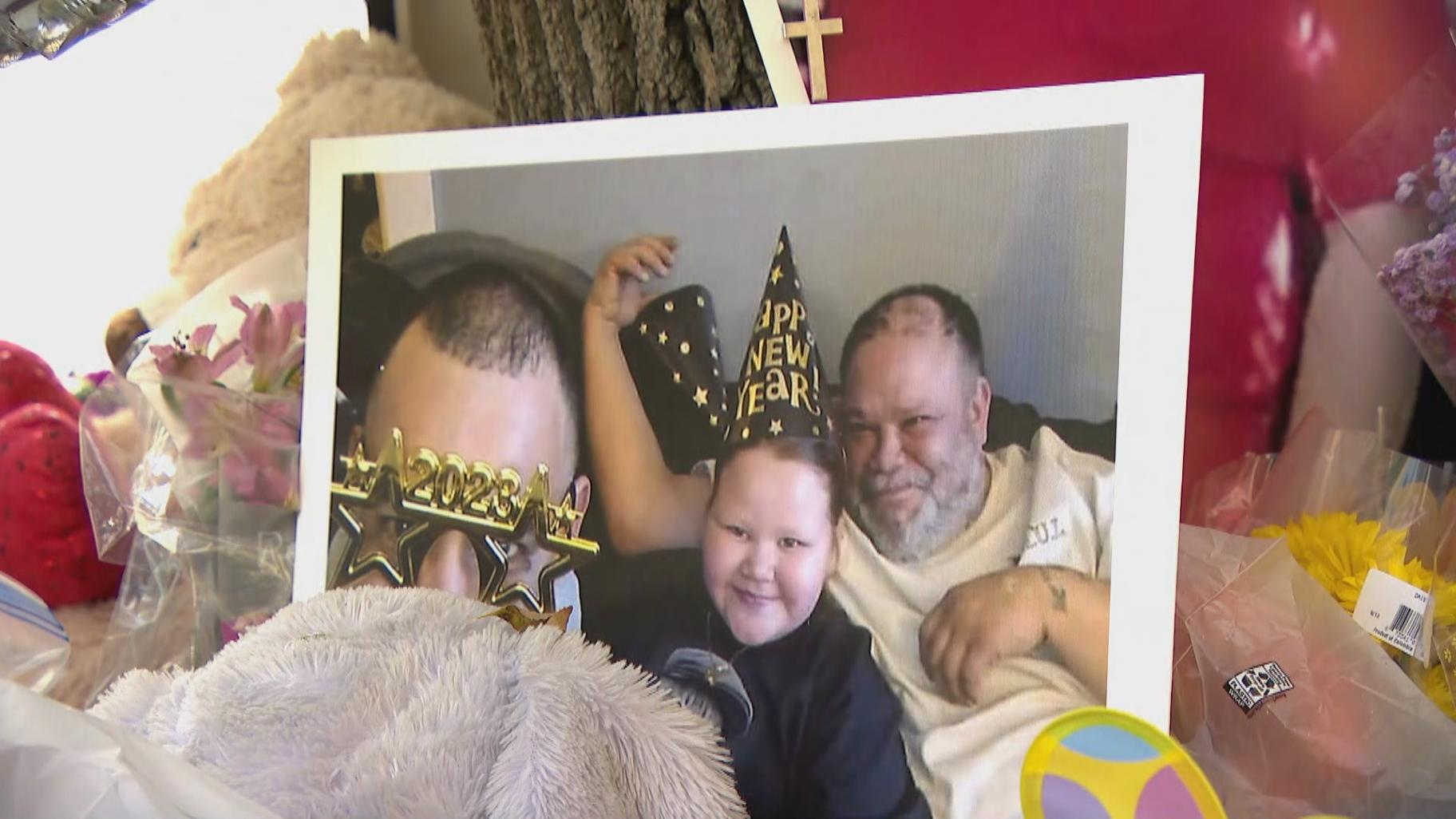 A memorial for 9-year-old Serabi Medina in Portage Park on Aug. 8, 2023. (WTTW News)
The 9-year-old girl who was killed Saturday night had just bought ice cream for herself and her father outside her Portage Park neighborhood home moments before she was fatally shot by a neighbor.
Michael Goodman, 43, has been charged with first-degree murder in the shooting that left Serabi Medina dead outside her home on the city's Northwest Side. According to the Chicago Tribune, Goodman appeared in person during his hearing Tuesday and was ordered held without bail.
According to Cook County prosecutors, Serabi and her father lived in a multi-unit building in the 3500 block of North Long Avenue, while Goodman lived in another building across the street. None of the parties knew each other.
Just before 9:30 p.m. Saturday, Serabi was outside with her father, who was speaking with three friends seated inside a vehicle parked in front of their residence. One of the friends gave Serabi some money, which she used to buy herself and her father ice cream from a nearby ice cream truck.
Moments later, a shot rang out, according to prosecutors, and Serabi's father told the girl to go into their home. As she was walking that way, Goodman emerged from his building across the street while allegedly holding a firearm and began walking toward Serabi.
Serabi's father shouted at Goodman, asking him what he was doing, but Goodman ignored him and continued walking toward the girl, prosecutors said. Goodman then allegedly pointed the gun at Serabi and fired once, striking her in the head.
Serabi's father tackled Goodman into their building's vestibule, at which point prosecutors said the gun went off a second time, striking Goodman in the eye.
Serabi was rushed to a local hospital, but died of her injuries. Goodman survived, and was taken into custody by police before he too was taken to a hospital.
Prosecutors said Goodman's hands tested positive for gunshot residue. Officers working at the scene collected three bullet casings: one from outside the Medinas' building, another in the vestibule of that building and one from a bullet recovered inside a wall in Goodman's apartment.
All three casings were connected to a 9mm firearm that belonged to Goodman recovered at the scene, prosecutors said.
The Chicago Sun-Times reported that neighbors said Goodman had confronted Serabi's father about her being too loud prior to the shooting, though prosecutors did not include any such details in their bond proffer.
A GoFundMe campaign has raised more than $5,000 as of Tuesday afternoon to help cover Serabi's funeral expenses. Her family described her as a "beautiful little girl who adored her dog and her father more than anything."
"She was only 9 years old, she had her whole life ahead of her," her family wrote on the GoFundMe page. "We thank everything for all the outpour of love and support we have received over the last few days. This has been a hard time for my family but we are leaning on each other for strength."
Contact Matt Masterson: @ByMattMasterson | [email protected] | (773) 509-5431
---