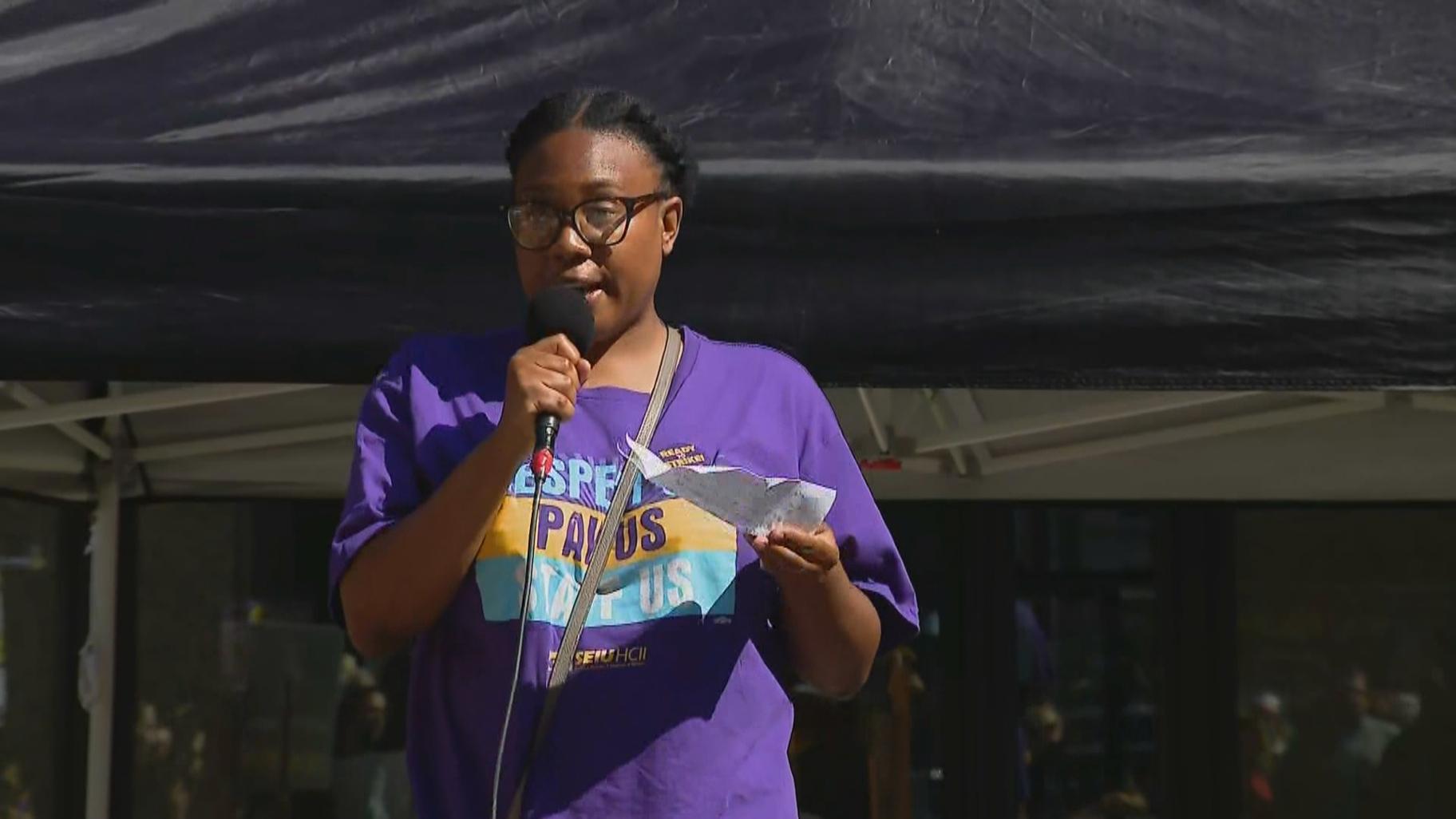 Loretto Hospital employee Michaela Jilliam speaks at a strike rally on Aug. 4, 2023. (WTTW News)
Striking Loretto Hospital workers joined striking SAG-AFTRA members at a solidarity rally at the Daley Center downtown Friday, as the hospital strike entered its fifth day.
"No matter what industry we're in, we're all in this together," said Michaela Jilliam, a substance use disorder counselor at Loretto Hospital, during a speech at the rally. "We all deserve better wages, safer staffing and respect."
Front-line service, care and technical workers are among the 200 workers at Loretto Hospital in Austin who have been on strike since Monday.
Workers, represented by the union SEIU Healthcare Illinois, are calling for increases in starting hourly rates ranging from $17 to $38.95, along with additional wage increases for the next two years, and more compensation for working extra shifts and during times of short staffing, according to the latest statement by Loretto Hospital leadership from Wednesday afternoon.
Hospital leadership have agreed to a minimum $17 starting hourly rate, the statement said.
The union and hospital management have been bargaining on a contract since May.
"Early in negotiations, it appeared that we were moving in the right direction," the statement from Loretto Hospital leadership said. "However, in recent weeks, there was a noticeable shift in cooperation and responsiveness from union delegates."
Non-union employees have not received salary increases in over three years and voluntarily took a 10% pay cut to prevent the layoff of team members, according to the hospital.
Jilliam, who has worked at the hospital for three weeks, said in her speech there were no patient care technicians or recovery support specialists during her first days working in the hospital's residential unit, requiring her to take on a greater workload.
The hospital faces vacancy rates of up to 35% for various positions, creating unsafe staffing conditions, according to union representatives.
Loretto Hospital is a designated "safety net" hospital located on the West Side, and provides services to many underserved populations, including Medicaid recipients, uninsured patients and low-income communities.
SEIU Healthcare Illinois and Loretto Hospital management have been in communication throughout the week, including holding a brief meeting Friday morning, said SEIU Healthcare Illinois Vice President and Director for Health Systems Anne Igoe in a statement.
The strike so far has brought out union supporters and allies at various rallies including Chicago Teachers Union President Stacey Davis Gates, Cook County Board of Commissioner Tara Stamps, who represents the district, in addition to several city alderpeople and state representatives.
As the strike continues, the hospital remains open and is operating with temporary workers.
Contact Eunice Alpasan: @eunicealpasan | 773-509-5362 | [email protected]