Note: This segment aired on "Chicago Tonight" before the three finalists were announced.
---
The commission charged with picking Chicago's next top cop named three finalists Thursday, starting a 30-day countdown for Mayor Brandon Johnson to make one of the most consequential decisions of his young administration.
The Community Commission for Public Safety and Accountability recommended two veterans of the beleaguered Chicago Police Department and one outsider to lead CPD as Johnson takes a new approach to the surge of crime and violence that began during the peak of the COVID-19 pandemic and has yet to fully recede.
The finalists are 22-year veteran Angel Novalez, now the head of CPD's office of constitutional policing and reform; 31-year veteran Larry Snelling, the chief of CPD's counterterrorism bureau; and Shon Barnes, the police chief in Madison, Wisconsin.
Barnes, the only semifinalist from outside CPD, worked for the Civilian Office of Police Accountability, the agency charged with investigating Chicago police misconduct, for about a year before becoming Madison's police chief in February 2021.
All three men are "generational leaders" capable of "grappling with tarnished legacy of the past while charting a path for the future," said CCPSA President Anthony Driver Jr.
During his campaign, Johnson said he would prefer to name a new superintendent from within CPD's ranks, calling it crucial for the city's next top cop to be deeply invested in Chicago and familiar with how the department works.
Johnson has promised to re-envision public safety in Chicago to address the root causes of crime and violence by increasing funding for youth employment programs and expanding mental health services across the city. Johnson has also promised to solve more crimes by adding 200 detectives to the Chicago Police Department.
Johnson called the decision by the CCPSA "an important milestone."
"I am confident that Chicago's next superintendent will inspire trust, foster collaboration, and lead with integrity," Johnson said.
The success of that effort will be determined in large part by who the mayor picks as superintendent. That person will not only have to ramp up reform efforts but also cope with persistently high rates of crime and violence on Chicago's South and West sides.
Johnson's pick must be confirmed by the Chicago City Council.
Johnson can reject all three of the finalists chosen by the commission, known as the CCPSA, and start the search for a new permanent leader for the more than 12,300-member department again. However, such a decision would be a stunning vote of no-confidence in the newly created panel, which is made up of interim commissioners named by former Mayor Lori Lightfoot nearly a year ago, more than eight months behind schedule. A permanent commission will be selected in the coming months by the 66 members of 22 police district councils elected in February.
In the future, those councils will nominate seven people who must be confirmed by the mayor and the City Council to oversee CPD.
The current commission was created after a bruising political battle ended in July 2021 after the Chicago City Council approved its creation, fulfilling the final reform recommendation to emerge in the wake of the 2014 police murder of 17-year-old Laquan McDonald.
Supporters tout the CCPSA as the city's best chance to build trust in officers and police brass and put an end to repeated allegations of misconduct, while critics say the commission will add another layer of bureaucracy to Chicago's already complicated police oversight system.
Before the CCPSA's creation, the Chicago Police Board was responsible for conducting the search to replace CPD's superintendent and recommending three finalists to the mayor.
John Catanzara, the president of the Fraternal Order of Police, Lodge 7, praised the work of the CCPSA as "100 times better" than previous searches for a new police superintendent.
"It was much more fair and inclusive," Catanzara said. "Our members had a voice in the process."
Johnson's pick to lead CPD will likely be the fourth person to lead the Chicago Police Department in less than six months, capping a period of intense turmoil for the department. The mayor has to hope that his pick will fare better than the department's last three leaders, who became political albatrosses for their bosses.
CPD has been without a City Council-confirmed leader since March 15, when former Chicago Police Supt. David Brown quit after Lightfoot lost her bid for reelection. Brown was replaced by former interim Supt. Eric Carter, who stepped down May 15, the same day Johnson took office. Johnson tapped interim Supt. Fred Waller, who resigned from the department in August 2020 after serving as the department's third-ranking official, to replace Carter. Waller, who earns $260,004 annually as police superintendent, did not apply for the permanent position.
But 54 people did seek to lead the Chicago Police Department, which is under a federal court order to reform itself after a 2017 federal investigation found officers routinely violated the rights of Black and Latino Chicagoans.
The CCPSA held seven community forums to gather feedback on what Chicagoans wanted in their next top cop, vowing to make the search the most transparent in the city's history.
That effort to engage "Chicagoans from all walks of life" helped the commission identify the three finalists, Driver said.
The next Chicago Police superintendent "will understand that the consent decree is not the ceiling but it is the floor, that it is a mandate and a roadmap," Driver said, adding that the next top cop must also craft a stable schedule for officers, ensure that response times are the same on the North Side as they are on the West Side and the South Side and reorient the department to ensure "real community policing."
The city is in full compliance with approximately 5% of the 4-year-old court order, known as a consent decree, according to the most recent report from the team overseeing court-ordered reforms of the Chicago Police Department.
The three semifinalists who did not advance to the final round are former Deputy Chief Ernest Cato III, who was also a finalist during the 2020 search for a new police superintendent, Deputy Chief Migdalia Bulnes and Commander Donna Rowling.
If tapped by Johnson and confirmed, Novalez would be the second Latino to serve as Chicago's permanent top cop. After former Mayor Rahm Emanuel fired former Chicago Police Supt. Garry McCarthy, John Escalante served as interim superintendent, while Police Superintendent Matt Rodriguez was the first Latino to lead CPD.
The Chicago Police Department has never had a female superintendent.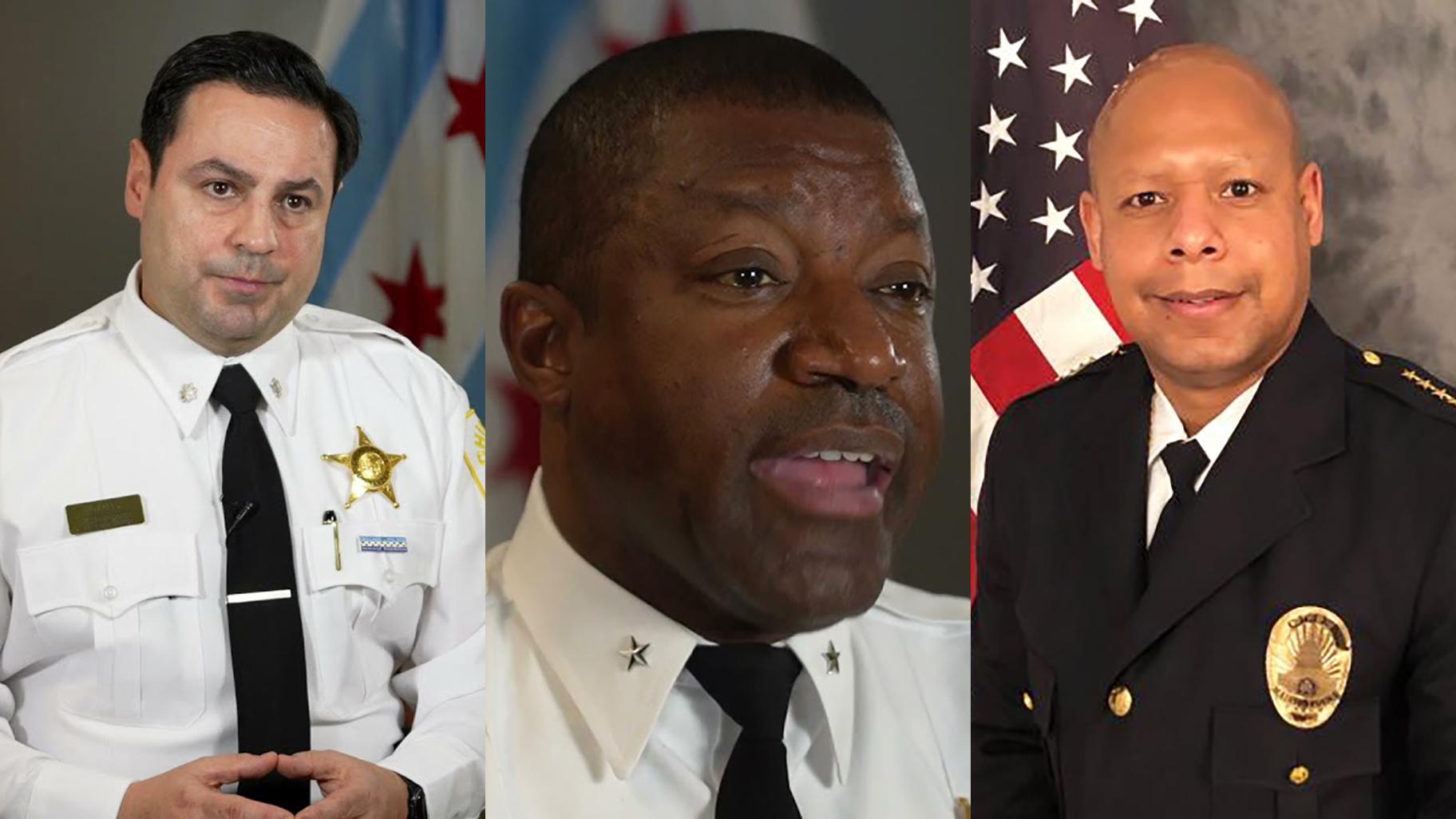 The three finalists for Chicago Police superintendent: Angel Novalez; Larry Snelling; Shon Barnes. (Credit: Chicago Police Department and Madison Police Department)
Angel Novalez
Before being named to lead CPD's office of constitutional policing and reform in 2020, shortly after unrest swept the city in the wake of the police murder of George Floyd, Novalez, 50, helped lead the department's community policing efforts.
Novalez was shot while on duty early in his career, and told the U.S. Senate Judiciary Committee in July 2022 that his injuries "remain with me today professionally, physically and in the private corners of my mind."
In 2011, Novalez was reprimanded for violating department rules, according to a database compiled by the Invisible Institute.
Novalez was born in Puerto Rico, and moved to Chicago's Near West Side as a child. Novalez was featured in a video in March 2021 designed to encourage Chicagoans to apply to be an officer, and credited officers who ran a football league at Eckhart Park.
Larry Snelling
Snelling, 54, has led CPD's counterterrorism bureau since September, after rising steadily through the department's ranks alongside Novalez.
Snelling also served as deputy chief of Area 2, which includes the Far South Side of Chicago, as well as the commander of the Englewood (7th) Police District and worked as a sergeant at CPD's training facility.
Snelling was suspended twice during his 31-year career, according to a database compiled by the Invisible Institute. In 1994, a use-of-force complaint resulted in a two-day suspension for Snelling, according to the database. In 1995, he was suspended for five days in connection with a complaint that alleged his conduct while off-duty violated department rules that prohibit officers from associating with those convicted of felony offenses.
A native of Englewood, Snelling was also featured in a video in March 2021 designed to encourage Chicagoans to apply to be an officer. Snelling said he decided to be an officer after looking up to the officer assigned to his high school who became a father figure and role model to him and other teens.
Shon Barnes
The only outsider to make it as a finalist in the search for Chicago police superintendent, Barnes served as the director of training and professional development for the Civilian Office of Police Accountability, which is charged with investigating police misconduct. 
Barnes, 49, served as the deputy chief of police in Salisbury, North Carolina, before beginning his career with the Greensboro, North Carolina, Police Department in 2000.
As head of the police department for Madison, which has roughly the equivalent of just five of Chicago's 50 wards, Barnes said he has "implemented neighborhood-oriented policing which focuses on smaller police beat response, police neighborhood ownership, and community engagement at levels within the organization," according to his biography on the Madison Police Department website.
Contact Heather Cherone: @HeatherCherone | (773) 569-1863 | [email protected]
---