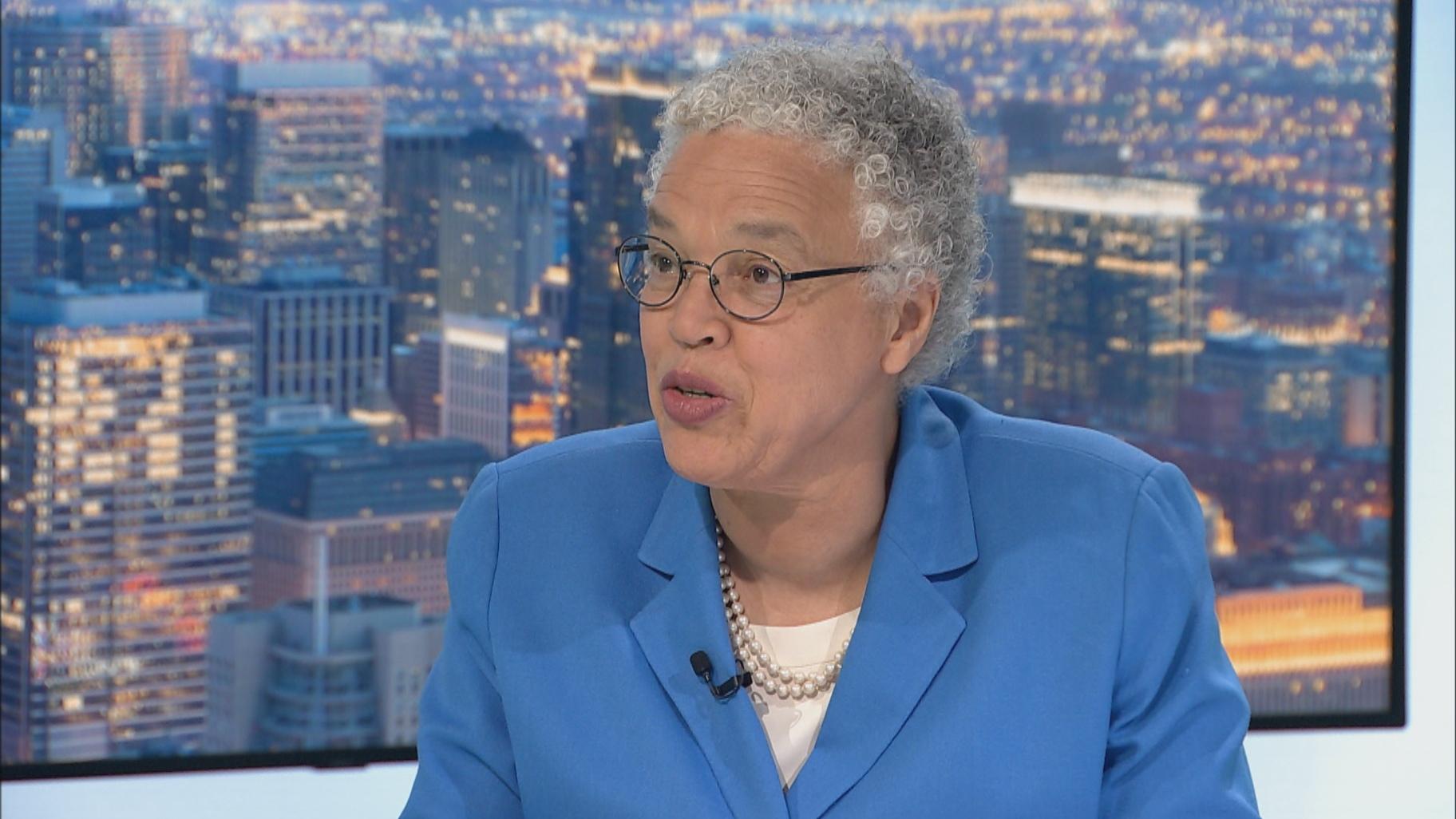 Cook County Board President Toni Preckwinkle appeared on "Chicago Tonight" on May 11, 2023. (WTTW News)
Cook County will end 2023 flush with cash, with officials projecting a $214.7 million surplus, according to a budget forecast released Thursday.
That expected surplus will more than offset a projected budget gap of $82.6 million during the 2024 fiscal year, more evidence that Cook County's finances remain on "sturdy" financial footing in the wake of the acute phase of the COVID-19 pandemic, officials said.
"This is one of the smaller gaps of my administration and we are proud of what we have done to create this sturdy financial foundation," said Cook County Board President Toni Preckwinkle, who was elected in 2022 to a fourth term in office.
In 2023, county budget officials closed an $18.2 million budget gap, the smallest shortfall in a decade, just two years after the economic catastrophe triggered by the COVID-19 pandemic blew a $410 million hole in the county's 2021 budget, forcing the county to lay off hundreds of employees and to dip into its rainy-day funds.
Cook County ended the 2022 fiscal year with a $233.4 million surplus, according to officials.
The county's coffers are flush with cash because record-high inflation, which has now moderated, inflated the county's sales tax receipts, officials said. The county also got more money than it expected from the state and spent less than expected on salaries and benefits amid a continuing labor crunch that has complicated efforts to hire new employees, officials said.
A final spending plan is set to be released in October, but Preckwinkle is unlikely to propose tax hikes, layoffs or service cuts to close such a small gap in the county's projected $8.9 billion 2024 spending plan. The budget must be approved by Dec. 1.
In addition, the county's hospital system — which bore the brunt of the pandemic's impact, providing half of all the charity care in the county at just two hospitals — will finish the 2023 fiscal year with a surplus of $402.1 million, buoyed by the suspension of rules requiring Medicaid recipients to certify annually that they are entitled to those benefits. Those rules went back into effect in April. The hospital system also got more money than anticipated from managed care organizations, officials said.
The hospitals are facing a budget gap of $3 million in 2024, the smallest projected budget gap in the hospital system's history, officials said.
However, the hospital system's finances will be challenged in 2024 by the rising cost of labor, the end of federal reimbursements related to COVID-19 and an expected drop in enrollment in CountyCare, the county's Medicaid health insurance plan, as well as the cost of caring for the immigrants sent to Chicago by Texas officials and nonprofit groups, officials said.
Cook County officials are scheduled to host a virtual public hearing at 6 p.m. July 11.
Contact Heather Cherone: @HeatherCherone | (773) 569-1863 | [email protected]
---