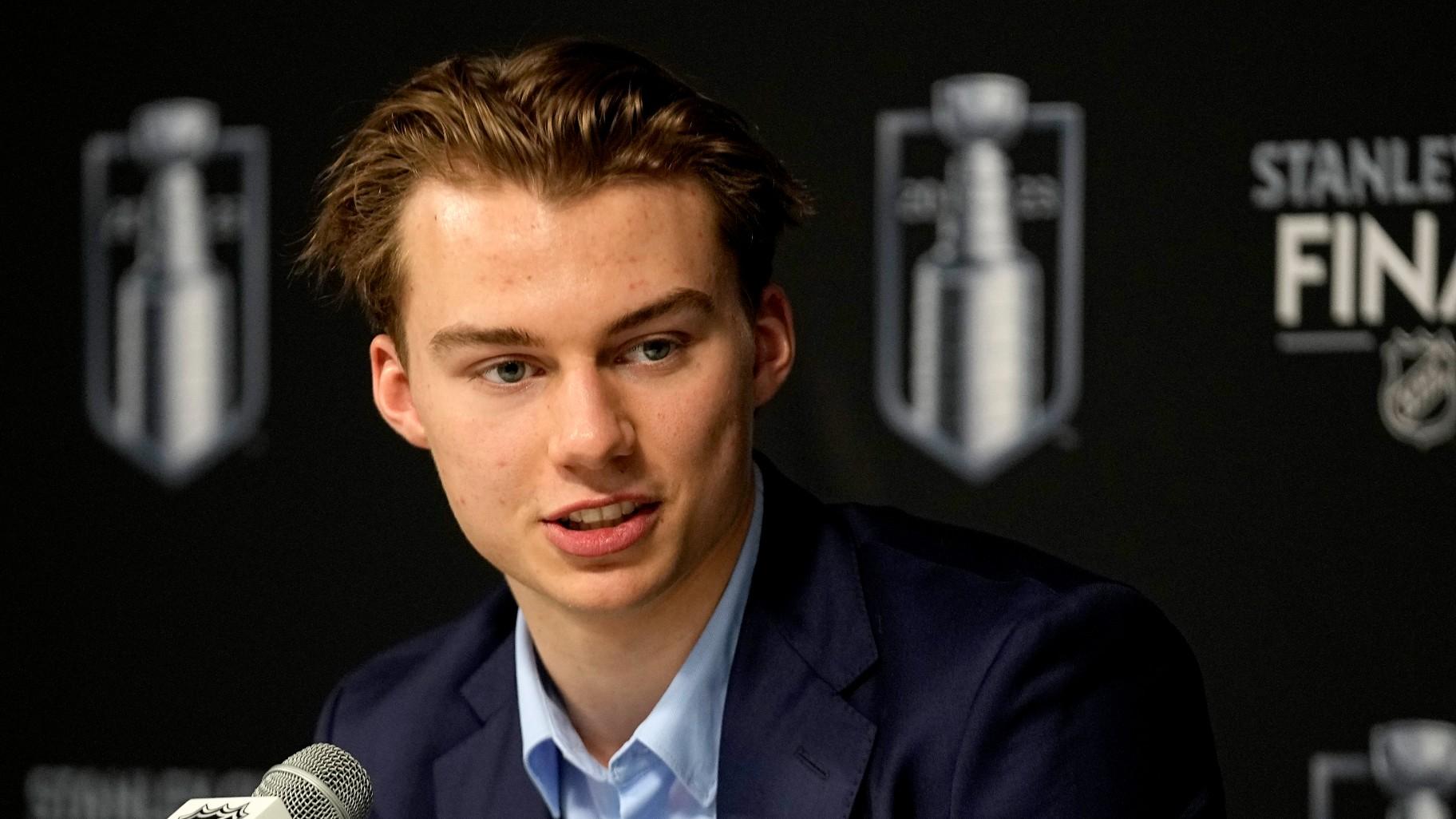 NHL draft prospect Connor Bedard speaks to the media prior to Game 2 of the NHL hockey Stanley Cup Finals between the Florida Panthers and the Vegas Golden Knights, Monday, June 5, 2023, in Las Vegas. (AP Photo / Abbie Parr, File)
BUFFALO, N.Y. (AP) — The NHL is going to have another Connor to contend with very shortly.
For everything two-time NHL MVP Connor McDavid has accomplished in Edmonton since being selected No. 1 in the 2015 draft, Connor Bedard is on the same trajectory in being pegged as this year's top eligible draft prospect, Central Scouting director Dan Marr said Friday.
"He's right up there with Connor McDavid, it's just the next generation," Marr said in touting Bedard's quickness, shot and ability to read and adapt. "So Connor McDavid started that trend, and Connor Bedard is going to lead it into the next trend."
The annual NHL pre-draft combine in Buffalo, New York, is resembling more of a coronation for the 17-year-old Bedard, who has spent the past two years putting up generational numbers with the Regina Pats of the Western Hockey League while also shining against his peers on the international stage.
"I think you can use a lot of adjectives to describe it," Regina coach John Paddock told The Associated Press recently in comparing Bedard's production at the same age level to McDavid and Penguins captain Sidney Crosby.
"That's quite a high ceiling," said Paddock, a former NHL coach and player. "But there's no indication he's not going to do that based on what he's done to date."
The Chicago Blackhawks own the No. 1 pick, and are highly anticipated to use it on Bedard when the draft opens in Nashville, Tennessee, on June 28.
Bedard held his latest meeting with the Blackhawks at the combine in a relationship that began at a top-prospects camp in Toronto last summer.
Bedard's arrival would coincide with the franchise in transition, with Chicago moving on from its aging core after trading 2007 No. 1 pick, Patrick Kane, and with captain Jonathan Toews' future uncertain.
"Yeah, it'd be awesome," Bedard said of the possibility of being selected by the Blackhawks. "The history of that organization, that city with sports would be unbelievable. We'll see what happens, but to be selected, that would be a huge honor."
Bedard said he's following McDavid's advice to stay in the moment and not peak too far ahead. He added, his dream to play in the NHL began no different than those of his colleagues: the moment he picked up a hockey stick growing up in North Vancouver, British Columbia.
What separates Bedard, however, is his exceptional skating ability and a hard shot, which is even more lethal given his quick release.
With Bedard the likely top pick, the intrigue at the draft is likely to revolve around who rounds out the remainder of the top five selections.
University of Michigan's Adam Fantilli is second among North American skaters on Central Scouting's final list, followed by top American prospect, William Smith, who played for USA Hockey's developmental program. The top two European skaters are also considered in the mix with Sweden's Leo Carlsson and Russia's Matvei Michkov.
Anaheim is scheduled to pick second followed by Columbus, San Jose and Montreal.
Marr gives the edge to Bedard while also being impressed with Fantilli — just the third freshman to win the Hobey Baker Trophy awarded to college hockey's top players — in a draft class considered very deep with offensive-minded forwards.
"You're going to win with both," Marr said. "And who whoever gets these two players they're going to help define a franchise."
What distinguishes Bedard, who doesn't turn 18 until next month, has been his consistency.
Last season, his 71 goals in just 57 games were the most in the WHL since Pavel Brendl scored 73 in 1998-99. Bedard's 143 points were the most in the CHL since three players topped that mark in 1995-96. And it was a season in which he enjoyed 10 games with five or more points, and just five games in which he failed to register a point.
In 2020-21, Bedard became just the third WHL 16-year-old to reach 100 points, and was the youngest to score 50 goals in finishing with 51.
He's also made a splash on the international stage. Bedard led Canada with nine goals and 23 points at the world juniors last winter, and his combined production of 17 goals and 36 points in just 16 games ranks fourth on the career tournament list.
Bedard has honed his talent by spending countless hours practicing shots in his backyard, which he referred to as his "Happy Place." He was so dedicated to work on his shot that he preferred practicing than joining his family for a vacation to Disneyland, and eventually vacationed in Hawaii but only after he was allowed to bring his inline skates and sticks to practice.
Noted for being soft-spoken, Bedard said he's not yet allowed himself to envision being drafted or making his NHL debut yet.
"It's hard kind of think of that. But of course, I'll work as hard as I can to try to achieve that goal," he said. "And hopefully I do."
---