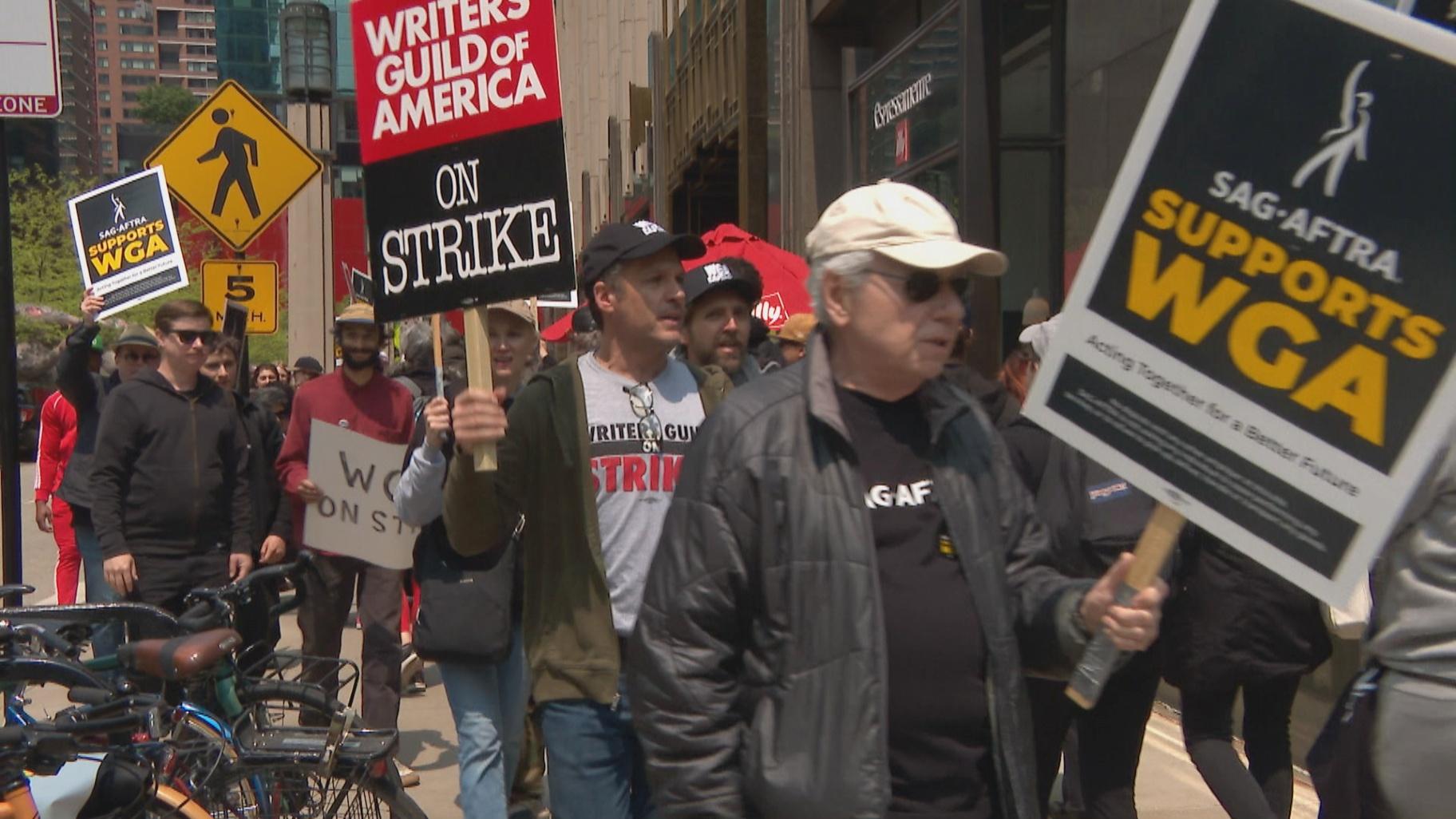 Hundreds protested outside the NBC Tower on May 17, 2023, in a show of support for the ongoing Writers Guild of America strike. (WTTW News)
Hundreds of union members and supporters demonstrated outside NBC Tower on Wednesday in support of the ongoing Writers Guild of America strike.
The WGA began its nationwide strike May 2 after negotiations stalled with the Alliance of Motion Picture and Television Producers. Among key issues are increased wages and fair pay structures for writers in a streaming era.
It's the first such strike in 15 years.
"The issues that writers are facing are the same issues that we're facing all over the country," Zayd Dohrn, a WGA strike captain, said Wednesday at the rally hosted by the WGA and the Chicago Federation of Labor.
"We're facing Wall Street trying to cut labor costs to juice profits," Dohrn said. "We're facing CEOs who take big payouts on the material that we make, and we're facing technology trying to be used to replace us and to turn our work into gig economy work where we can only work a few weeks a year and then scramble to the next gig. We're not gonna let that happen."
A dozen speakers took to the microphone Wednesday afternoon, including Ald. Mike Rodriguez (22nd Ward) and members of the WGA, SAG-AFTRA and the Chicago Federation of Labor. The WGA represents 11,000 TV, film, radio and online writers across the country — including nearly 100 writers in the Chicago area.
"Let's be clear that those shows, those movies, those late-night talk shows do not happen without the writers and the performers and the studio mechanics and the stagehands and the Teamsters who help bring those shows to market," said Bob Reiter, president of the Chicago Federation of Labor. "It's the people that get it done, and Chicago is very fortunate to have a lot of those productions."
The strike last week shut down production of the Showtime series "The Chi."
Chicago Mayor Brandon Johnson tweeted support Wednesday: "Chicago is a proud union town. I stand in solidarity with @WGAWest & @WGAEast for their demands for fair pay & proper working conditions. We must stand behind our creatives who continue to enrich our lives through their art & support each other in times of need."
In his speech Wednesday, Ald. Andre Vasquez (40th Ward) stressed the importance and value of entertainment during the pandemic.
"What you all have done, I don't think it's properly appreciated," Vazquez said. "… The content you create has saved lives. We were in a pandemic for years where people were stuck — sometimes in very small apartments with people they didn't like that much — for a long amount of time. And if there was not the content to watch and not the stories to talk about … we would not have been able to survive a lot of what we've gone though."
Chicago Teachers Union President Stacy Davis Gates compared writers to first responders, saying, "First responders don't just wear uniforms. They write words."
"You write words, and we are transported emotionally," Davis Gates said. "We are transported to different continents. We are transported into possibility and imagination. You did play a very critical and urgent role when people were dying. When people did not understand their day to day, you gave us respite and you protected our hearts and our minds. Thank you."
In addition to compensation changes, striking writers are pushing for new structure around the use of artificial intelligence. Filmmaker Lilly Wachowski called the use of AI "an assault on the middle class."
"I see AI and the refusal of the studios and networks to hit the pause button on its usage as the threat that is: a naked grab for power," Wachowski said. "In effect, they see AI as an opportunity to eliminate jobs and hoard an ever-increasing mass of wealth."
The most recent writers strike (2007-2008) lasted three months, the Associated Press reported.
---