Customers placing an order at Superdawg Drive-In have received the same cheerful greeting since Maurie and Flaurie Berman opened the eatery in 1948. Seventy-five years later, the restaurant and its beefy rooftop mascots could be called Chicago icons — but when it all started, Superdawg was just meant to be a summer business to help the couple pay for college.
"Our parents were high school sweethearts," said Berman's youngest child, Lisa Drucker, who said she marvels at the leap of faith her parents took with opening Superdawg. "To open a restaurant, a business together, they're married less than a year. The creativity, the forethought, the guts to do this — and it was successful!"
Scott Berman said once his parents relished a taste of the hot dog life, there was no going back.
"It was their passion," Scott Berman said. "They liked it not only as a business, but a hobby. Even if they weren't working that day — which was almost never, they worked a lot — they would stop in for their own sandwich or stop in to visit or bring their friends and stop in."
As the business grew, the Bermans developed innovative methods for speedier sausage-slinging, like the electronic ordering system and compact triangular kitchen prep station that allowed quick scaling-up for busy times. Drucker and Scott Berman said all the signature decor came from the mid-century aesthetic and events of the restaurant's earliest years. The harlequin diamonds on the dining room were inspired by similar designs on garage doors in the neighborhood, which was still developing when Superdawg was growing. The raised switchboard station mimics O'Hare Airport's traffic control tower, which was pretty new when Superdawg got its start.
The Bermans also raised three of their own little wieners at the restaurant.
"The parking lot used to be alphanumeric, so I learned the ABCs and the numbers sitting at my mom's side listening to her take orders at our switchboard, because cars pull in and push the button and it appears on the screen, what space you're in," Drucker recalled.
Over the years, Drucker's husband, Don, and the Berman grandkids have joined the hot dog pack, along with many longtime employees.
"My niece [Laura Ustick, who manages the Wheeling location opened in 2010] joined our business 13 years ago. My adult children grew up in the business. They both love Superdawg and both work here at least a couple of shifts a week," Drucker said. (One of those adult children, Stephanie Drucker, was a WTTW intern.)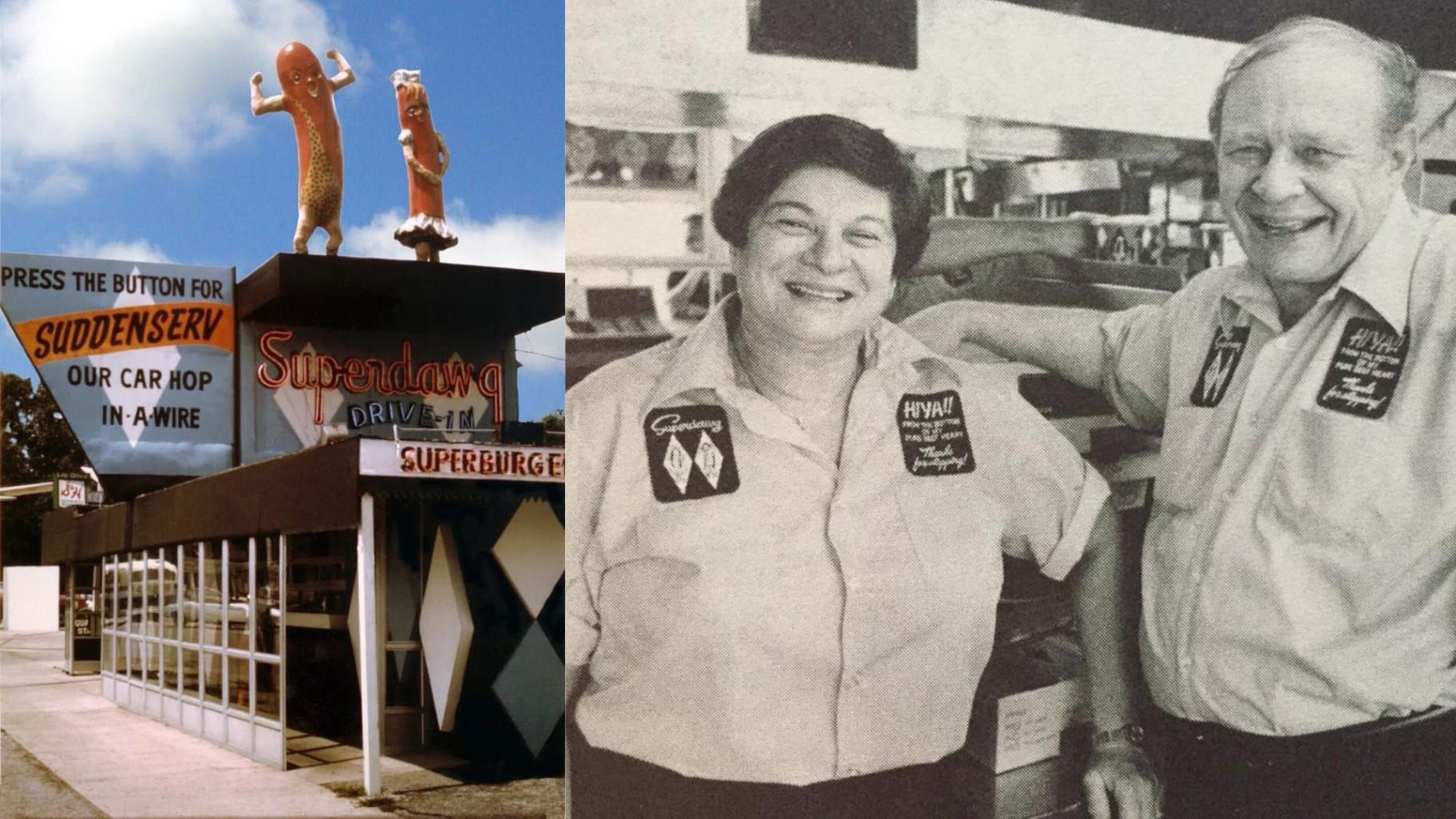 Customers placing an order at Superdawg Drive-In have received the same cheerful greeting since Maurie and Flaurie Berman opened the restaurant in 1948. (Courtesy of Superdawg)
"I've been here for so long that it's just easy. Everybody is nice, it's a family, it's just like home," said employee Mary French, who has worked at Superdawg for 13 years.
The family lost its original hot dog lovers, Maurie and Flaurie, in 2015 and 2018, respectively. But Superdawg remains faithful to the Bermans' vision — from the proprietary sausage to the pickled tomato to the crinkle-cut fries, all reclining inside a box designed by Maurie Berman.
"Our menu is the same as it's been for 75 years," Scott Berman said. "Our menu housings are the same. The way you talk to the switchboard — even the way we say, 'Hiya, thanks for stopping, may I take your order, please?' That's a phrase that my mother used in '48, 75 years ago. It's a phrase we still use today."
Sausage superfans say the family's commitment to keeping Superdawg an oasis of retro charm in a constantly changing city is what keeps them stopping by — and bringing their own family and friends.
"My dad used to come here all the time and he would take us here, and it was kind of like a night out," said Kevin Moyer, who was dining with his own two children. "Superdawg's just the best."
"The whole old-school thing, when they bring the food to your car — it's just a nice experience," said Laisa Arellano, whose family was dining in their car while watching a movie.
"In a time where big-box everything has taken over, to have a place like this last 75 years, I think that just shows you how good it is," said Norwood Park resident John DeJesus.
And that's why the Berman family said it plans to keep Superdawg just the way it is for many decades to come.
"Being an iconic Chicago institution — we just grew up here," said Lisa Drucker. "We've been at the same corner of Milwaukee, Devon and Nagle for 75 years just doing same thing every day."
---