King Charles and Queen Camilla. (Facebook / The Royal Family / Hugo Burnand)
Great Britain will crank its pomp and pageantry machine up to 11 this weekend for the coronation of King Charles III, and a sizable number of Americans are expected to tune in during the pre-dawn hours Saturday to witness the show — the first crowning of a new British monarch in 70 years. 
Here's the beauty of the "special relationship" between the U.S and U.K.: We Yanks get to vicariously partake in their ancient, possibly outdated, rituals, but we don't have to foot the tax bill for a single fur-trimmed cape or diamond-tipped scepter.
Though the coronation hasn't generated as much excitement stateside as the 2018 wedding of Northwestern alum Meghan Markle and Prince Harry (King Charles' spare son), a spectacle's still a spectacle. Whether you've come down with a full-blown case of coronation fever or are just using the occasion as an excuse to try a Pimm's Cup, here's how Chicagoans can join the festivities, including reliving the city's memorable brush with royalty.
Where to Watch
Given the 5 a.m. Central Time start to the proceedings, it's a safe bet most Chicagoans will watch from home on their tellys (that's British for TV), with major networks carrying the broadcast.
If you're hosting a house party or just trying to stay awake during the hourslong ceremony, check out the British Embassy's handy toolkit full of activities like the Coronation Connect-the-Dots, the Coronation Word Search and the Coronation Celebration Playlist.
For those who prefer a communal experience, Globe Pub in North Center and R Public House in Rogers Park are opening their doors early for the coronation and will be serving up hearty English fare to diehard Anglophiles. 
R Public House, 1508 W. Jarvis Ave., is taking reservations; call 872-208-7916. 
Globe Pub, 1934 W. Irving Park Road; 773-871-3757.
What to Eat and Drink
A full English breakfast is kind of similar to a Denny's Grand Slam only with more blood sausage, which the Brits call "black pudding." Chicago's own Winston's Sausage specializes in this delicacy. Pop in to the South Side market or place an order.
Pleasant House Pub in Pilsen is known for its British-inspired cuisine. Royal pies are always on the menu, along with classics like Scotch egg and Welsh rarebit. Just in time for the coronation, the pub has Firestone Walker Union Jack beer on draft. 2119 S. Halsted St., 773-523-7437.
On Sunday, all of Britain is invited to a coronation picnic, where the star of the show will be the Coronation Quiche, featuring eggs, spinach, broad beans and tarragon. Some media outlets had a field day with the notion of an official quiche, but the BBC kept a stiff upper lip and shared the recipe from Royal Chef Mark Flanagan.
Experience Chicago Like a King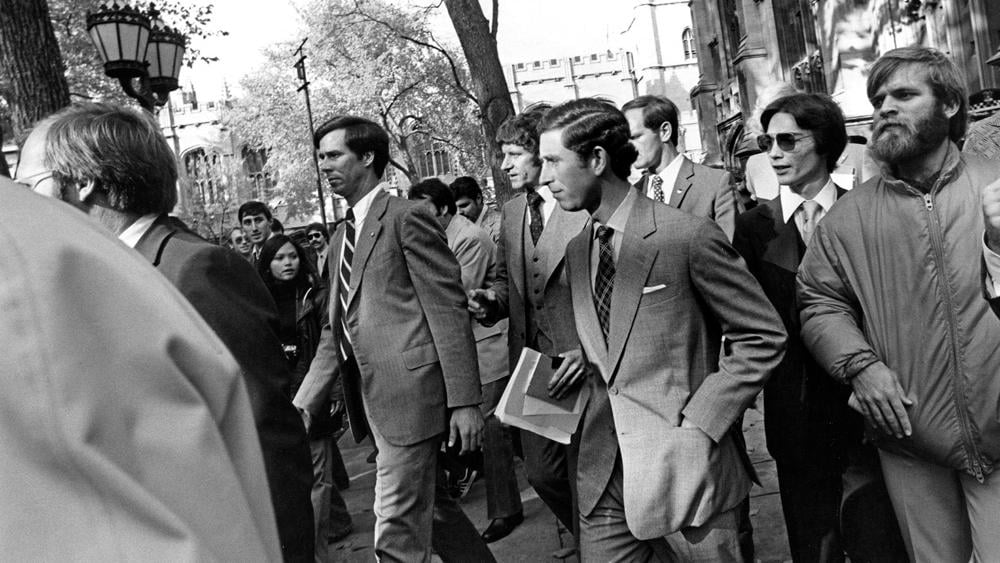 Prince Charles (now King Charles III) during his 1977 visit to Chicago. (Courtesy of Hanna Holborn Gray Special Collections Research Center, University of Chicago Library)
Queen Elizabeth II — Charles' mother — famously visited Chicago in 1959, sailing up the newly opened St. Lawrence Seaway on the royal yacht Britannia. She came ashore across from Buckingham Fountain (named for Clarence Buckingham, no relation to Buckingham Palace), and the strip of concrete where she touched ground is now known as Queen's Landing. 
King Charles doesn't have any Chicago landmarks to his credit, but he was made an honorary citizen of the Windy City during a trip in 1977 when he was still a bachelor Prince of Wales.
Here are some highlights to recreate from that whirlwind two-day tour:
— According to press accounts, Charles' motorcade traveled on the Kennedy Expressway from O'Hare Airport to downtown in 18 minutes — at 4:30 p.m. on a weekday. Good luck replicating that without a police escort.
— Lunch at the University of Chicago included a Q&A with students. An excellent place to experience a similar ambiance would be Truth Be Told, a British-style gastropub on the university's campus. Tuck into bangers and mash, and chase it down with Pimm's or a pint of London Pride from the U.K.'s Fuller Brewery. 1227 E. 60th St.
— Charles also swung by the Art of Institute of Chicago. No word if he came face to face with his own portrait, a 1975 photograph that's owned by the museum but, alas, is not currently on exhibit.
— Following in his parents' footsteps, Charles stayed at The Drake Hotel while in Chicago. This association made the hotel the natural choice for the British Consulate of Chicago's coronation weekend kickoff. Commoners can treat themselves to Coronation Afternoon Tea, Friday through Sunday, available through early summer. 140 E. Walton Place.
Charles returned to Chicago in 1986 for a polo match in Oak Brook. During that trip, he was feted at a ball held at Marshall Field's Walnut Room. Among the guests: Oprah Winfrey, who could never have predicated the pivotal role she'd play in royal gossip some 35 years later.
Welcome to our #Coronation celebration at @DrakeChicago, where @RoyalFamily members including Queen Elizabeth II and Princess Diana have stayed — and where His Majesty King Charles III visited during his time in Chicago!

We added a little extra British flair for the occasion: pic.twitter.com/RreFiR5Vc9

— UK Consulate Chicago (@UKinChicago) May 4, 2023
---
One more week to go before #CoronationWeekend!#DidUK that The King has visited the US over 20 times?

The Armstrong Ranch near Kingsville, Texas (1977)
Oakbrook Polo Club in Chicago (1986)
Ground Zero in New York (2005)
Fugazi Theatre in San Francisco (2005) pic.twitter.com/IyhkoexY9Y

— British Embassy Washington (@UKinUSA) May 1, 2023
---
Contact Patty Wetli: @pattywetli | (773) 509-5623 |  [email protected]