The town of Pontiac, home to almost 11,800 residents, is where Abraham Lincoln spent his early days as an attorney, and a Route 66 museum celebrates that slice of Americana. 
It's also home to The Cup and the Scone coffee house and its co-owner, Scott Cranford.
"I just retired, I really like Pontiac, it's a great town," Cranford said. "I love the people, I love the history. I love Route 66."
The town is also home to Pontiac Correctional Center, one of only three maximum security Illinois state prisons.
Just outside the prison's doors is a neighborhood of single-family homes and a playground.
Cranford, who retired from the Illinois Department of Corrections before settling in Pontiac, says the prison is part of the community.
"I worked there, I drive by it. [If] my wife is out jogging, she's gonna go by the prison," he said. "It has a great walking path. I've coached junior football out there. When my son played JFL, we practiced right next to the prison."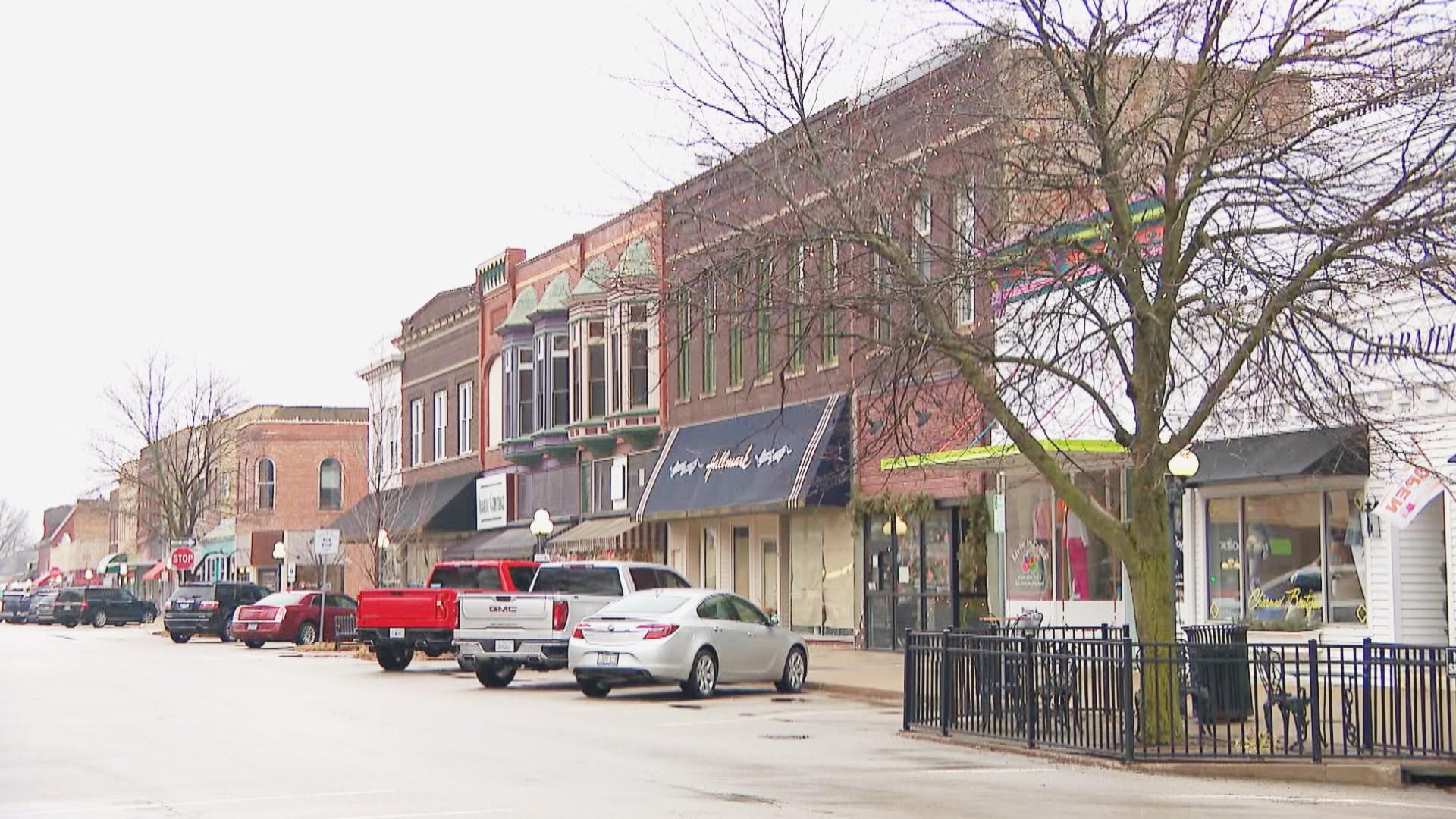 Stores line the street in downtown Pontiac, Illinois. (WTTW News)
Local leaders also view the prison in similar terms.
"They have over 540 employees, many of them live here with us. They're our neighbors," explains Pontiac Mayor Bill Alvey. "When we think about the prison, we think about them as being part of the community."
As WTTW News has previously reported, conditions inside Pontiac Correctional Center have led some advocates and inmates to call for its closure. They cite the physical condition of the facility, chronic short-staffing and issues with mental health and violence.
               
Read More: Inside Pontiac Prison Where Mental Health Issues, Violence, Officer Shortages and Aging Facilities Are Leading to Calls for Reform
Meanwhile, Alvey says the prison is a critical part of his town's economy.
"They use our sanitary system and different things and, you know, they have to pay the bill, too, like everybody else," Alvey said. "But when you have over 500 people working here, the economic impact from those people spending money here is tremendous."
But advocates say none of that is reason enough to maintain a prison that is in such bad shape — both physically and as an institution.
"We cannot keep prisons open as a source of economic vitality for communities. That is inherently flawed," says Jennifer Vollen of the John Howard Association, which advocates for people who are incarcerated. "Prisons should not drive our economy. They have a specific purpose. We're not even living up to that purpose. They cost us hundreds of millions of dollars a year."
Vollen argues if the combination of short staff and poor conditions inside the prison aren't enough reason to close it, the facility's failure to meet its main purpose of rehabilitation should be.
"While there is a goal to rehabilitate, we haven't come close to touching that," Vollen said.
Elected officials representing Pontiac have expressed concern about the prison's dwindling population — fearing its closure after the medium security unit was shut down last year, sending inmates to other facilities.
Former Department of Corrections Director Rob Jeffreys has repeatedly said closure is not on the table.
"At that time I told them that I was not closing the facility — emphatically told them I was not closing the facility," Jeffreys argued during a Legislative Audit Commission hearing in September 2022. "The actions that were happening at these particular facilities [were] because our population had reduced, was to consolidate our resources."
Jeffreys also acknowledges some of IDOC's facilities are more than 100 years old, facing billions of dollars in deferred maintenance and a host of other issues.
"One of the things that works in our favor is our population is significantly lower. We're down about 27, about 28,000 compared to about 39,000," he told WTTW News. "With that, we have an opportunity to reduce our footprint. And by reducing our footprint, we can also consolidate our resources. We don't need as many staff to run facilities if we don't have that many people incarcerated in those facilities."
"So, what does that footprint look like with a reduction in facility units or housing units?" he said. "So, there's a lot more to gain by reducing the footprint of the agency."
"We don't need as many prisons as we have open in the state of Illinois," Vollen said. "With a lower population than we've had in decades, it's time to shut prisons down."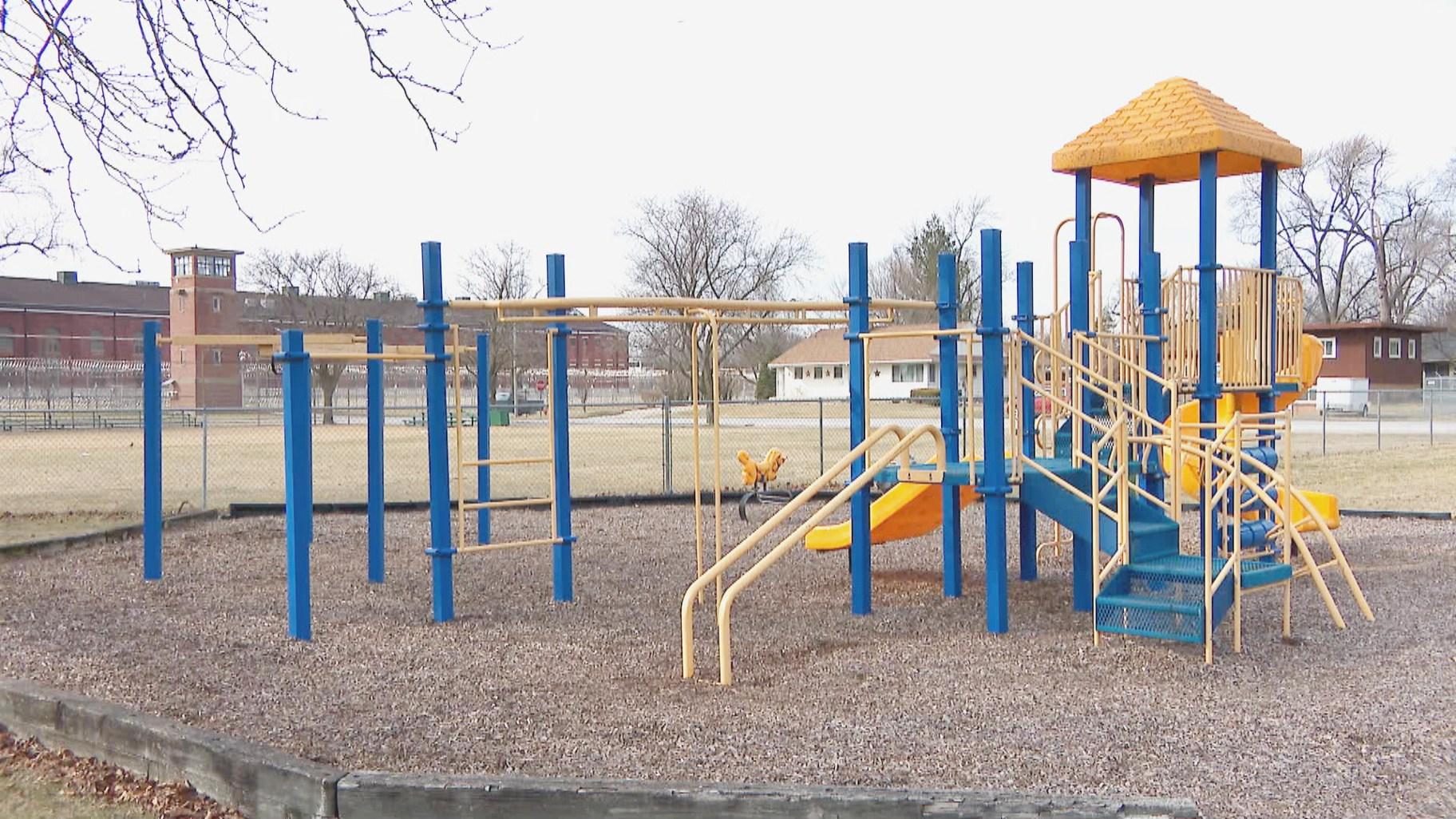 A park and playground in Pontiac, Illinois, sit outside the Pontiac Correctional Center's fences. (WTTW News)
But Cranford argues the prison is serving its purpose, beyond just being an economic driver for the city.
He points to one of his own staffers who's formerly incarcerated.
"He works very hard for me, he's got a key to my business. If you'd asked me that 15 years ago, I'd have said, 'Ehhh, no way,'" Cranford jokes. "But he's a good guy. People can rehabilitate people if they want to."
---