Just 99 miles southwest of Chicago sits Pontiac Correctional Center, one of three maximum security facilities in the state. It houses more than 400 people who've been convicted of murder, another 279 convicted of Class X felonies ranging from sexual assault to armed robbery and hundreds of others serving time for less serious offenses.
But it's become known as a prison's prison — one of the toughest in the state. Last fall, a corrections officer was stabbed by an inmate, leading to demonstrations and pickets by the union representing prison guards. Inmates accuse guards of abuse and inhumane treatment.  But critics say the problems aren't just between guards and inmates, but with the institution itself.
Incidents captured on video tell part of the story. Letters from the men incarcerated inside tell more.
A letter from 28-year-old Jermaine Young says, "On July 26th 2022, Lt. [Timothy] Bowden had assaulted me by kicking me in my chest and hitting me in the head and neck … which is all on camera. … I was in restraints the whole time from my hands and feet so it was nothing I could do even if I wanted to." Young was held in Pontiac at the time, but has since been moved to Lawrence Correctional Center.
Another inmate, Paul Smith, writes about "the poor living conditions we as inmates are subjected to (eg. poor health care, living in condemned cells, drinking contaminated water, black mold everywhere)". Later in his four-page letter, Smith writes, "I left out the mass infestation of mice and roaches and bugs."
Pontiac is one of the oldest prisons in the state, opened in 1871.
The conditions that come with its age are just part of the reason inmates and advocates call it inhumane. Another reason is the climate inside.
Jenny Vollen of the John Howard Association advocates for the incarcerated in Illinois.
"We have staff who claim it's the highest level of violence throughout the system, that it's a very unsafe place to work," Vollen said. "There are so many reports by people who used to work at Pontiac of it being very much an 'us versus them' — meaning the staff versus the people who are incarcerated — tenor."
Illinois Department of Corrections records from the Jermaine Young incident show a lieutenant did use his knee to strike Young in the chest while he was restrained.
Lt. Bowden told investigators Young's comments to "see what he [YOUNG] was going to do" made him feel as though he might assault staff.
WTTW News has gone to court to obtain access to the internal video of the incident — something the state so far has denied. There's no way of knowing how or even if Lt. Bowden was disciplined.
"We should have far more information about the people that work inside prisons, when they're disciplined, why they're disciplined, what is the outcome of that discipline," Vollen said. "None of that information is publicly available."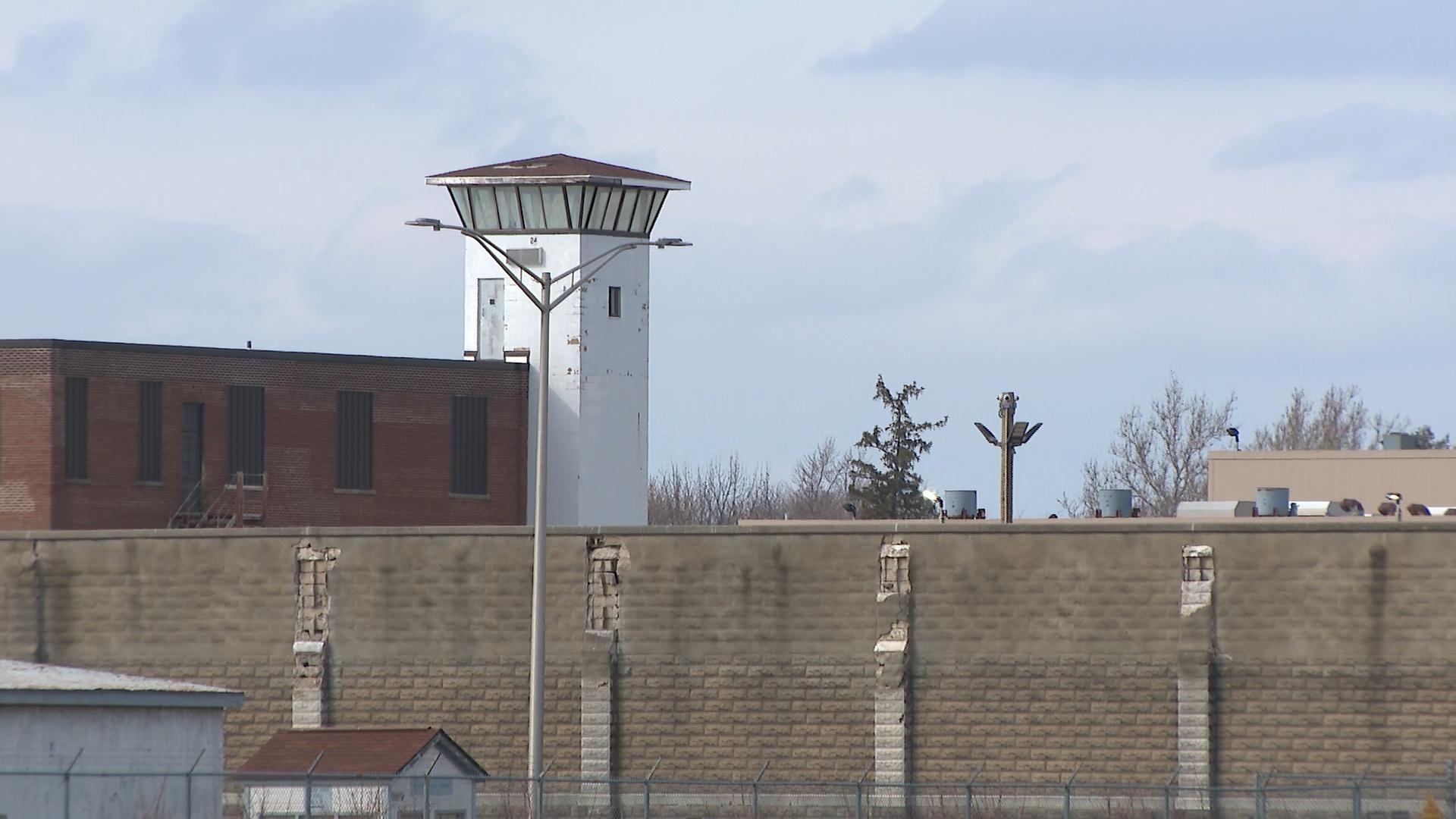 Pontiac Correctional Center (WTTW News)
Another Pontiac problem is the number of incarcerated people designated as seriously mentally ill: 26%, according to state data.
Rob Jeffreys, who just stepped down after nearly four years as director of the department of corrections, acknowledges the state has been hit with two lawsuits leading to a consent decree over its physical and mental health care programs.
"Corrections has become default for mental health," Jeffreys told WTTW News. "Unfortunately, we have 42 to 43% of our population is on some type of mental health caseload. Of that 43%, about 14% are essentially mentally ill diagnosed. And that only increases when we start talking about the female population. I think 70% of our female population is on a mental health caseload."
But Jeffreys claims the state has been working to address the issues.
"Putting policy in place, putting auditing practices in place, increasing our staffing levels. Not only that, looking at the mission at particular facilities to provide those type of mental health treatment for our population," Jeffreys said.
Read More: Former IDOC Director on Plans for Pontiac Prison, Home to State's Highest Concentration of 'Seriously Mentally Ill' Incarcerated People
IDOC documents show in fiscal year 2023, Pontiac had the highest number of self-harm incidents across all 45 IDOC facilities.
The prison also posted the highest number of people on suicide watch between 2020 and 2023 — with the lowest for any given month being 44 people on suicide watch, peaking at 99 for the month of June 2020.
The facility averaged 10 suicide attempts per year between 2020 and 2022 — and already 13 from summer 2022 to February 2023.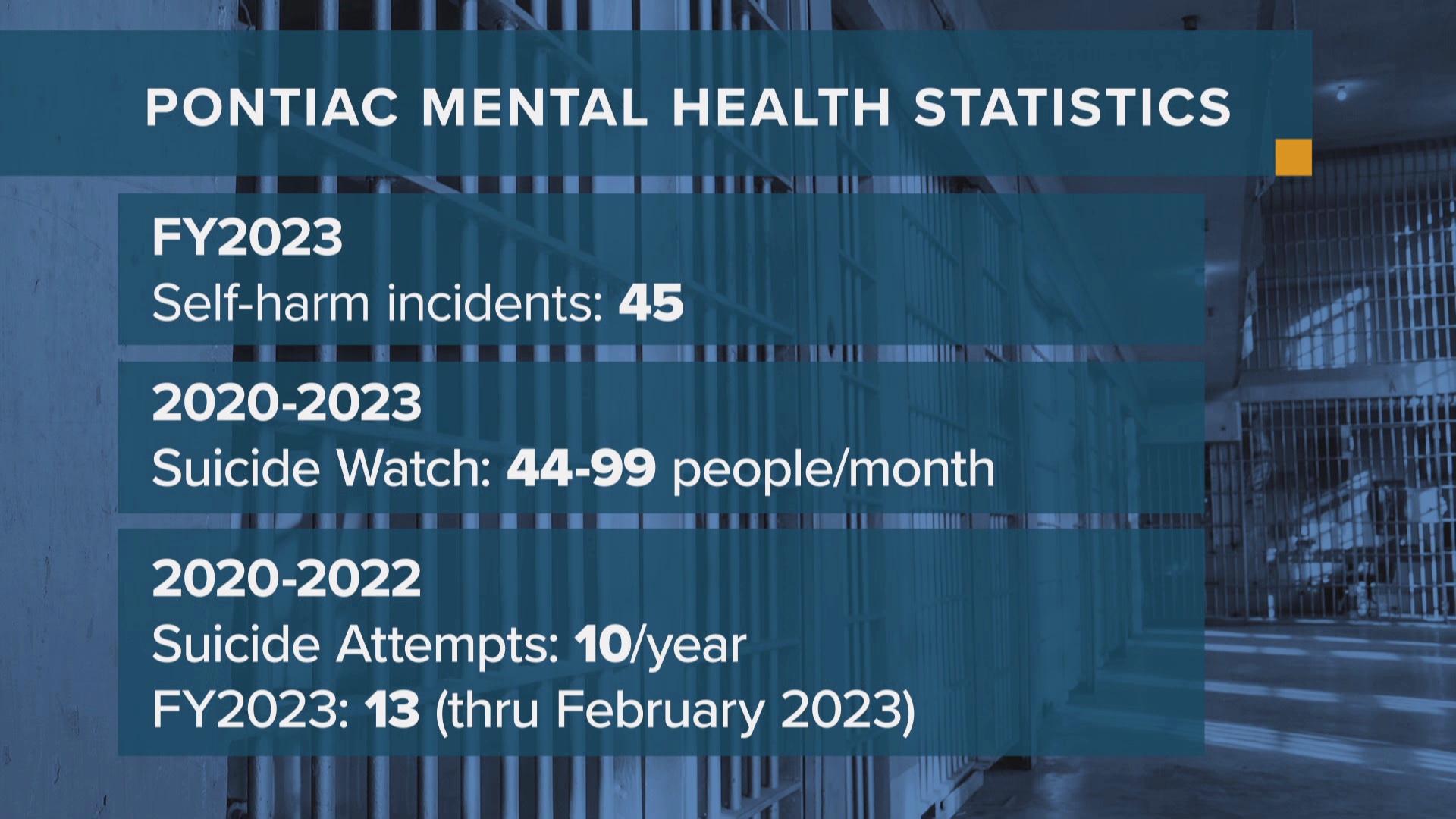 (WTTW News)
It's not just mental health staff. Pontiac is also short on corrections officers — the biggest deficit of any facility in the Illinois department of corrections.
"We have people quitting. I think there's 53 security, mostly officers that have resigned in 2022 through January of '23," said Will Lee, president of the AFSCME local, representing Pontiac corrections officers. "We're not even keeping up with retirement, let alone promotions."
The union representing prison guards says the facility has only 53% of the staff it needs to function, leading to lots of overtime and burnout.
IDOC says that's why it closed its Medium Security Unit last year and moved those inmates into maximum security.
But that appears to have caused more frustration and tension.
"What property do they get? What do they not get? What's their yard schedule? Do they get day room? We don't have a room in the max. Gym schedule — all these little things that they had so easily on the MSU, they're not getting," Lee explained.
And for the men imprisoned here, the difference between medium and maximum security is clear.
"The quarters that you live in: in the medium security unit, you have your own door, you have a key to your door to get in and out on your own. You have a window in your door instead of bars," explained Tony Dameron, who's been in IDOC for the last 27 years.
"In the max side where we're at now, neither of those things exist and my cell has a concrete bunk and that maybe that's the difference: It's a cell rather than a room."
"The mentality begins to change if you feed into the negativity that's produced every day just from being in this setting. Whereas on the medium security unit, you don't really have that. And then the officer mentality is different here," Dameron said.
Dameron participates in one of the few programs available at Pontiac, Defy Ventures, where the men learn skills for business and life.
When WTTW News visited the prison, a pitch competition was taking place: evidence of one of the scant sources of hope some of these men have.
"I'm an individual who started out on death row and in order to get there, they say you have no rehabilitative value, no redeemable value. And here today, I'm completing a pitch for Defy," Dameron said. "So, it's really big."
Dameron is a former death row inmate, now serving life in prison. He and his 47 classmates have graduated from the program. For some of them, a first time graduating anything.
But Vollen says even with such programming, IDOC isn't doing enough.
"We have an opportunity right now, system-wide the population is down. We are under rated capacity population-wise, as compared to what our prison system can hold," Vollen said. "It's time for Illinois to shut down some prisons."
WTTW News investigative producer Jared Rutecki contributed. 
---