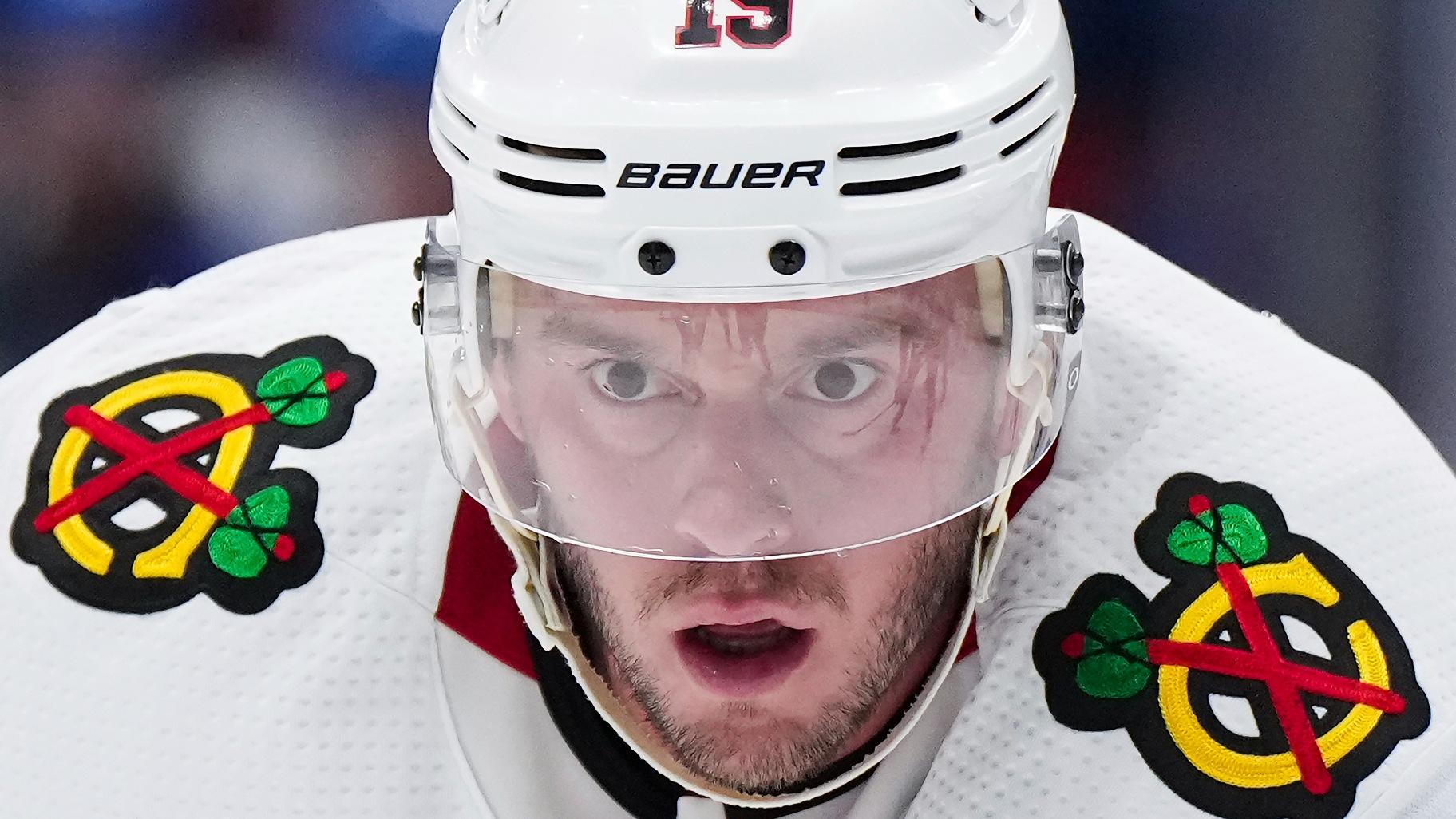 Chicago Blackhawks' Jonathan Toews waits for a faceoff during the third period of the team's NHL hockey game against the Vancouver Canucks on Thursday, April 6, 2023, in Vancouver, British Columbia. (Darryl Dyck / The Canadian Press via AP)
CHICAGO (AP) — Chicago Blackhawks captain Jonathan Toews will not return to the team next year, ending a wildly successful run that included three Stanley Cup championships in 15 seasons.
General manager Kyle Davidson said Thursday that the team will not re-sign its longtime center, who turns 35 on April 29.
"I think words fail to adequately summarize everything that Jonathan's done for the organization, the amazing memories that he provided," Davidson said. "He'll be a Blackhawk forever."
Chicago hosts Philadelphia in its season finale on Thursday night. Toews won his first championship when the Blackhawks beat the Flyers in the 2010 Stanley Cup Final.
Toews was selected by Chicago with the No. 3 pick in the 2006 draft, one of the first markers in the team's rise to the top of the NHL. He was just 20 years old when he became the 34th captain in team history in July 2008.
Toews helped Chicago put together the best stretch in franchise history, winning the Stanley Cup in 2010, 2013 and 2015. The Blackhawks also made it to the Western Conference finals in 2014, losing to the Los Angeles Kings in an epic seven-game series.
But the franchise had fallen on hard times of late. It is among the worst teams in the NHL this year, in the mix for the No. 1 overall pick in the draft and a chance to take Connor Bedard.
Toews' departure comes in the wake of a February trade that shipped star forward Patrick Kane to the New York Rangers.
"I don't know if it's necessarily putting the past behind us. It's moreso clearing the deck to some extent to allow the organic growth for young players into leadership roles," Davidson said. "Offer this new era of Blackhawks player the same opportunity that Toews, Kane, (Duncan) Keith, (Brent) Seabrook, they were all offered when they came in the league."
Toews could decide to retire after missing a chunk of this season with what he described as symptoms of long COVID-19 and chronic immune response syndrome. He also missed the 2020-21 season because of those same health issues.
"I don't really have an answer right now," he said on Monday. "I'm just trying to enjoy the last few days of the season here with this group and not thinking that far ahead."
---