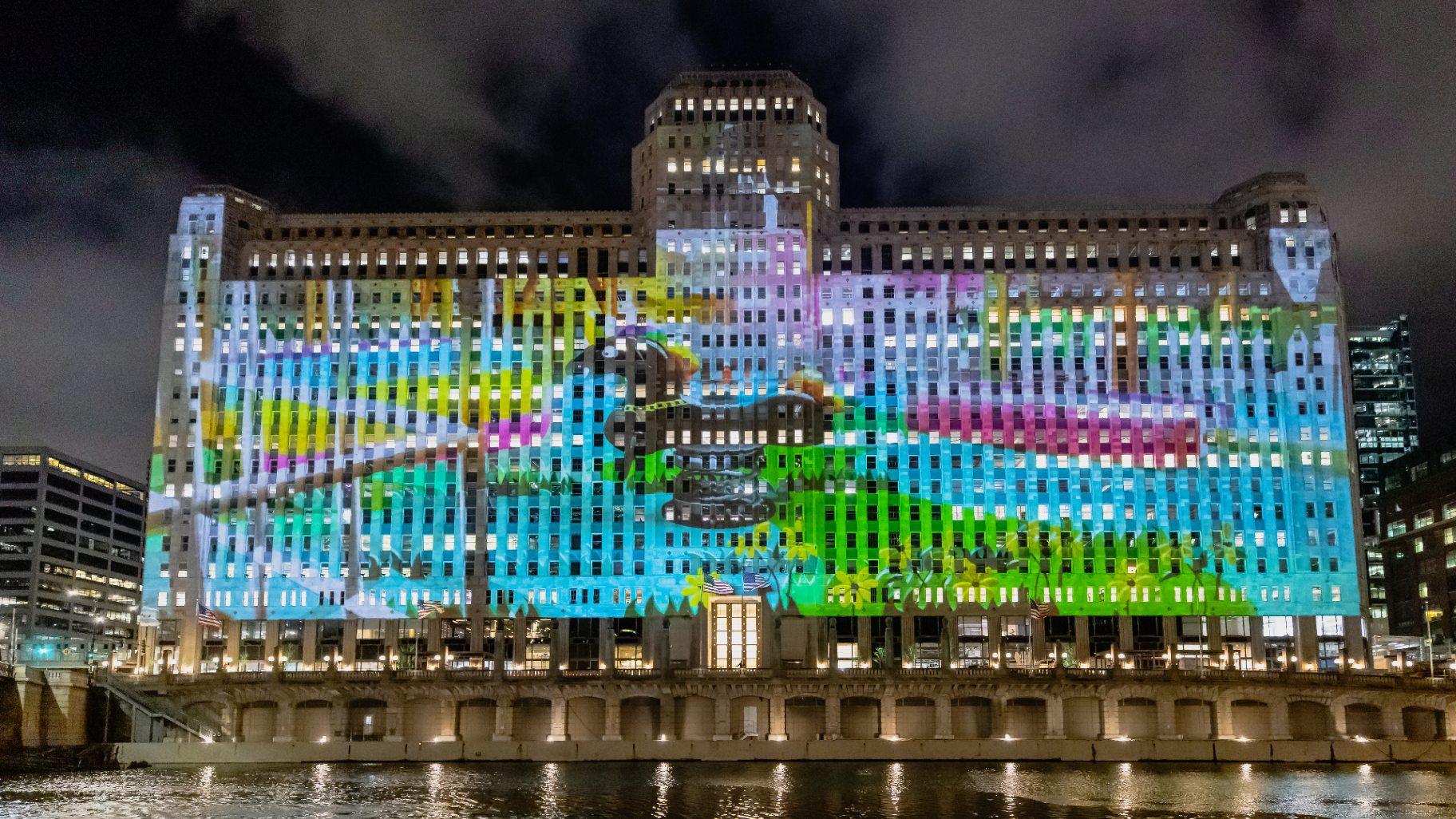 "Funtime Unicorn: Ruby Rides Through Four Seasons" by Derrick Adams. (Courtesy of Art on the Mart)
1. Gaze
Art on the Mart's spring season kicks off this weekend with "Funtime Unicorn: Ruby Rides Through Four Seasons" by artist Derrick Adams. Art on the Mart is the largest permanent digital art projection in the world.
Details: Projection runs from 8:30-9 p.m. nightly Friday through July 5. Best viewed on the Chicago Riverwalk between Wells and Lake streets. Free / MAP
---
2. Screen
Choose from 104 feature and short films at the 39th Chicago Latino Film Festival. Events include screenings, opening and closing night galas and a reception and Q&A at Instituto Cervantes.
Details: Times and locations vary through April 23. $12-$125
---
3. Cheer
The Chicago Golden Gloves tournament is the longest-running regional amateur boxing event in the country. Watch championship fights as Golden Gloves celebrates its 100th anniversary. Learn more about past winners on "Latino Voices" and "Black Voices."
Details: 7 p.m. Thursday to Saturday at the Cicero Stadium, 1909 S. Laramie Ave. $25-50 / MAP
---
4. Laud
Expo Chicago is going big for its 10-year anniversary with more than 170 galleries featuring modern and contemporary art from 36 countries. With Expo Art Week, see the best Chicago has to offer in galleries spanning the city. Learn more in our "Chicago Tonight" preview.
Details for Expo Chicago: 6-9 p.m. Thursday, 11 a.m.-7 p.m. Friday and Saturday, 11 a.m.-6 p.m. Sunday at Navy Pier, 600 E. Grand Ave. $35-150 / MAP
Details for Expo Art Week: times and locations vary through Sunday
---
5. Repurpose
Celebrate Earth Month with a trio of events. Find new uses for old clothing at the Chicago Fair Trade Museum Clothing Swap & Knit. The event is for swappers of all ages, sizes and genders; a mender and stylists will be on site. Head to The Plant for Reuse-a-Palooza, an event featuring clothing repair, help disposing of tricky-to-recycle items and ways to donate bicycles, books and more. And if you're in the mood to shop, the Trashy Earth Market highlights makers who transform reclaimed materials and promote zero-waste activities.
Details for the Clothing Swap & Knit: 5-9 p.m. Friday, 12-5 p.m. Saturday and Sunday at the Chicago Fair Trade Museum at NEWCITY Lincoln Park, 1457 N. Halsted St. $5-35 / MAP
Details for Reuse-a-Palooza: 11 a.m.-3 p.m. Sunday at The Plant, 1400 W. 46th St. Free admission / MAP
Details for Trashy Earth Market: 11 a.m.-3 p.m. Sunday at Gallagher Way, 3635 N. Clark St. Free admission / MAP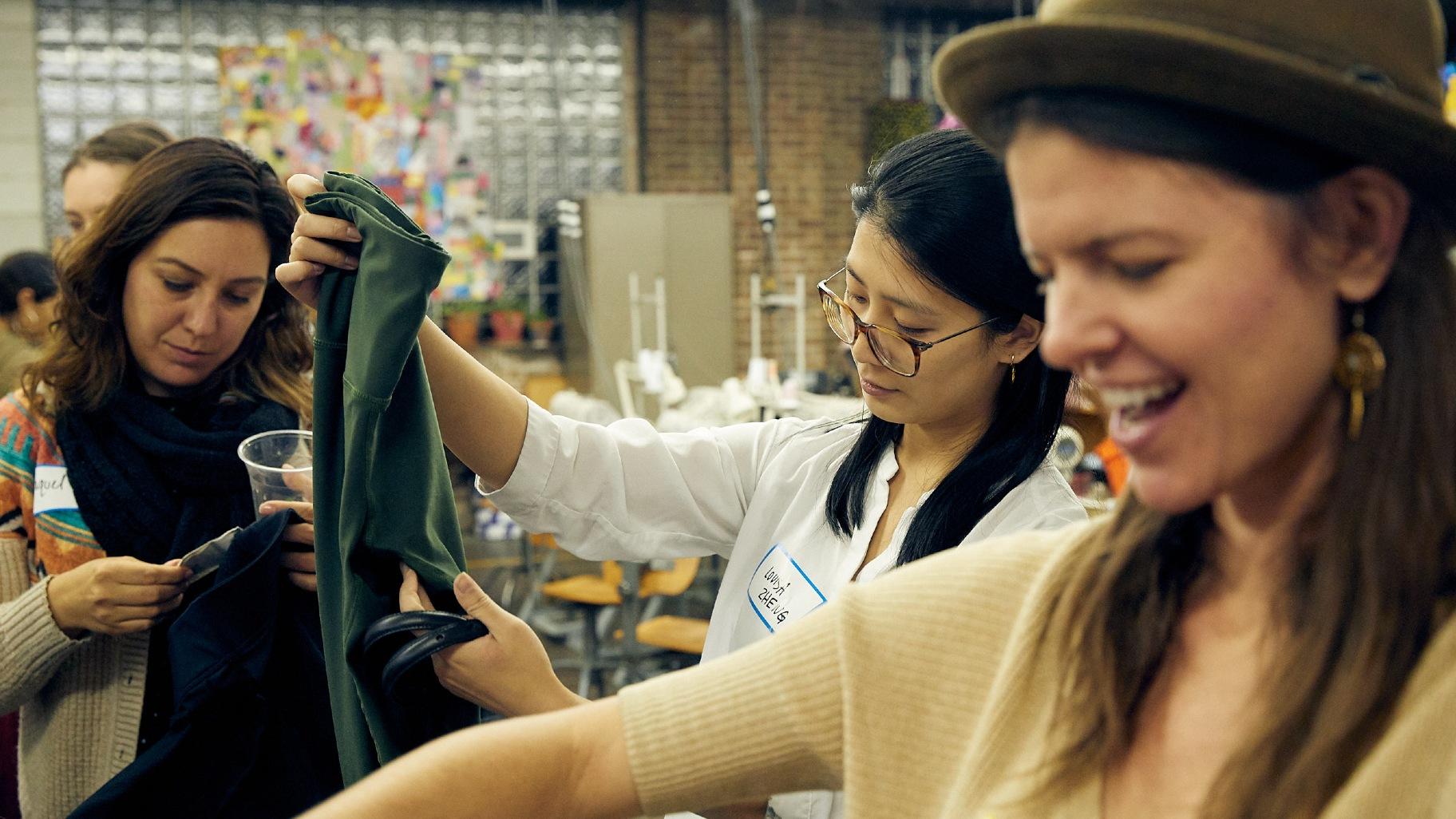 Shoppers at a 2019 clothing swap. (Courtesy of Saverio Truglia at hellosaverio.com)
Events listed are subject to change. We recommend double-checking times and locations before you head out the door. Want to share your upcoming events with us for consideration in a future roundup? Send us an email.
---