Portillo's is celebrating 60 years of Chicago-style hot dogs and its famous Italian beef sandwiches this week. Mayor Lori Lightfoot even declared last Wednesday "Portillo's Day."
Meanwhile, workers at the company's production facility in Addison are leading efforts to form a union with Iron Workers — demanding sick days and a seat at the table with management.
"We were tired of always asking to talk with management and them never listening to us," said Fernando Jiménez, a forklift operator at Portillo's production facility in Addison. "We don't have sick days. … I've worked here 33 years, and I only get two weeks of vacation. They offer health insurance that's really expensive, and a lot of us can't afford it. Really, what we're asking for are pay increases because in reality, what I'm making after so many years here, it's nothing compared to what they make."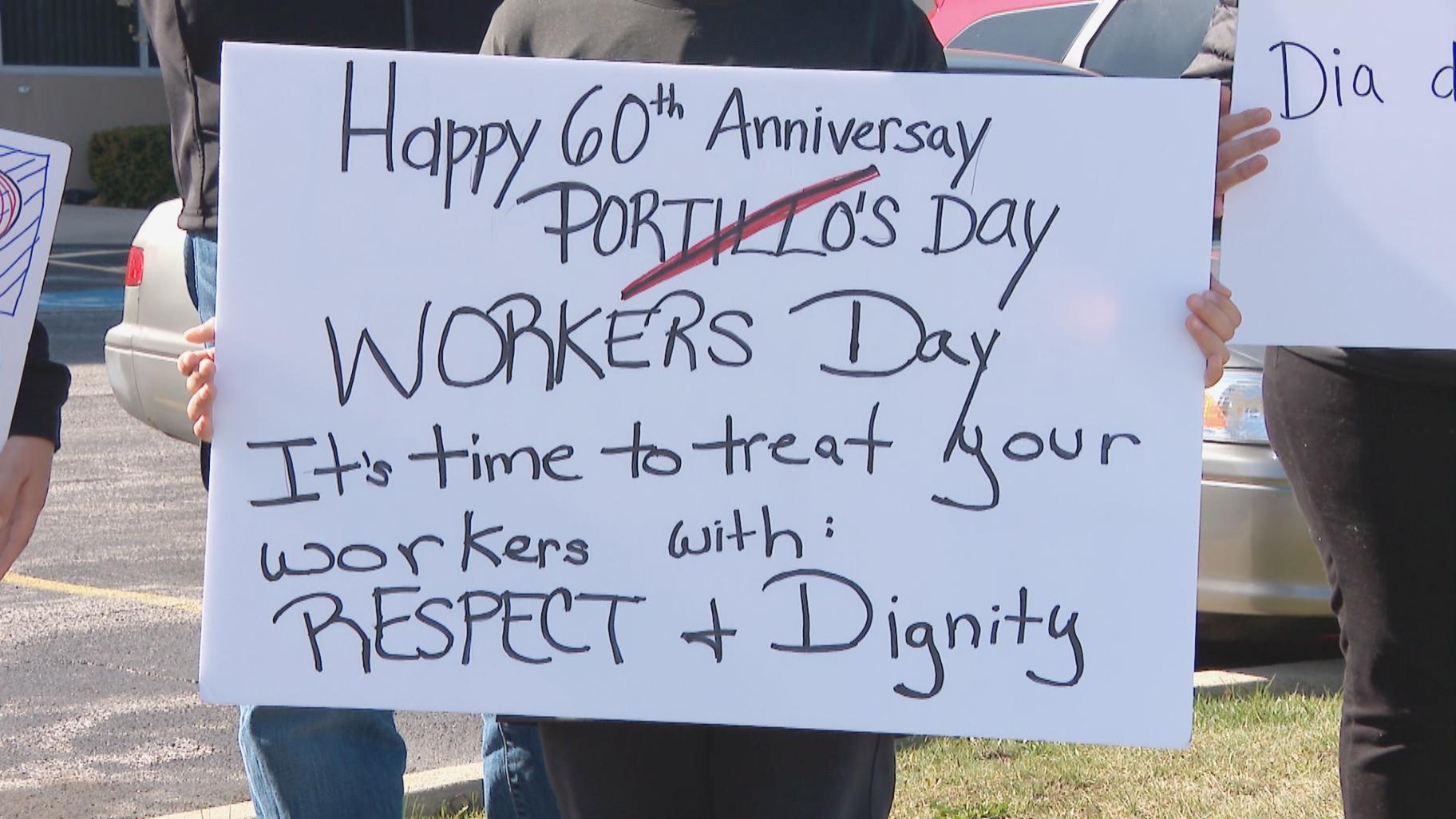 Workers rally at the Addison Portillo's production facility. (Shelly Ruzick / Arise Chicago)
According to Brenda Bedolla from Iron Workers, facility workers are currently not offered sick days.
"They're bound to get sick at some point, and it is completely inhumane and unjust for these folks to have access to zero sick days," Bedolla said. "If they do end up getting sick, unfortunately they have to take a leave without pay, which is already detrimental to these folks because they're living paycheck to paycheck. … It's fine if Portillo's wants to move forward with the vision to expand … but it's not okay for them to make that growth at the expense of their workers."
Portillo's told WTTW News in a statement, "We are proud of the competitive pay, career growth and development opportunities, and outstanding benefits – including health insurance, a wellness program, learning resources, meal benefits, and reward and recognition programs – that we provide for everyone who works here. It's our commitment."
Workers at Addison's production facility have an election scheduled for Thursday in which they will vote whether to unionize as a group.
"They've (Portillo's leadership) never worried about their employees," Jiménez said, "and they should because we are the ones who help the company grow."
---