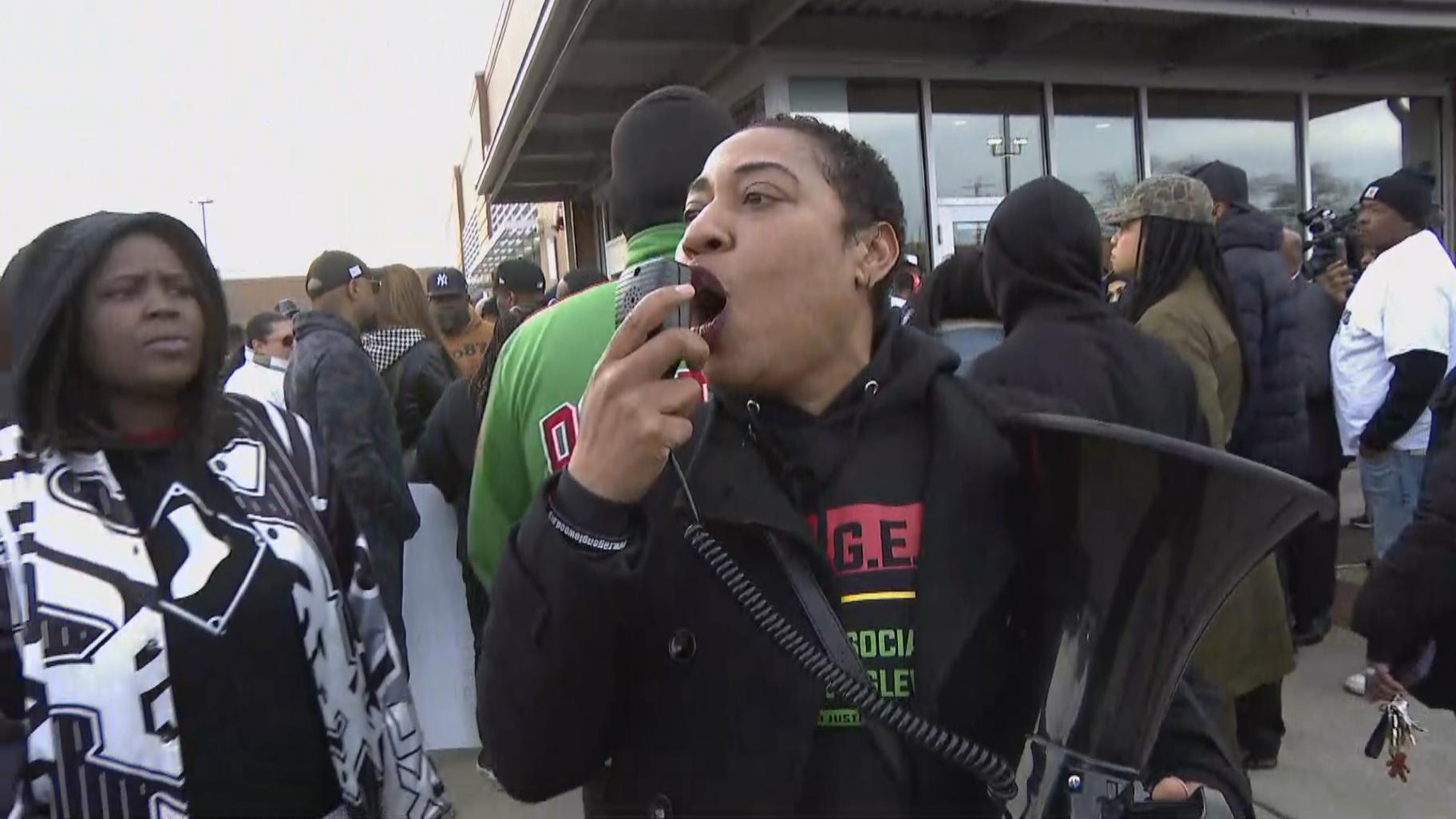 Community leaders demonstrated outside a controversial new Save A Lot in Englewood on April 5, 2023. (WTTW News)
Community leaders demonstrated outside a controversial new Save A Lot in Englewood on Wednesday, just before the grocery store slated to replace a former Whole Foods was scheduled to hold an "exclusive preview event."
"Shut it down! Shut it down!" people cried as they gathered in front of the store, blocking its entrance and demanding to know who from the neighborhood was present at the event.
Activists, community members and local elected officials have for months expressed their concerns to Save A Lot operator Yellow Banana about the poor reputation Save A Lot has among many Chicagoans, particularly Black residents.
When Whole Foods made the surprise announcement last April that it was shutting down, many neighbors said Save A Lot wasn't an acceptable replacement.
Since Yellow Banana was announced as the company that would take over the lease, some advocates have called for the company to brand the store as something other than Save A Lot, and have criticized company leadership for not fostering a productive relationship with neighbors.
"After almost 12 months of the announcement of the closing our store, we have not had any inclusiveness (and faced) lack of respect, lack of participation, lack of involvement with this current operator," said Ald. Stephanie Coleman (16th Ward).
Company representatives did not immediately respond to a request for comment about the demonstration.
Read More: Englewood Residents Didn't Want Save A Lot to Replace Whole Foods, But Lease Shows It Was Always a Backup Plan
The invitation to Wednesday evening's preview event at the "highly anticipated Englewood Save A Lot" went out Tuesday morning, taking some community members by surprise.
"Come witness how we have pro-actively addressed community concerns, meet the team, and sample the culinary delights that will be featured in the store," the invitation reads.
Coleman said the company only obtained a business license for the Englewood location Wednesday afternoon.
"If an establishment from outside of Chicago comes into our city, the least they can do is get a business license more than two hours before they want to open," Coleman said, referring to Ohio-based Yellow Banana.
"We have had conversations about how to respect this community, and enough is enough," said Asiaha Butler of the Resident Association of Greater Englewood. "They will not have a reception today without hearing from the voices of our people."
Yellow Banana had planned to have a soft opening at 8 a.m. Thursday. Community leaders told WTTW News the company agreed to delay that move.
The company said that "working together we can 'give the people what they want!' The Englewood community deserves a superior shopping experience and we are prepared to deliver."
Representatives did not immediately respond to a question about when the store might have its grand opening.
Yellow Banana has also received millions in city TIF and grant money to reopen and rehab other Save A Lot locations on the South and West sides.
"We know how critical access to high-quality food at affordable prices is in many of these neighborhoods — I myself having been raised in a community with many similarities — and we are honored to be able to serve them," company co-founder Michael Nance said in a statement last year. "We are committed to the wider Chicago community and look forward to finding even more ways to better serve those who live here."
Last month, WTTW News reported that despite Save A Lot's reputation in the neighborhood, bringing in the store was one fallback plan for the former Whole Foods site from the get-go.
A copy of the lease between Whole Foods and property owner DL3 Realty obtained by WTTW News spells out what happens if Whole Foods decided to close.
The deal gives right of first refusal to replace the high-end grocer or find another tenant to a now-dissolved company that once operated a Save A Lot store in Roseland. The dissolved company was run by the head of DL3, Leon Walker.
Walker's former business, known as Saver's Fresh Market, was licensed by the city to run the Roseland Save A Lot from 2012 to 2016. After that, records show the store's license was held by Save A Lot's parent company.
Walker told WTTW News neither he nor DL3 has a financial or business relation with Yellow Banana, and that the decision to bring that firm to Englewood was entirely between Yellow Banana and Whole Foods.
"I know Whole Foods had an aggressive effort to canvass the market and talk to a lot of other retailers, but … it's a small-format store in a community where the population has generally declined, and in an overall grocery environment that is under tremendous pressure," Walker said.
Contact Nick Blumberg: [email protected] | (773) 509-5434 | @ndblumberg
---