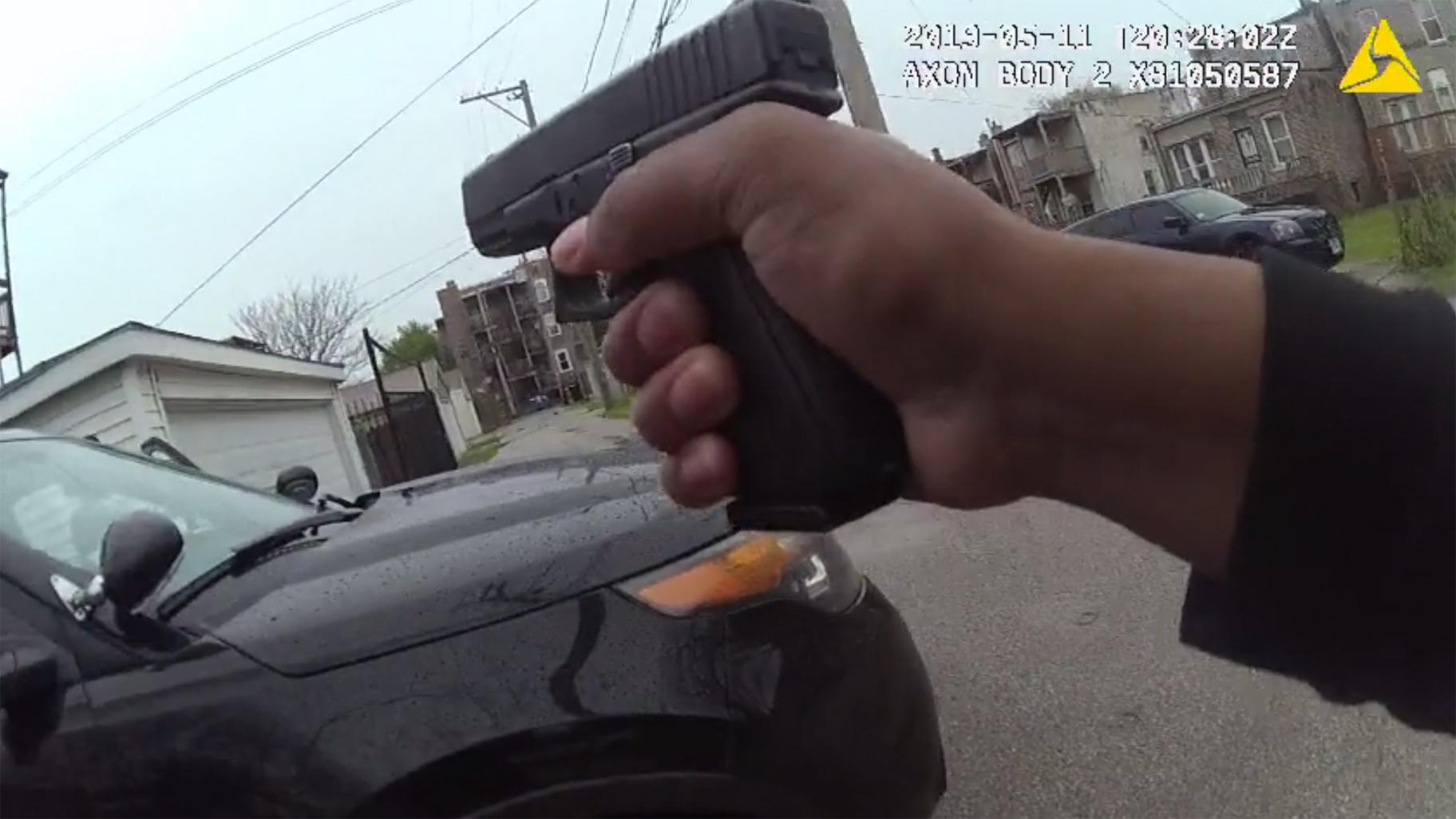 Body camera footage shows what lead up to the fatal shooting of 26-year-old Sharell Brown by Chicago police officers. (Civilian Office of Police Accountability)
A recommendation from the city's lawyers to pay $1 million to the mother of a man who was fatally shot by Chicago police in May 2019 after a foot chase will not get a vote by the Chicago City Council.
Sharell Brown, 26, was shot and killed during a confrontation with police officers who stopped him in Lawndale. Brown was shot four times in the head and twice in his right arm, according to the investigation of the incident by the Civilian Office of Police Accountability, known as COPA.
The Chicago City Council's Finance Committee had been scheduled to consider the recommendation of the city's lawyers to settle the case in January, but opposition to the settlement appears to have not only delayed its consideration but scuttled it entirely. The Finance Committee is scheduled to meet on Monday, but the recommendation is not on the agenda.
The city and its lawyers will now have to convince a jury that Officer Joseph Lisciandrello did nothing wrong when he shot and killed Brown — after turning off his body-worn camera — or hope any award in the case is less than what their lawyers recommended paying to resolve it plus the cost of a trial.
A spokesperson for the city's Law Department declined to comment to WTTW News.
Brown was stopped on the afternoon of May 11, 2019, because he fit the "general description" of two men they were looking for. When officers discovered Brown was armed with a Sig Sauer pistol, he ran from the officers, according to COPA's probe of the incident. At the time, the Chicago Police Department did not have a policy governing foot chases.
Police Officer Robert Rhodes said he fired 11 shots at Brown after he pulled the pistol out of his jacket pocket and pointed the weapon at officers. Two witnesses confirmed Rhodes' statement, according to COPA's report.
Fifteen minutes later, Lisciandrello responded to Rhodes' call for help, and located Brown. Lisciandrello fired nine times at Brown, killing him. Lisciandrello told investigators Brown pointed the pistol at him before he opened fire in two separate volleys, according to COPA's report.
When Brown's body was searched, the pistol was recovered, but no ammunition. A clip that fit the gun was found near the path Brown took as he fled police, according to COPA's report.
While the probe by COPA found that Rhodes' actions complied with departmental policy, the probe said there was not enough evidence to determine whether Lisciandrello's decision to open fire at Brown was justified, according to COPA's report.
There were no witnesses when Lisciandrello shot Brown, and the officer's body-worn camera was off at the time of the fatal shots, according to COPA's report. In addition, while Lisciandrello told investigators that he ordered Brown to drop his weapon before shooting him, there is no evidence he gave that order as required. No witnesses reported hearing it, and it was not captured on other officers' body-worn cameras.
In addition, the investigation concluded that Lisciandrello "improperly deactivated and/or failed to properly re-activate his (body-worn camera)" during the incident, according to COPA's report.
"Officer Lisciandrello's failure to timely reactivate his (body-worn camera) effectively ensured that the only surviving account of the incident would be the one he provided," according to COPA's report.
COPA recommended that Lisciandrello be suspended for a minimum of 180 days or terminated. Lisciandrello remains a member of the Chicago Police Department, according to the city's data portal.
Contact Heather Cherone: @HeatherCherone | (773) 569-1863 | [email protected]
---