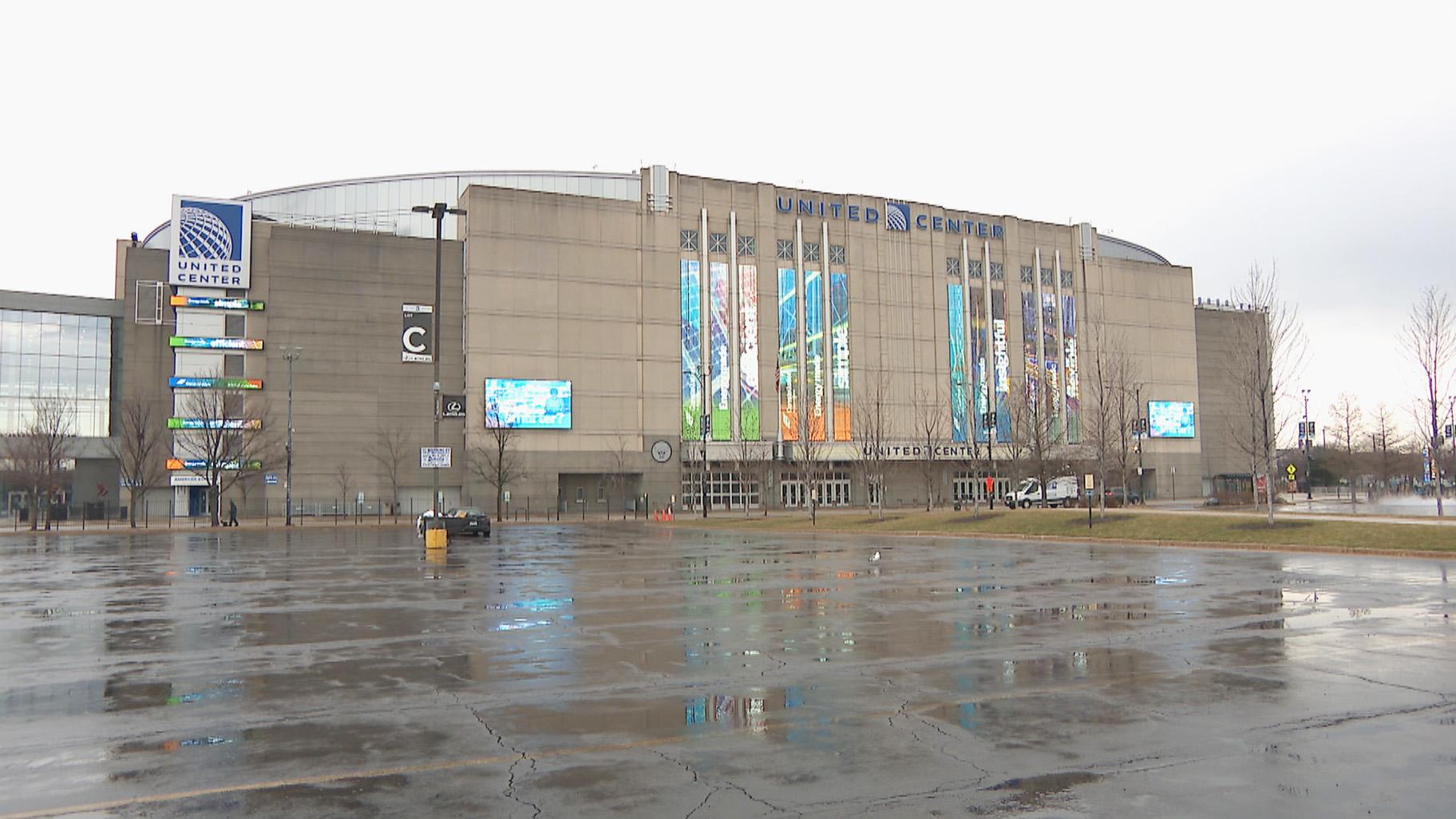 The United Center is pictured on March 6, 2023. (WTTW News)
If you have tickets for upcoming games at the United Center, there could be some major disruptions to your beer and food purchases.  
United Center concession workers are in the middle of contract negotiations with the hospitality company that operates the service.
Jamie O'Neill has worked countless games at the United Center over the last few decades.
"I enjoy the atmosphere. I enjoy interacting with the fans and my coworkers," O'Neill said. "We have become family."  
On Sunday, dozens of workers walked out on a one-day strike during the Chicago Bulls game. O'Neill is one of hundreds of union employees who say they're fighting for a fair contract.
"We are striking for health benefits, we're striking for pension" O'Neill said. "We're striking to be equal."
O'Neill says the union, Unite Here Local 1, has been negotiating a contract with Levy Restaurants since 2021.
"It was the end of January of this year when we took a strike vote," he said. "We got a 98% 'yes' to go on strike."
On top of having no pension to retire with, O'Neill says there's hundreds of employees without health insurance. During the pandemic, O'Neill said Levy didn't offer employees assistance.  
"What they consider health insurance is not health insurance," O'Neill said added. "… They call it health care. It's essentially a clinic we can go too."
The concession stand operator says she pays four hundred dollars a month for private health insurance. A price she says many of her coworkers can't afford to pay.
"We have dedicated most of our lives to this company and they don't appreciate us the way we want them too," O'Neill said.   
A Levy spokesperson says the company has been at the bargaining table more than 20 times. In the most recent proposal, Levy says it is offering a new health care program that allows workers to "bundle hours" from jobs at the United Center, Wrigley Field and Guaranteed Rate Field to qualify for coverage. The company is also offering at least $20 dollars an hour as a starting wage and a new pension plan.
"That doesn't help me and then you can't collect it right away the little bit of money that is contributed into it… I could be dead by then," O'Neill said of the pension proposal.
With the Big Ten Tournament starting Wednesday at the United Center, O'Neill says workers will be ready for another strike. That's a decision a Levy spokesperson says they will be able to handle.
Another bargaining session is scheduled for Tuesday.
---