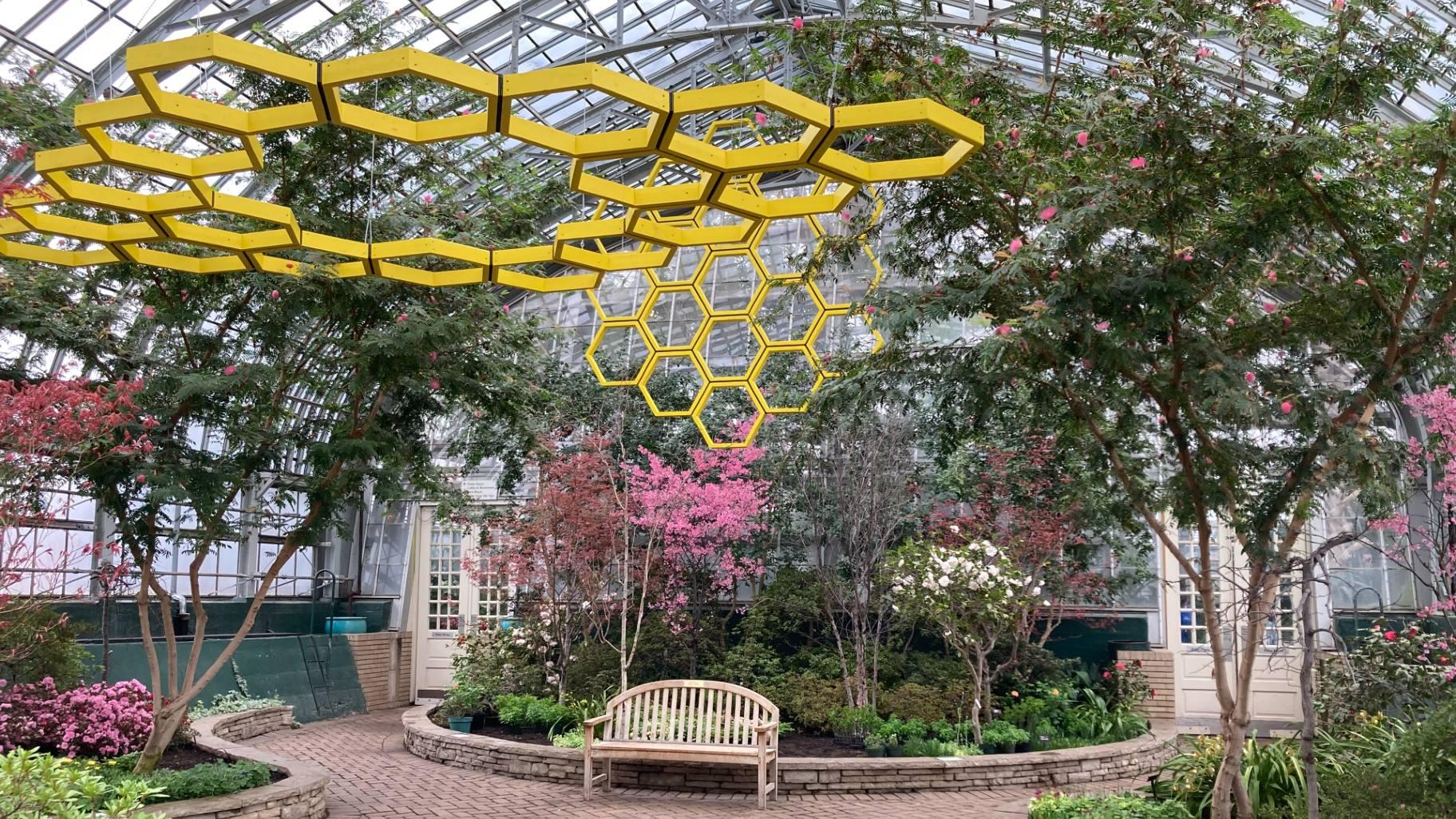 Part of the "Bees Knees" exhibit at Garfield Park Conservatory. (Chicago Park District)
1. Blossom
Brighten up winter days with a pair of spring flower shows. "Bees Knees" at the Garfield Park Conservatory explores the relationship between bees and blossoms; demo hives from the conservatory's beekeeping program are set among flowers. And in Lincoln Park Conservatory's "Cooler by the Lake," cool color tones are a nod to chilly spring weather along Lake Michigan.
Details for the Garfield Park show: 10 a.m. -5 p.m. Thursday to Sunday, 10 a.m.-8 p.m. Wednesday at 300 N. Central Park Ave. Free, registration required / MAP
Details for the Lincoln Park show: 10 a.m.-5 p.m. Wednesday to Sunday at 2391 N. Stockton Drive. Free, registration required / MAP
---
2. Leap
Get a first look at new dances from eight Chicago-area choreographers in "First Draft: New Work by Chicago Dancemakers." The showcase gives local performers the opportunity to present their latest work to a live audience.
Details: 7 p.m. Friday and Saturday, 3 p.m. Sunday at Links Hall, 3111 N. Western Ave. $35-50 for adults; $25 for students, seniors and children ages 6-8; free for kids 5 and under / MAP
---
3. Learn
Hear from filmmakers, writers and curators at the Sojourner Truth Festival of the Arts, which focuses on Black feminist filmmaking. Inspired by the 1976 New York festival of the same name, the symposium brings together female filmmakers of diverse backgrounds for screenings, poetry readings and roundtable discussions. In-person and streaming options are available.
Details: Times vary through Saturday at the Logan Center for the Arts, 915 E. 60th St. Free / MAP
---
4. Splash
Embrace the elements and take a dip in Lake Michigan at the 23rd annual Chicago Polar Plunge, which raises money for Special Olympics Chicago and Special Children's Charities. Register as a team or an individual. Shoes are required, and costumes are highly encouraged.
Details: 10 a.m. Sunday at North Avenue Beach, 1600 N. Lake Shore Drive. $200 fundraising minimum to participate ($100 for high school students); free to watch / MAP
---
5. Frolic
The Hindu festival Holi, sometimes called the festival of colors, welcomes the arrival of spring and is known for the throwing of colorful powders. See live performances, learn how to dance and — of course — toss colorful powder at Navy Pier's Holi celebration.
Details: Powder is available for purchase from 1-4 p.m. Saturday while supplies last. The festival runs from 1-5 p.m. Saturday at Navy Pier, 600 E. Grand Ave. Free / MAP
(Courtesy of Navy Pier)
Events listed are subject to change. We recommend double-checking times and locations before you head out the door. Want to share your upcoming events with us for consideration in a future roundup? Send us an email.
---