Navigating the dating-game in the 21st century is seldom easy for anyone. With an overwhelming number of dating apps to choose from, all with their own rules and methods, it can be tough to make an online connection.
On Bumble, users may enter their height, occupation and political alignment. Tinder lets users list their Zodiac sign, alma mater and link a music app to show off their favorite artists. But for those dealing with mental illness, there's no box to check to help disclose the ongoing struggles present in their lives.
"I don't think there was ever like, interests, hobbies [and an] are you on Lexapro question," said Alex Quenan, 28, a Gold Coast resident who deals with anxiety and depression.
Actively searching for a romantic connection on platforms also comes with a risk.
Studies show that users are more likely to experience increased rates of psychological distress, depression and anxiety.
Quenan isn't currently playing the field. He met his partner, Roxy Stendera, 27, who also deals with anxiety and depression, in a recovery program three years ago. Though the couple have found love, they said that making a connection was challenging while maneuvering their respective struggles.
"I did at times feel like I was unlovable, I had too much baggage or people wouldn't want to be with someone who had depression or anxiety," Stendera said.
Before her relationship with Quenan, Stendera mentioned that each year, one day in particular brought extra feelings of loneliness and isolation.
"Valentine's Day was always really hard for me," she said. "For 26 years, I spent Valentine's Day alone, without anyone that loved me."
The couple is not alone, over 50% of people in the United States will be diagnosed with a mental illness in their lifetime, according to the Centers for Disease Control and Prevention.
Disclosing on Dating Apps
For those willing to try their hand at dating apps, a limited number of platforms allow users to disclose mental health information on their profiles.
NoLongerLonely is the largest online dating platform focused on pairing and supporting singles with mental health issues. The website has received mixed reviews from users.
Hinge, a company owned by Match Group, launched a self-care initiative last year in an effort to encourage members to share their "wellness journey". The open ended prompts focus on topics including therapy, boundaries and support systems.
OkCupid, an online dating service launched in 2004, updated their website last year to allow users the option of disclosing their comfortability with discussing mental health with a future partner. Since then, the platform continued to take steps towards further driving these types of conversations.
The decision was heavily influenced by data they collected on Gen Z and Millennial singles which revealed an 18% increase in the mentioning of the phrases "mental health" and "therapy" on profiles in 2022. 
Jennifer Klesman, a clinical social worker and therapist, gave a higher estimate on the number of people dealing with mental health challenges. She said an array of challenges beyond anxiety or depression affect countless individuals throughout their lives, including eating disorders and body-image issues.
"Actually, sometimes I find it more abnormal when people don't have at least a point in their life where they struggle with anxiety or depression," Klesman said.
Whether someone is living with these challenges or not, Klesman said that making a romantic connection and finding love can induce worry in anyone. For those facing anxiety, depression, addiction or any other mental health challenge, the key is to disclose any struggles to a prospective partner when the time is right.
"I'm looking at it as kind of like a job interview … you don't put any of your mental health challenges on your resume or your cover letter, you want to get the interview," Klesman said. "Then [later] you kind of begin to disclose that 'sometimes I get anxious … or I've been in therapy for many years working on this."
According to Klesman, the world is much more accepting of mental illness in recent years. The normalization of disorders like anxiety, depression and others ease their disclosure.
Though grappling with mental health challenges has become more normalized, some still cite it as a primary obstacle to finding love.
Jazmine de Natera is a single-mom to a 7-year-old son. She is also a businesswoman who deals with depression and attests to the constant struggle of mental health issues.
"I can only speak for myself with my depression that there are days you don't like yourself," de Natera said. "There are days you might wake up and feel that the world might be better off without you. There are days where you can really talk yourself into a hole … so, you have to be very strong to pull yourself out of there."
Not only does de Natera deal with her personal thoughts, she deals with how others see her. Whenever she discloses her depression, people tend to note how she's a good mother or how she appears happy.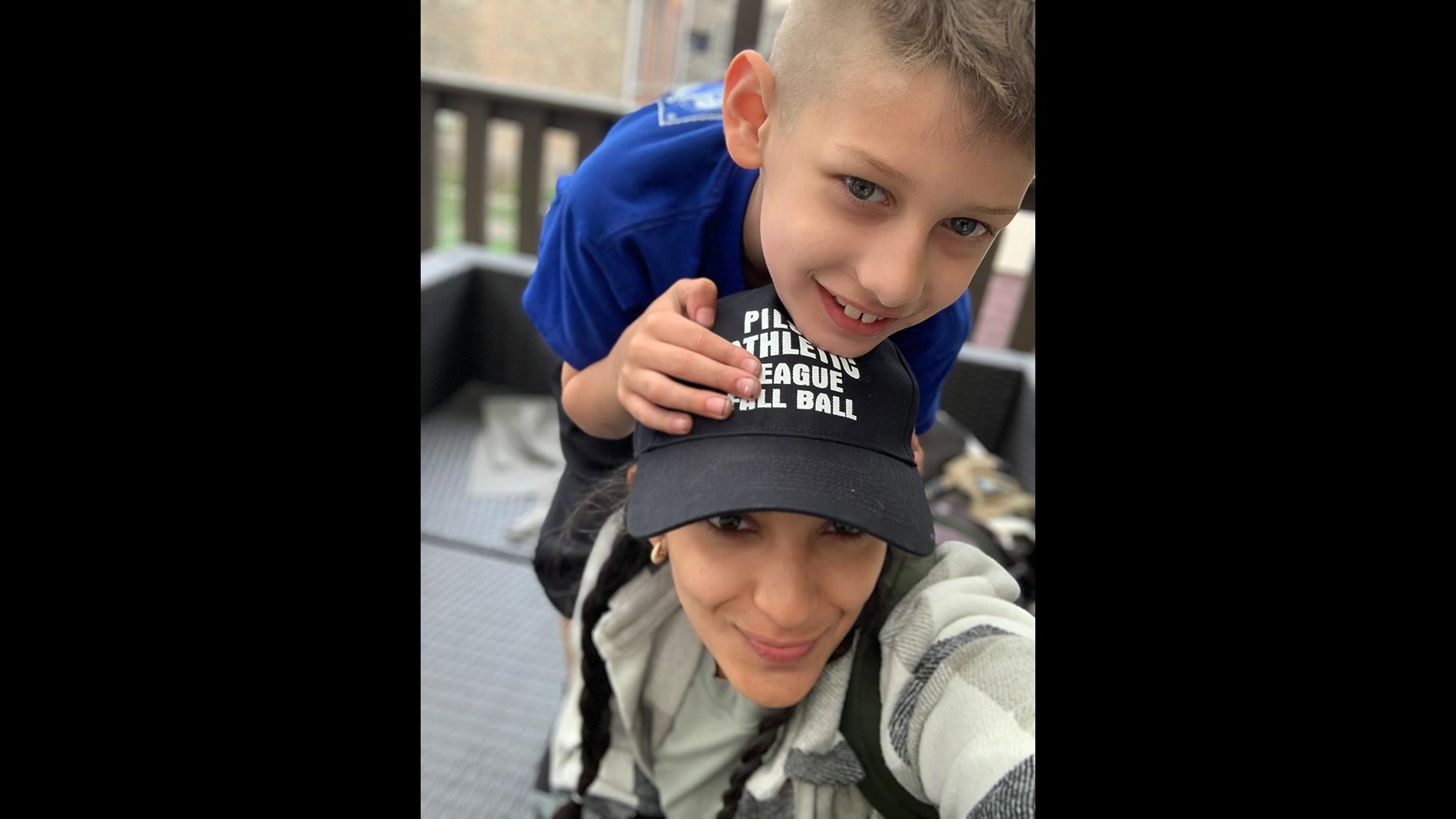 Jazmine de Natera and her son. (Credit: Jazmine de Natera)
Regarding dating and finding love, de Natera knows that her depression is a lot to take on. She said that even though everyone has their moody days, depression is a "different ballgame." Depression isn't something one physically sees, so de Natera understands how others won't know what she goes through.
For those like Alex Quenan and Roxy Stendera who've found a connection while managing mental illness, the work has only just begun. The couple said that a strong relationship like theirs is only possible because they are able to maneuver their individual mental health battles. Their bond plays a supporting role as they cope with their own challenges and live their respective lives.
"We have to focus on ourselves and put ourselves first in order to have a successful relationship," Stendera said. "That means being in individual therapy, having our own friends, hanging out with our friends separately."
On Tuesday, the couple planned to share a meal together and swap gifts. Quenan will likely give his partner a valentine's card, as Stendera calls cards her "love language."
For others like de Natera, there will be no romantic dinners, chocolates or cards from a partner this Valentine's Day, and that's OK. While she doesn't have a romantic partner, she has other loved ones to focus on and celebrate love in other ways.
"I have transformed it to a celebration for my son for him to remember that you know he is loved and that respect and giving is a big thing," de Natera said, adding that she'll be giving her son flowers, something she's done since he was little.
While she said she's not actively looking for love right now, de Natera isn't closed off to it. If and when someone comes along, she won't be afraid to tell them of the struggles she deals with every day. Though they don't define her, de Natera said that her challenges are real, and any prospective partner must accept them.
"I don't mind disclosing information at the beginning," de Natera said. "This is [who] I am, take it or leave it."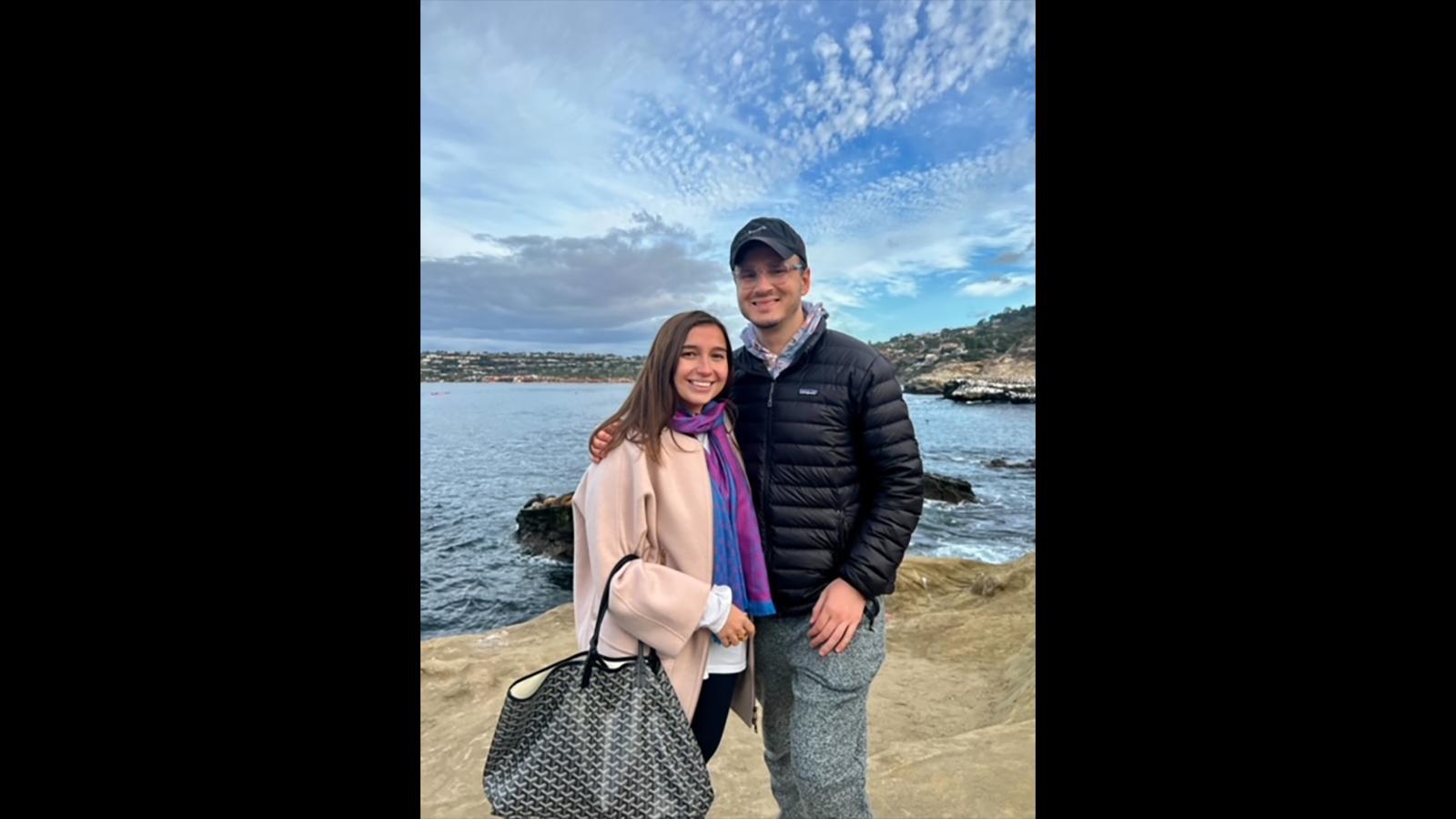 Alex Quenan and Roxy Stendera met in a recovery program three years ago. (Courtesy of Stendera and Quenan)
---