Logan Square resident Juliet de Jesus Alejandre believes Chicago mayoral candidates need to be more in touch with the everyday struggles Chicagoans face; she pointed to a disconnect she felt with the candidates during the WTTW News mayoral forum Tuesday night.
"I think most of the candidates felt so far away from the actual everyday challenges that people are going through, such as violence, the lack of affordability," Alejandre said. "We see a lot of families here who are not able to buy food because the cost of housing has gone up or because of long COVID. … Their ability to work long hours hasn't gone back to pre-pandemic times."
More: Find the Full WTTW News Voter Guide
For Alejandre, there were only two candidates who embodied a closeness to those issues.
"I felt an energy from Ja'Mal Green and from Brandon Johnson of understanding those struggles at that level, of being close to the pain and then really trying to think about some creative solutions and keeping young people at the center of those solutions," Alejandre said. "It gives me hope, but everyone else just felt so far away from thinking creatively. It just felt like, 'Oh that's gonna be exactly the same situation that got us here.'"
Alejandre is the executive director of Palenque LSNA, a nonprofit in the Logan Square area that focuses on housing and immigration, catering to Black and Brown residents.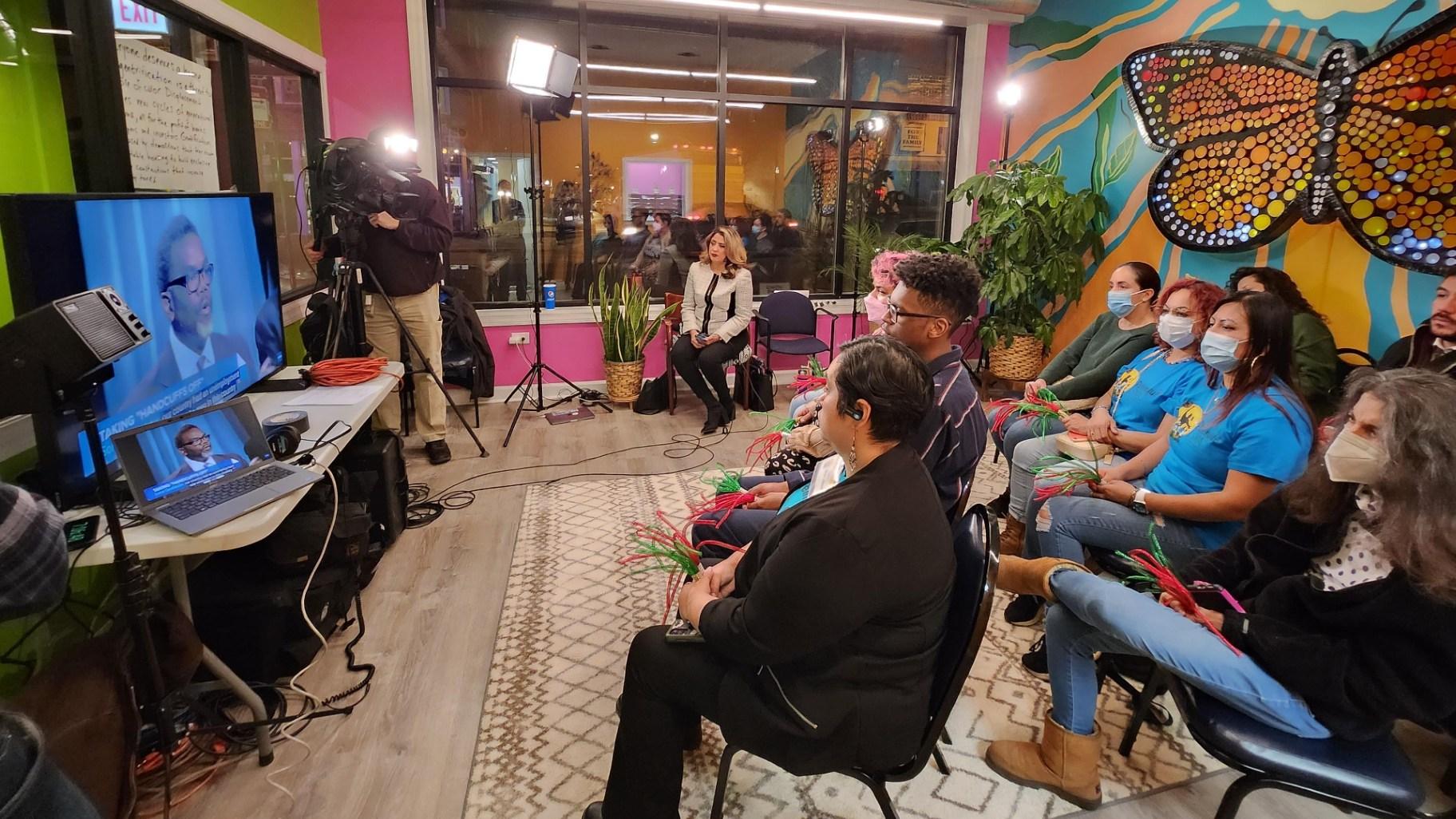 Logan Square residents watch the WTTW News mayoral forum live from Palenque LSNA. (Acacia Hernandez)
Jayden Wright, 16, also attended the Logan Square watch party and grew up in the area. He said he and his family have since been displaced to Belmont Cragin due to rising property taxes.
Ja'Mal Green stood out to him for including young people as part of proposed solutions.
"I really appreciated his emphasis on showing up for the youth instead of the police because I do think that the youth are the future," Wright said. "And investing in our communities will indeed help us instead of over-policing certain communities that do not need it. We instead need community engagement so that they know what's best for the community."
Meanwhile, Logan Square resident Amy Dworsky walked away feeling like she didn't hear tangible answers from the candidates.
"Candidates don't answer the questions that are asked. … They're just giving their talking points, they're not addressing the questions that the moderator asked them," Dworsky said, noting her disappointment. "I wanted to hear them respond to the questions. … I think I'm still planning to vote for the same person I was planning to vote for before."
---