When fitness instructor NK Gutierrez is teaching a Pilates or yoga class, the room and waitlist are usually packed.
"My purpose is to create space for people to feel seen, heard and leave me better than they came," Gutierrez said of her approach.
But no matter how popular her classes became throughout her 12-year career, Gutierrez said she was rarely featured in the marketing for the places she taught — an exclusion that made her start preemptively excluding herself.
"I started doing some personal development work and became present to how small I was playing," Gutierrez recalled. "I didn't feel like I was good enough. I didn't feel that I was small enough. I didn't feel that I fit in. And that's because the story that has always been told to me by being excluded is that I didn't fit in."
Realizing there were more women out there feeling unwelcome in the fitness world inspired Gutierrez to keep showing up at the head of the class.
"The reason why it's so important for me to show up unapologetically just as I am, is because it gives people permission to do the same," Gutierrez said. "They see me, they see my body, they see my hair, they hear my music that I unapologetically play, and they're just like, 'Yes, thank you. I will be back.'"
It also inspired Gutierrez to design her own line of athleisure wear named Thickletic.
"The biggest needs that I see are still finding, like, clothing that works well for your body type, holds you in where you need to be held in, feel supported where you need to feel supported, and feel cute at the same time," Gutierrez said. "Who else feels like they don't belong in this space because they don't see themselves in size or color? And that's how Thickletic was born."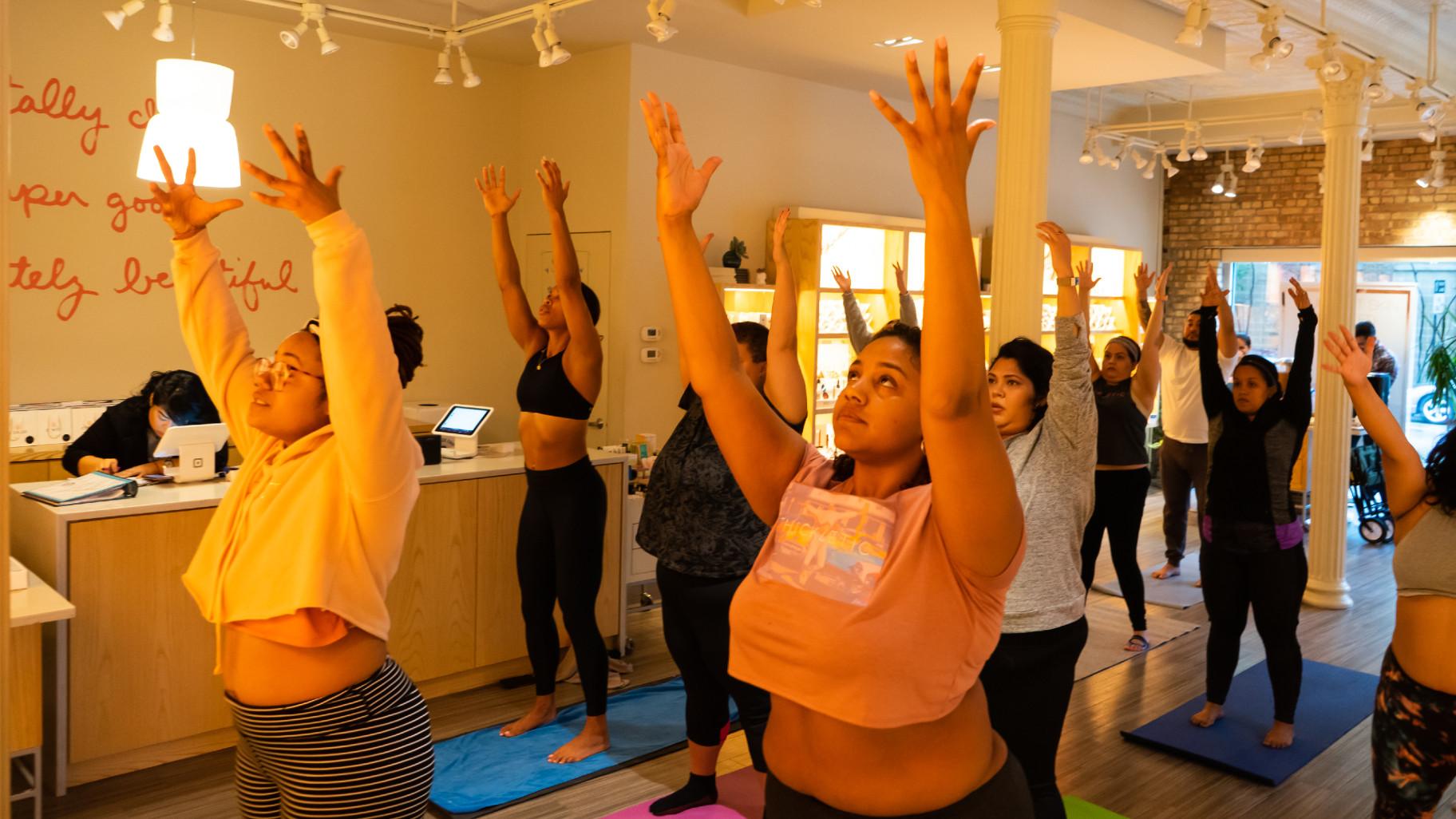 When fitness instructor NK Gutierrez is teaching a Pilates or yoga class, the room and waitlist are usually packed. (Matthew Hollis)
Fellow entrepreneur Anabelle Martinez has also set her sights on the ingredients of wellness. She said she saw a need for quick, nutritious food options in west suburban Berwyn.
"There's a lot of great businesses here, but there was nothing, like, just a juice bar," Martinez said. "When I … would visit my grandma in Mexico, we would always go to the mercado, to the markets, and there was always different stands, and one of them was always the juice bar. So that was cool to me, and we'd always get our juice and banana and orange juice with two simple ingredients, and they were so good."
Using that childhood inspiration, Martinez opened Juice Vibe Bar and developed an approachable menu of juices, smoothies and bowls that could be ordered online and picked up quickly. All of her products are gluten- and dairy-free, and her serviceware is all biodegradable.
"We have a lot of nurses that come in or people that work in the, in the medical field, as well as teachers." Martinez said. "We have a lot of great teachers that come in during lunchtime. They want to be healthy and have something that's going to energize them throughout the day."
Ultimately, both entrepreneurs said their ambition is to welcome everyone to find their own way to wellness.
"The mission is to educate individuals on how to live a better and healthier lifestyle," Martinez said, "and it doesn't have to be like an instant change in your life and routine. You can do it step by step. That's something that I want to share with the world."
"How well you are is how well your community is," Gutierrez said. "So I want as many people around me to be well, so that Chicago can be well and Illinois can be well and the world can be well."
---
Update 2/24/23: Gutierrez is hosting an event from 3-5 p.m. March 18 at Bodyrok. In honor of Women's History Month, she'll be teaming with the founder of Dark Matter Coffee to have an inter-generational conversation around women and what it means to fully inhabit bodies. Gutierrez is seeking women ages 18-80 to take a private Pilates class followed by coffee and conversation. Anyone interested can contact Gutierrez at [email protected] or through Instagram (@iamThickletic).
---