The Rev. Corey Brooks brought attention to his Woodlawn community and his cause when he camped out on a Chicago rooftop for almost a year to raise funds for a new community center.
Now, with an $8 million donation from the McCormick Foundation announced Wednesday — and a total of $28.5 million raised so far — the so-called "rooftop pastor" is closer than ever to realizing his dream.
Below is a Q&A with Brooks edited for length.
WTTW News: Talk a little about your vision for this community center and the different spaces and amenities it will provide.         
Corey Brooks: So the center is all about creating opportunities and transformation of our neighborhood and our people. We plan to make sure that the center includes resources that will enhance people's lives to help them get back on the right track. Resources like our trade classes — carpentry, electrical, HVAC, automotive — so that people can be trained and be skilled labor to get jobs that will help them take care of their families. We also have a wonderful STEM computer lab. We have the music and TV production studio. We're trying to teach people to not just be in front of the camera but all the wonderful skills working behind the camera, as well.
We have three restaurants, and we have a culinary arts kitchen where we're going to be teaching using those restaurants and the kitchen to teach hospitality and restaurant management.
We also have a trauma counseling facility where people can get the counseling that they need, especially for individuals who have been impacted by violence.
We have entrepreneurial classrooms and financial literacy training. We're really excited that we have an Olympic-sized swimming pool, two basketball courts and a 400-seat theater.    
Explain why it's so important to build a space like this in a community like Woodlawn that has seen so much disinvestment over so many decades. Why is that so important to you?
Brooks: So the importance of our structure and how it looks is really important so that people can take true love and ownership of the neighborhood. Secondly, it's important that we make such a large investment because our neighborhoods have, have gone without for so long without the opportunities that other neighborhoods have had. And so a lot of people have lost hope. A lot of people have given up their dreams and their aspirations. So we wanted to create a place where people can dream again. And then we wanted safe spaces. You know it's bad when young people and children can't even go outside for activities and be kids. So we wanted to make sure we have a place that not only has programs, but it's a place that young people can have fun and they can be kids and know that they're in a safe space.
How do you hope this center will impact the broader community and some of the issues that it faces, such as poverty, persistent violence and a lack of economic development?
Brooks: Well, we believe it's going to be a catalyst for transformation and impact the community in a major way because we already see the work that we're doing working. Violence in our immediate area is down 50%, while you can see other parts of the city still going up.  We believe that with the building of this center that we can build capacity and scale to help more people and when we do that, it's going to have a drastic impact on the violence and it's going to have a drastic impact on the poverty. People are going to be skilled, people are going to be trained, and they're going to be inspired. And when that happens, we believe that they take not just ownership, but they begin to build pride and self-worth. And you need those things along with opportunities for community to really experience transformation.
Let's talk a little bit about the donations that you've received. The headline donation is the one from the McCormick Foundation, but you also got $5 million from Ken Griffin. You've raised $28.5 million. How much more do you need to raise? When do you hope you can really begin construction in earnest on this project?
Brooks: So our goal is to start on the ground in April.  We want to raise at a very minimum another $6.5 million that will put us at our $35 million goal. But we're going to continue to fundraise. We want to make sure that we're still able to pay everything and be debt-free, along with creating an endowment so that our programs continue in the midst of whatever happens.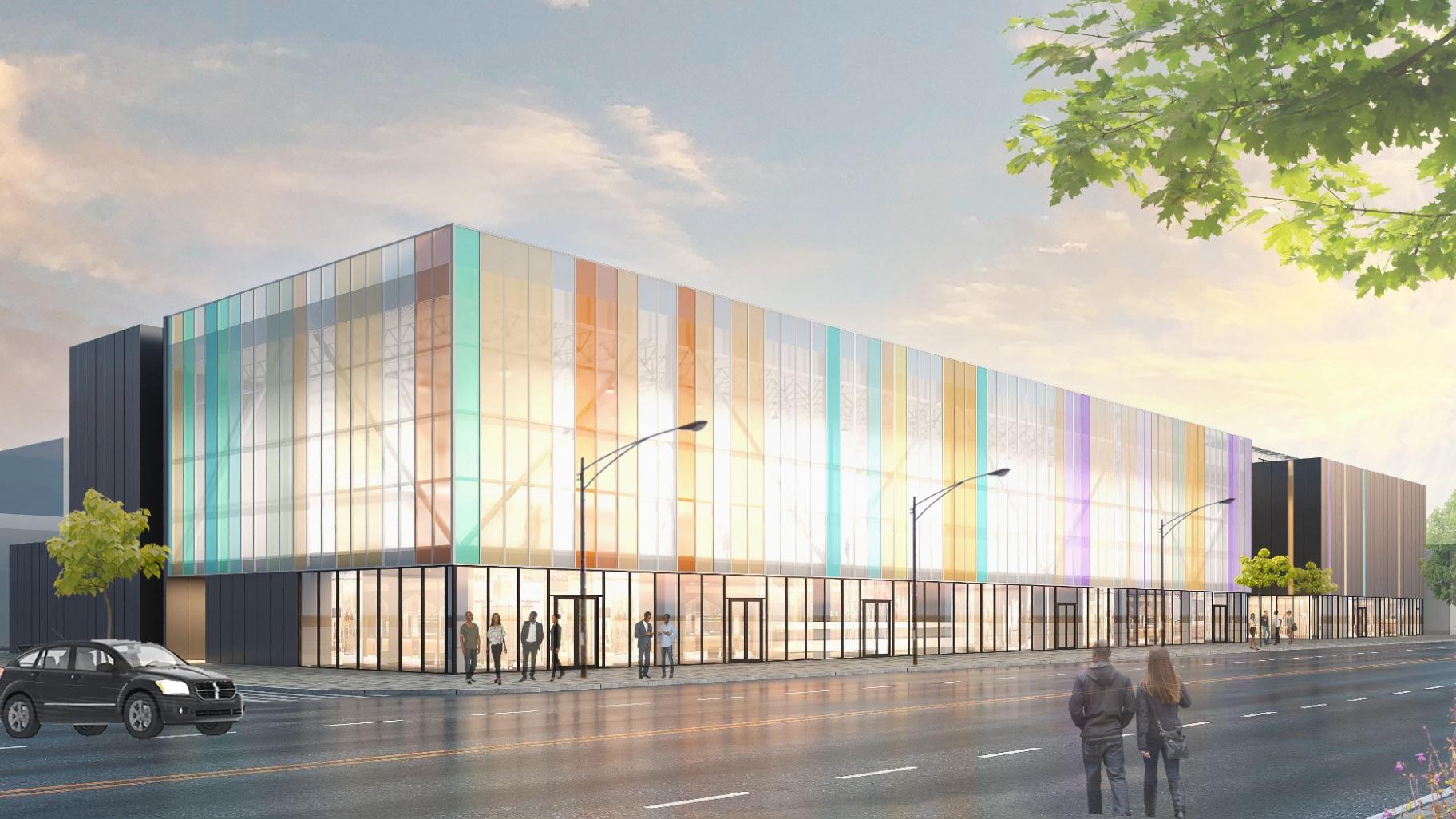 Rendering of he Rev. Corey Brooks' proposed Woodlawn community center. (Project H.O.O.D.)
In terms of the architectural design, is everything complete?
Brooks: All of our designs are complete. We're working with the city now to make sure that everything is up to code as far as permits are concerned. We've had to make a few changes, just minor things that you have to do as it relates to building permits. But you know, we're in the thick of it.
If all goes to plan, when do you hope to be able to open the center to the community?
Brooks: So it's going take 18 months after that April date. So our goal is to build it and have a big celebration 18 months from the month of April.
Obviously, you came to the attention of the wider Chicago community camping out on the rooftop as you were trying to raise funds for this project. What possessed you to want to do that?
Brooks: Well, there was two things. One, I wanted to bring as much attention and awareness to the violence in our neighborhood that I could possibly bring because I felt like our neighborhood was lacking opportunities and the things that we need to transform it. So I wanted to bring attention to that first and foremost. And then secondly, I wanted to make sure that I raised enough money so that we would not have a dependence on government to build a facility that would be life-changing and that would be a catalyst for transformation of our neighborhood. So, those two reasons were the overarching reasons for me going on top of the roof. It was one of the most dramatic things that I could think of to accomplish those two things.
You were up there for a long time. Initially, you were going to be up there for 100 days, but you stayed up there for almost a year (345 days). What was that experience like?
Brooks: I think all the nights were really trying. I tell people all the time that during the daytime it would be OK, you know, people would be coming to the roof and visitors would arrive and discussions would be held.  But at night, when you go in the tent, when there's no guests and you're by yourself, that's when doubts try to creep in, that's when you wonder: Are you being crazy for even attempting this? Should you give it up and throw in the towel? So, nighttime was definitely, definitely difficult.
You've been very successful fundraising. What do you think persuaded the McCormick Foundation to make one of the largest community donations it's ever made to this project?
Brooks: I think my commitment to being a good leader and trying to make sure that we have a wonderful team that could pull something like this off. But I think, secondly, their whole idea and mindset about entrepreneurship and helping create economic opportunities across Chicago, and their commitment to make all areas and all neighborhoods in Chicago the best places that they could possibly be. I think their commitment towards that end drew them toward our project and they were able to see how it fits directly into what the McCormick Foundation is really all about — and that's creating economic opportunities across Chicago and building better neighborhoods.
Finally, we want to ask you about the mayoral race. In terms of what you think the city needs to continue to address the issues of violence, the issues of underinvestment and poverty that we see that plague the city, are there any candidates in the race that you would consider endorsing or have endorsed?
Brooks: I am eventually going to endorse someone. I don't know exactly which one yet, but I have a lot of thoughts about the mayoral race, and I think that we have to constantly remind everyone that everything rises and falls on leadership. So it's imperative that if we want Chicago to be the best, then we're going to have to somehow choose the best person out of all of those candidates. And that's what I'm hoping and praying that we'll do in Chicago.
Would you consider endorsing Mayor Lori Lightfoot for re-election?
Brooks: Everything is on the table. I'm considering everything. I'm not counting it out. I mean, I may not agree with some of her policies, but I think she has to be considered. And to be honest, at this point it's going to be very hard for anyone to unseat her.