Cook County is expecting to set a grim new record.
The Cook County Medical Examiner's Office says it expects the toll from opioid overdoses to exceed 2,000 deaths in 2022 once all autopsies for the year have been completed.
That's more than double the number of homicides in the county — and will eclipse the previous county record of 1,936 opioid overdose deaths in 2021.
The key culprit appears to be the widespread availability of the powerful synthetic opioid fentanyl.
"We know that every year since we've been starting to track the number of opioid-related deaths, we've seen a greater portion of people affected by fentanyl or having fentanyl in their system," said Dr. Wilnise Jasmin, medical director of behavioral health at the Chicago Department of Public Health. "That can really make it very easy for someone to overdose."
That tallies with what Erica Ernst, president of the Chicago Recovery Alliance and clinical director at Renaissance Social Services, is seeing in her work with addicts.  
"Fentanyl is showing up in most of the major drugs with the exception of marijuana — meth, cocaine and heroin being the top three," Ernst said. "We've also heard reports that it can show up in MDMA and other psychedelics."
Multiple factors are contributing to increased drug use and deaths, Ernst said, from increased anxiety due to the pandemic to homelessness, to even the illicit use of a veterinary anesthetic called xylazine.
"People are using alone less safely," Ernst said. "Xylazine has also shown up in the national drug supply. It can really knock someone out and mimics an opioid to a certain extent, but it doesn't respond to naloxone or Narcan."
Naloxone, sold under the brand name Narcan, reverses an opioid overdose if administered in time and is now widely available — even being distributed at public libraries.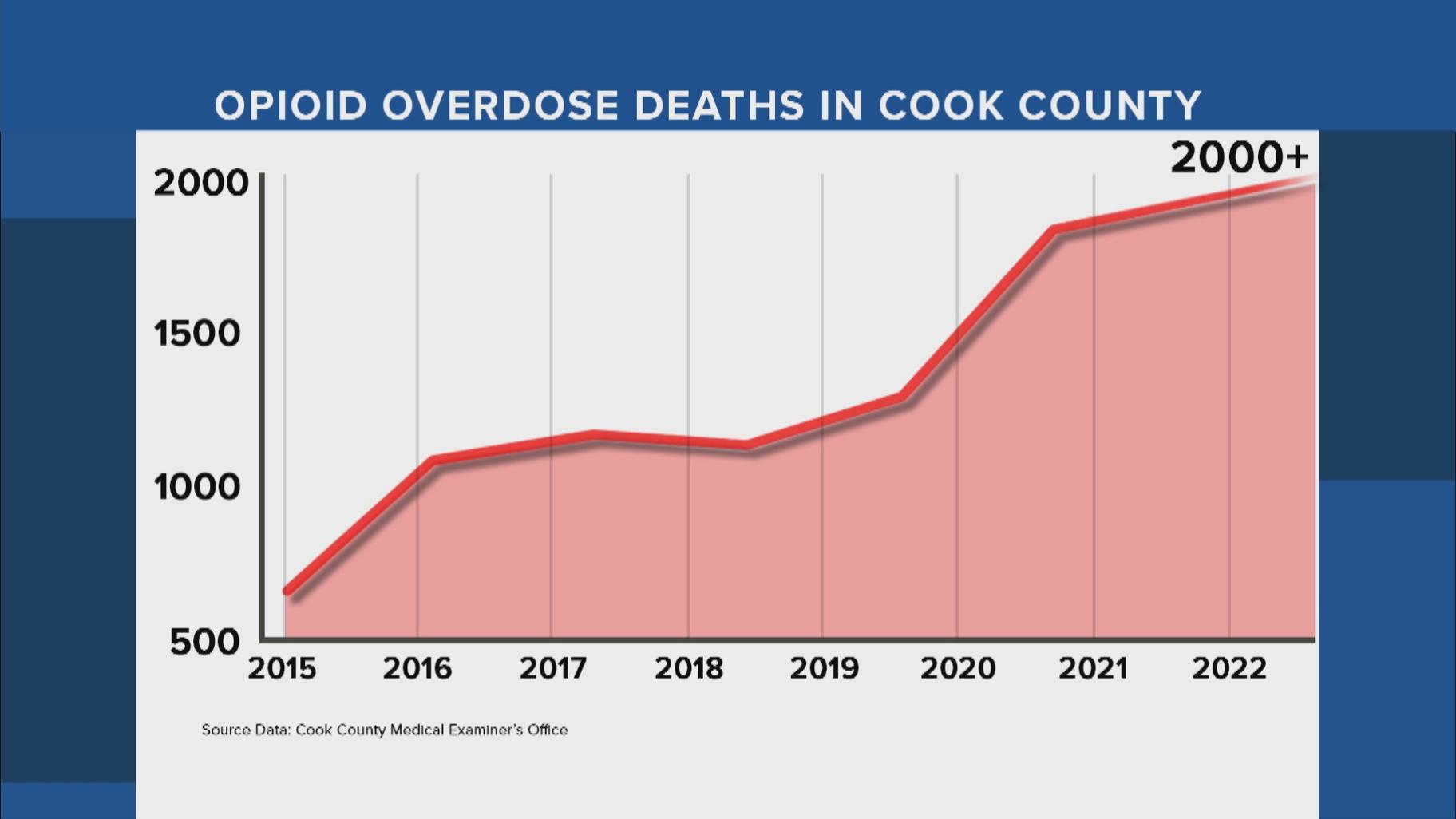 The Cook County Medical Examiner's Office says it expects the toll from opioid overdoses to exceed 2,000 deaths in 2022 once all autopsies for the year have been completed. (WTTW News)
According to data compiled by the Cook County Medical Examiner's office, 78% of people to die by overdose in the county are men, 56% are African American, 28% are White and 15% Latino.
The reasons for such racial disparities may be complicated — but racism appears to be at the core of the problem.
"It has to do a lot with racism and poverty — and the housing crisis," Ernst said. "The vast majority of unhoused people are African American men, and they are also more likely to not have somewhere to stay for a little while to double up as it were. Women are more likely to have somewhere to double up or a safety net."
Unequal access to health care services are also likely a factor.
"Of those people who died from opioid-related overdose deaths, many are older black males falling between the ages of 44 and 65," Jasmin said. She noted at least part of the reason for that are "historical disparities when it comes to access to care and services."
While predicting when overdose deaths may peak is difficult, Jasmin believes the various programs and interventions designed to tackle the crisis being deployed by the county, city and other providers will ultimately bring the numbers down.
"We are very optimistic that some of the interventions, if not all the interventions, will be effective over the long run," Jasmin said. "It's a matter of making sure that there is awareness and that there is very easy access to the services that we're providing… . We hope that as we develop programming to address the needs and gaps, we get continuous feedback and eventually we will see a reversal."
Under a program initially piloted by the Chicago Department of Public Health and now expanded statewide, people needing immediate treatment for opioid abuse can call the MAR NOW hotline 24/7 at 833-234-6343 (MAR stands for Medication-Assisted Recovery). Callers can gain immediate access to life-saving medications regardless of insurance status or ability to pay.