The "South Side" is back on the grind. Season three of HBO Max's hit comedy set in Chicago debuted this week — and the jokes are as fast and furious as ever.
"We've always loved this idea that comedy can come from anywhere, so whether it be somebody walking down the street throwing out a joke or a bus driver throwing out a joke, we kind of spread the wealth in that way," said co-creator Bashir Salahuddin, who also plays Officer Goodnight in the show.
"I think in season three we really tried to focus on giving more time and more camera time to our regulars and to our heavily recurring characters," said Salahuddin. "There are folks people have come to love and we think this season people are going to get to know them a little more deeply."
After two seasons, each character in the ensemble cast has well-established quirks and idiosyncrasies. Sultan Salahuddin, who plays the lead character Simon James, says that's thanks to many of the actors pulling double duty as writers.
"One of the things that is unique about our writing room is that some of those characters … are actually writers as well. So, a lot of the origination or the style or the depth of that character comes from that writer, as well as some of the stuff that we throw in," he said.
Among those characters is the newly-minted 51st Ward Ald. Allen Gayle, played by co-creator Diallo Riddle.
"His ambition is naked, but you know, it's not really helping anybody. He's probably also one of the reasons why very little progress is being made," Diallo said of his character. "In season three, you get the sense that he might be bored in his new station in life and that he's more interested in some of the more superficial things that come with being an alderman than any actual urban planning and the serious work that it takes."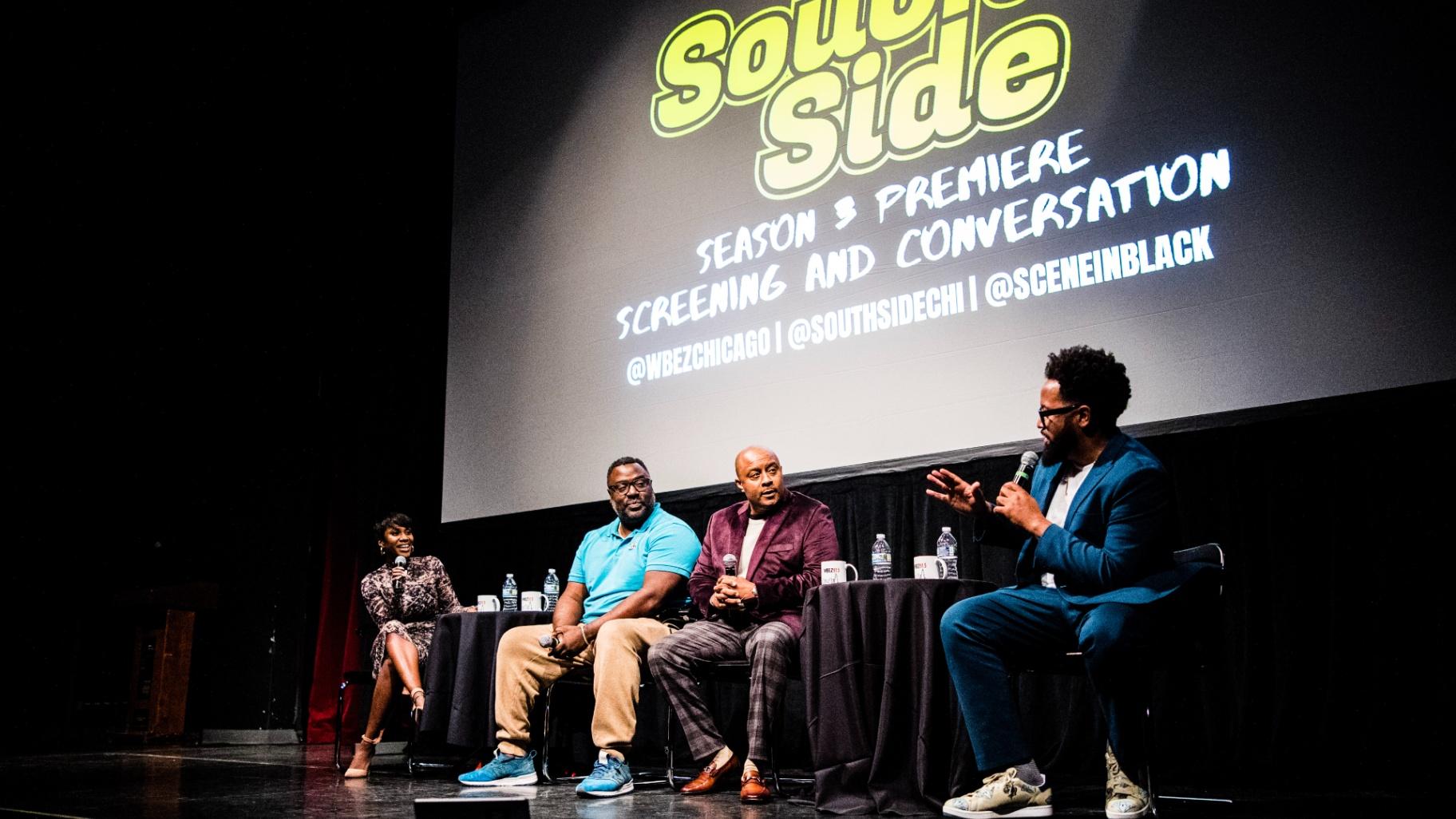 WBEZ hosted a screening of "South Side" season three at the DuSable Museum on Dec. 6, 2022. (Credit: Joe Nolasco for WBEZ Chicago, Instagram @nolasco_giovanni)
Bashir Salahuddin says he's especially proud to see the work his brother Sultan puts in as the cast's lead.
"I have been so impressed with Sultan's acting, especially in season three. I see so much real, careful and specific work that I, as somebody who really likes acting specifically, I love that that layer is on top of all the funny, so it's still funny as hell," Bashir Salahuddin said. "The quality of the acting, I think, has always been good, but I think season three it gets even better."
The Salahuddin brothers and Diallo Riddle also appeared at the DuSable Museum on Dec. 6 for an advance screening hosted by WBEZ, where they said in a Q&A that while audiences shouldn't expect the characters to experience a lot of personal growth, they can expect some fun twists from the show, including a Kwanzaa celebration.
"You will see Simon's take on Kwanzaa, and you're gonna see it in the most inventive way … Clearly, Simon is a fan of 80s action films and so you might see him in a very low budget indie," Riddle said. "It's one of the most fun things we've ever done and I can't wait for [people] to see it."
---