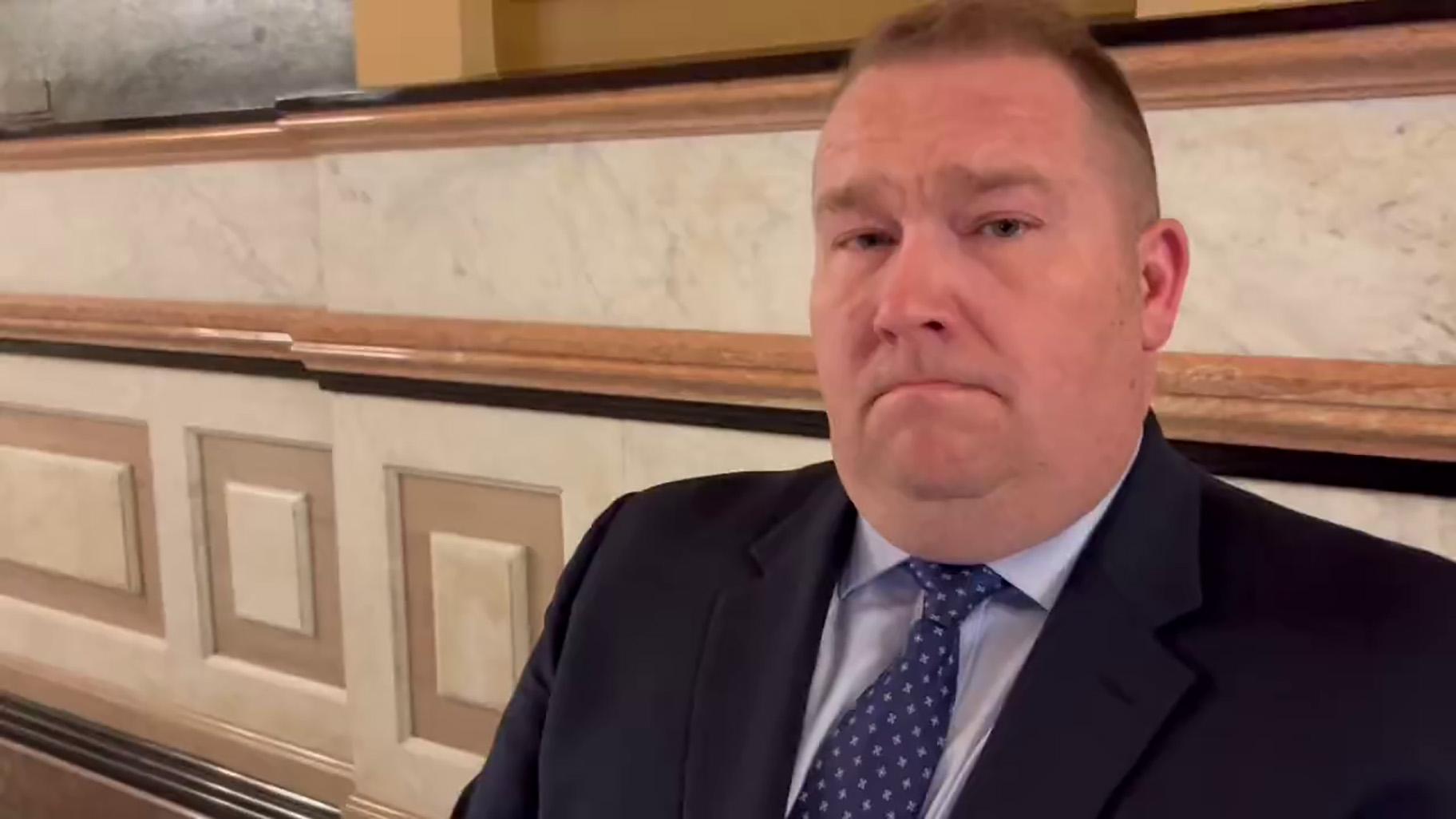 Illinois state Sen. Scott Bennett is pictured in April 2022. (Amanda Vinicky / WTTW News)
Illinois state Sen. Scott Bennett, a Democrat who represented Champaign and surrounding areas in central Illinois, died Friday from complications of a brain tumor. 
Bennett, 45, was hospitalized suddenly on Thursday. 
"Scott will forever be known for being an extraordinary father, husband, and friend," his wife, Stacy Bennett, said in a statement. 
He is also survived by two young children. 
A former assistant state's attorney for McLean and Champaign counties, Bennett was a graduate of the University of Illinois College of Law and had served in the Illinois State Senate since 2015, after he was appointed to fill the remainder of newly-elected state Treasurer Mike Frerich's senate term. 
"I can't believe Scott is gone. He was a loving husband, devoted father, and to me, one of my closest friends," Frerichs said. "Scott had a big laugh and an even bigger heart. He made friends easily, understood the value of hard work, and was quick with words of encouragement at just the right time. Certainly, he learned these truths from his family, which dates back five generations in East Central Illinois. Today, they remain deeply committed to helping neighbors, especially their fellow farmers, because it simply is the right thing to do."
Bennett was born and raised outside of Champaign, in Gibson City.
State. Sen. Chapin Rose, a Republican from nearby Mahomet, called "Scotty" a great guy.
"I always looked forward to seeing him around town whether at the YMCA or the Buffalo Wild Wings, where we could occasionally run into each other with our kids," Rose said. "The world needs more Scott Bennetts, not less."
Bennett had recently been in the center of negotiations around changes to the SAFE-T Act — a plan Gov. J.B. Pritzker endorsed during his campaign for reelection, but which critics said went too far and would have reversed the intent of overhauling the justice system. Progressives panned a proposal to modify it.
After significant negotiations, Bennett co-sponsored a different package to modify the SAFE-T Act that he helped to pass in Springfield last week.
In doing so, Bennett served as a bridge to bring onboard reticent Democrats unhappy with the original law. 
That package was introduced by state Sen. Robert Peters, D-Chicago.
"It was just last week we were sitting next to each other and working on legislation together," Peters said in a statement. "More than a hard worker and state senator, he truly had a divine sense of humor. He was always making us laugh, and he was a pleasure to work with. He knew how to diffuse a tense negotiation with a perfectly timed joke or comment."
Statements from state officials express shock, sadness and sympathy for Bennett's family. 
Comptroller Susana Mendoza said he will be remembered for his "warmth and wit."
"I had the honor and pleasure of working with Sen. Bennett – including recent discussions to increase awareness of autism in the workplace," Mendoza said. "Not only was he one of the kindest legislators, but one of the most effective."
"At a time of increased rancor and partisan divide, Scott treated those around him with dignity and garnered respect from both sides of the aisle. This is a tragic loss to the state of Illinois," Attorney General Kwame Raoul said.
His wife asked for privacy. Information on funeral arrangements has not yet been released. 
---