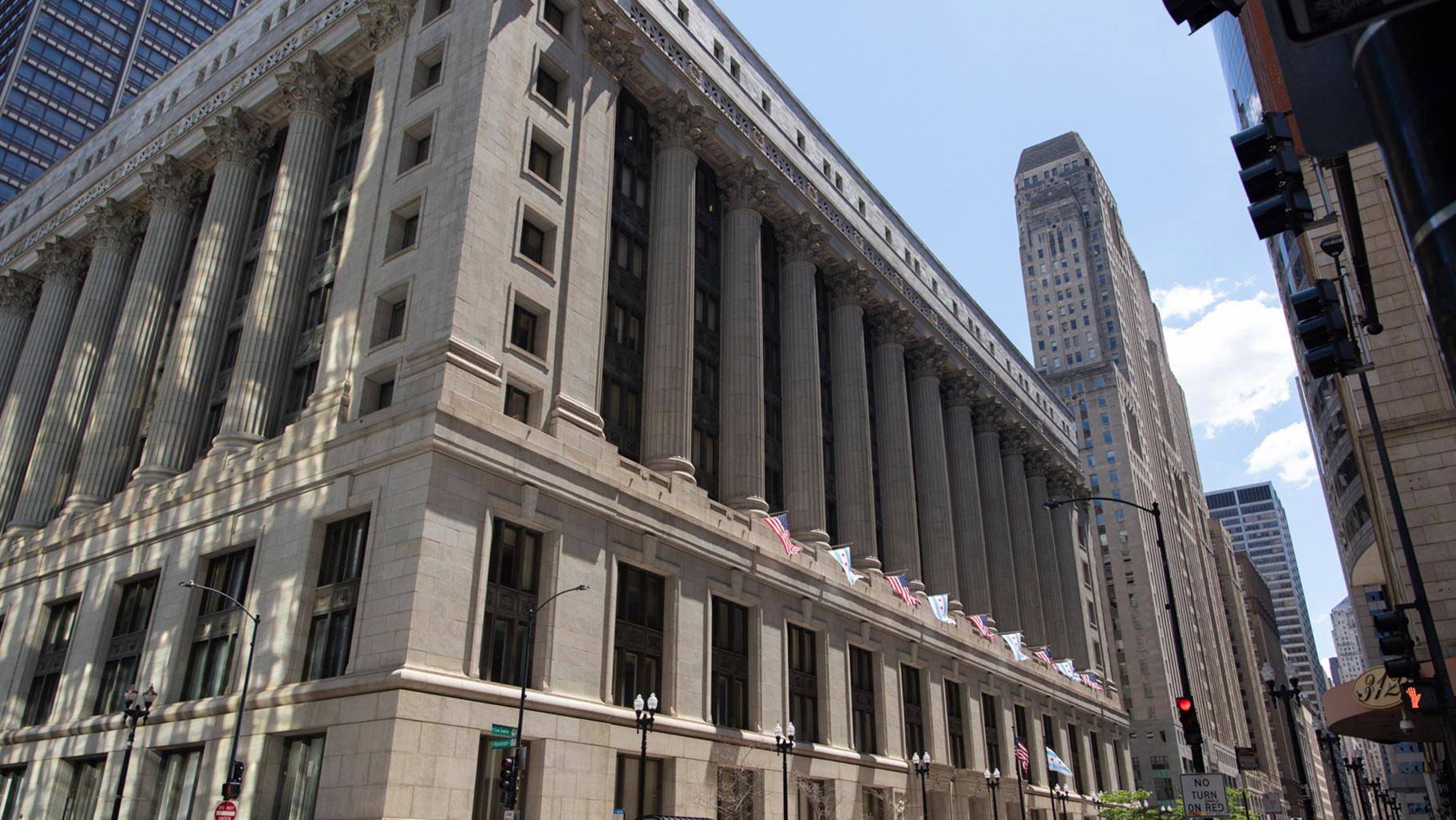 Chicago City Hall. (Michael Izquierdo / WTTW News)
A heavy police presence shut down City Hall for much of Friday morning, not due to an emergency, but rather a training exercise designed to sharpen response strategies for first responders.
Chicago police and firefighters swarmed the building for several hours Friday during a training that aimed to "enhance preparedness and strengthen capabilities" across city departments "during and following an active threat or terrorism."
"Ultimately the goal is to minimize these events," CPD Deputy Chief of Counter-Terrorism Duane DeVries said during a press conference following the exercise. "Practicing this would keep us in better shape, keep our preparedness up to par and keep our communications with our fellow partners the best we can do."
City Hall was closed from 6 a.m. to 1 p.m. Friday, while the exercise — which DeVries described as likely being the first of its kind held at City Hall — lasted about an hour. LaSalle and Wells streets were also temporarily shut down as part of the drill.
Members of the Chicago Police Department, Chicago Fire Department and the Office of Emergency Management and Communications were each involved. Marc Ferman, CFD's deputy fire commissioner of operations, said the drill mimicked an active shooter situation, with personnel working to secure the building and transport victims away from the scene.
The goal of these drills is to allow those agencies to familiarize themselves both with the layout of City Hall and with the separate roles and responsibilities of everyone involved.
"This building poses some special challenges, so it was good to have it here," Ferman said.
Another point of the drill, DeVries said, is to make mistakes in a controlled setting so they can be addressed before a real emergency situation were to occur.
"We welcome mistakes, we learn from those mistakes and, obviously, if we feel there's some security flaws or something we can do better with the building, we will address that," he said. "Mistakes are welcome, that way we don't make them when the real thing is on the line."
Contact Matt Masterson: @ByMattMasterson | [email protected] | (773) 509-5431
---