At just seven months old, twin sisters Ellie and Natanya Sterling have taken their parents on the ride of a lifetime.
"It really doesn't compare to anything," says dad, Jeff Sterling.
We first met Sterling and his partner, Lilac Epstein, and their toddler, David, when they were a family of three.
It was March 2022, and they were expecting twins via surrogate in Ukraine. WTTW News began reporting on their story just weeks after the Russian invasion of the country.
"We're thankful that she was able to get out, because with the war with Russia, we were hearing they didn't have supplies," Sterling said. "What we were hearing on the news was really scary."
Because Ukraine is the second-most popular country for surrogacy, many expectant parents were in the same situation: trying to rescue surrogates and even newborn babies from a war zone.
Sterling and Epstein's surrogate fled to the Czech Republic just in time. The twins were born just a few weeks later – but at just 27 weeks – in a country that doesn't recognize surrogacy.
The complications began to stack up.
"We were very concerned about their health, we were in foreign country, there was a language barrier, there was a time difference," Epstein explains. "There were legal issues: basically, according to laws of Czech Republic, Jeff and I were not seen as parents of the girls."
Because the babies, Ellie and Natanya, were born prematurely, they spent 59 days in a neonatal intensive care unit in Prague.
"They were able to breathe on own, however they did have them on oxygen, just to make sure," Epstein says. "They were not able to eat on their own so they had a digestive tube going down to stomachs."
"It turns out that both of our daughters have a hole in their hearts between both of the atriums, both of the oxygenated blood chambers in the heart," she explains while still finding the upside. "Which apparently is a great hole to have, it's a great location to have a hole in your heart. So, we're fortunate in that regard."
Doctors say they'll need regular monitoring to ensure those holes shrink as the girls grow.
As if that weren't enough, the couple had to jump through hoops, with the help of the U.S. State Department, to allow them to be legally recognized as the twins' parents.
"We had a lot of technical issues, a lot of logistical issues to get the girls out of the country," she says. "Because the Czech Republic was still adjusting, and the U.S. Embassy, the State Department were still trying to figure out how to accommodate the needs of all these parents in the U.S. whose children had been transferred and are now going to be born in Prague, due to what's going on in Ukraine."
Through it all, Ellie and Natanya are finally home, and on the road to a healthy future. They spent their first four months of life in Prague, getting bigger and stronger to make the trans-Atlantic flight home.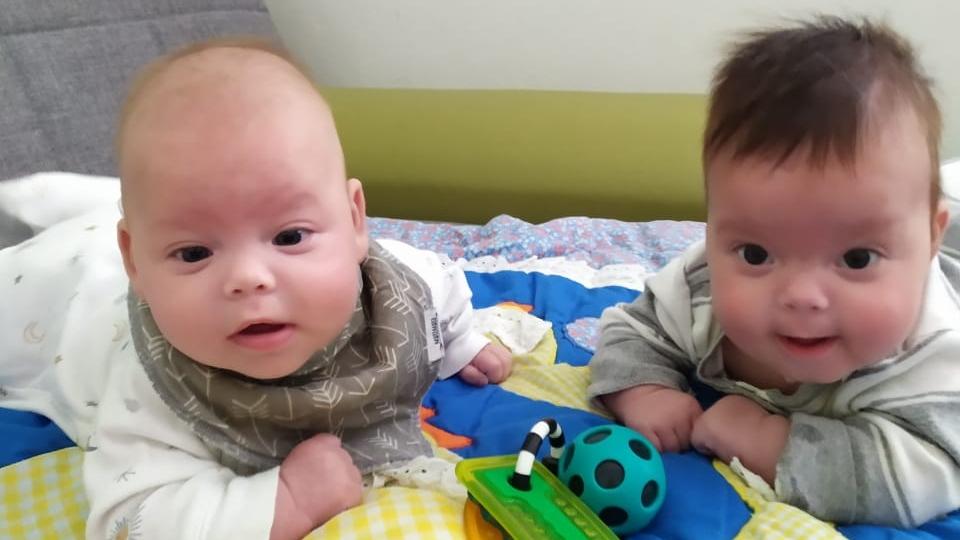 Twin sisters Ellie and Natanya Sterling arrived in Highland Park after a journey that began in Ukraine. (Family Photo)
Their parents see it as a completely different experience from when they brought their son David home, via a different surrogate, also in Ukraine.
"We thought a couple of years ago with David, we thought entered twilight zone: flying to a foreign country, during a pandemic when there was no vaccination yet, and testing was just starting," Sterling recalls as his partner laughs.
They quarantined in a hotel in Ukraine for two weeks in the summer of 2020 when they went to pick up David.
"What happened with the twins, and Ukraine and Russia, and the surrogate fleeing to go to another country, two years ago was a vacation compared to this," he said.
"All you can think to yourself, 'my god are we blessed'" Epstein says. "Despite everything we've been through, it's nothing. We're very fortunate."
Big brother, David, has nicknamed his little sisters Nini and Yiyi –mom and dad call them their "big little miracles."
Note: This story will be updated with photos. 
---